African Champions League: CR Belouizdad join Sundowns in quarter-finals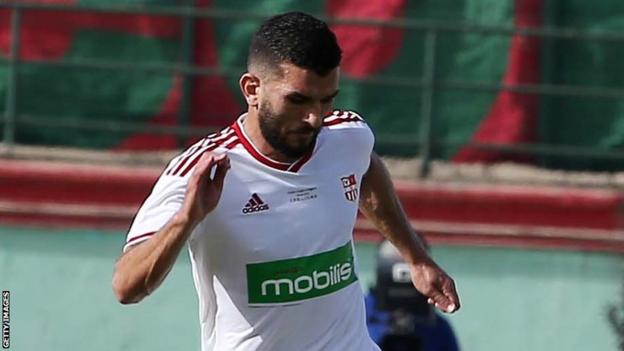 Algerian champions CR Belouizdad earned the win they needed over hosts Mamelodi Sundowns of South Africa to clinch a place in the African Champions League quarter-finals.
Amir Sayoud took his tally in the competition to seven when he gave Belouizdad the lead over Sundowns in Pretoria on 29 minutes.
That advantage was doubled just before half-time as Ahmed Gasmi headed home a cross from Zinelaabidine Boulakhoua.
It was a measure of revenge for the Algerians who were embarrassed by Sundowns on home soil in the reverse fixture when the South Africans won 5-1 in February.
In Friday's other Group B game DR Congo's TP Mazembe, who were already out of contention to make the last eight came from behind to clinch a 2-1 win over Sudan's Al Hilal.
The Sudanese club had needed a win to have any chance at all of progressing.
Al Hilal made the ideal start in their bid to win against former African champions Mazembe – Eid Mugadam gave them the lead after just two minutes in Lumbumbashi – but 16 minutes later Hilal contributed to their own downfall as Ivorian defender Mohamed Ouattara scored an own goal to level the game at 1-1.
Mazembe won the game thanks to a goal from Isaac Tshibangu, who scored just moments after he came on as substitute.
The draw for the quarter and semi-finals will be held on 30 April at the Confederation of African Football's headquarters in Cairo.
Friday's Group B results:
TP Mazembe (DR Congo)

2-1

Al Hilal (Sudan)

Mamelodi Sundowns (South Africa)

0-2

CR Belouizdad (Algeria)
US stocks bounce back from three-day losing streak | Financial Markets News
All three major US stock indexes notched solid gains, with the Nasdaq, weighed by Tesla Inc, picking up the rear.
Wall Street ended sharply higher at the close of a broad rally on Thursday, bouncing back from three straight days of selling on upbeat labour market data.
All three major United States stock indexes notched solid gains, with the Nasdaq, weighed by Tesla Inc, picking up the rear. Meanwhile, cyclical shares enjoyed the biggest gains.
The Dow Jones Industrial Average rose 433.79 points, or 1.29 percent, to 34,021.45; the S&P 500 gained 49.46 points, or 1.22 percent, to 4,112.5; and the Nasdaq Composite Index added 93.31 points, or 0.72 percent, to close at 13,124.99.
Recent economic data has prompted inflation fears as scarcity of both materials and workers threatens to send prices surging in the face of a demand boom.
"If this is a footrace, supply chains are still tying their shoes," said David Carter, chief investment officer at Lenox Wealth Advisors in New York City. "But they will catch up with demand fairly quickly."
But on Thursday, investors appeared to be focusing on the glass-half-full side of the demand/supply equation.
This was evidenced by the outperformance of small caps, chips and transports, economically sensitive stocks that stand to gain as the US emerges from the coronavirus pandemic recession.
"Sectors and stocks that were hurt most significantly by yesterday's selloff rebounded strongly today given that economic growth is expected to remain strong throughout the year and any inflation is likely to be temporary," Carter added.
New applications for unemployment insurance continue to fall, according to jobless claims data from the US Department of Labor (DOL) that hit a 14-month low.
DOL data also showed producer prices swelled last month, building on the inflation surge narrative of Wednesday's consumer prices report.
"The inflation boogeyman is back right on cue," Carter said. "And will continue to spook markets for the coming months."
But rising prices were widely anticipated, and the US Federal Reserve has provided repeated assurances that it does not foresee those spikes morphing into sustained, long-term inflation.
Energy stocks lost ground, weighed by a drop in crude prices.
Dating app owner Bumble Inc tumbled below its initial public offering price, as investors remained cautious about how quickly users will return to in-person meetings.
Shares of Walt Disney Co oscillated throughout the session ahead of the company's quarterly results, expected after the closing bell.
Boeing Co advanced after gaining approval from US regulators for a fix of an electrical grounding issue.
Tesla continued its slide after boss Elon Musk doubled down on his sudden rejection of cryptocurrency Bitcoin.
Palestinians in Gaza mourn loved ones killed in Israeli air raids | Conflict News
Gaza City – When Mohammad Saad heard that an Israeli air strike had killed his cousin Reema Saad, he says the news hit the family "like a lightning bolt".
Reema, 31, her husband Mohammed Telbani, 29, and their two children were in their apartment in Gaza City's Tel al-Hawa neighbourhood in the early hours of Wednesday when an air strike hit the residential building, destroying their apartment.
Reema, who was four months pregnant, and five-year-old Zeid died immediately, and Mohammed later died in the intensive care unit, but the body of their daughter, three-year-old Maryam, has yet to be recovered from the site of the attack. Saad said the family did not receive any warning before the air raid.
"I'm communicating with the fire department and civil defence crews in Gaza to help us find Maryam and have her rest and be buried near her mother, who would have wanted that," Saad said.
The day before the air attack had been a joyous one, with Reem visiting her family to congratulate her brother on his engagement. "The next day, she went home and was targeted," Saad said.
The family is hiding the news of the killings from Mohammed Telbani's mother, out of fear she may suffer from a heart attack.
Death toll rises
Since Israel launched air raids on the besieged Gaza Strip late on Monday, Gaza's health ministry says at least 103 people, including 27 children, have been killed, and 580 others have been wounded.
At least seven Israelis including a child have been killed in rocket attacks launched by armed groups in Gaza, which is ruled by the Palestinian group, Hamas.
The latest escalation in violence followed weeks of tensions in occupied East Jerusalem over a now-postponed court hearing relating to the forced expulsion of several Palestinian families from their homes in the Sheikh Jarrah neighbourhood.
Frictions in the city also spread to the Al-Aqsa Mosque compound, which Israeli forces raided on three consecutive days during the final week of Ramadan, firing tear gas and stun grenades at worshippers inside the mosque.
Hamas on Monday issued an ultimatum demanding Israel withdraw its forces from the compound, the third holiest site in Islam which is also revered by Jews.
Shortly after the deadline expired, Hamas launched several rockets towards Jerusalem, with Israel launching air strikes soon afterwards.
Israel's military says about 1,600 rockets have been fired from Gaza towards various locations in Israel since Monday.
Its spokesman Jonathan Conricus told reporters on Thursday that attacks on Gaza will continue as Israel prepares for "multiple scenarios".
"We have ground units that are prepared and are in various stages of preparing ground operations," he said. The Israeli defence minister, Benny Gantz, approved the mobilisation of 9,000 more reservist troops.
Sombre Eid
Thursday was the first day of Eid al-Fitr, a religious holiday for Muslims marking the end of the holy month of Ramadan. But instead of joyous celebrations and gatherings for families and friends, funerals were held as Hamas sent more rockets into Israel and Israeli fighter jets continued to hit the besieged enclave, including in Rafah, near the border with Egypt.
In Gaza City, the mourners carried the dead from Al-Omari Mosque on Thursday morning to the graveyard in the far east of the city. Throughout the procession, the sound of bombarding air strikes and rockets firing were heard almost constantly.
Due to the air raids, condolences for those killed were shared only by phone.
'I hope they didn't feel anything'
Some Palestinians have been sharing the news of their killed family members on social media, noting their status as civilians.
Take a look at israel's targets: a civilian's house.
They were murdered here.#GazaUnderAttack pic.twitter.com/Y7rclNWsNu

— Bayan 𓂆 (@BayanPalestine) May 12, 2021
Bayan AbuSultan, 25, said her cousin Miami Arafa, 27, and her 50-year-old aunt, Hadeel, a mother of four, were killed while preparing for Eid in their house in the Amal neighbourhood of Khan Younis, when an Israeli air strike hit their home at about 3pm on Wednesday.
There was no prior warning of an imminent strike as Hadeel's brother was on a call with her a few minutes before the bombing. AbuSultan said that she and Miami had been planning to go shopping together after Ramadan as she was supposed to get married a few days after Eid al-Fitr.
The last that she had heard from her cousin was when she shared her Facebook status, praying for those killed.
"Little did she know that soon after we'll be wishing her exactly the same," AbuSultan said. "I shiver every time I think of how terrified they were. I hope they didn't feel anything."
The Israeli air strikes have hit police headquarters and government buildings, three high-rise buildings, an ice cream factory in the east of Gaza and the Al-Salah school in Deir Al-Balah in the central Gaza Strip.
On Wednesday, Israeli air raids destroyed the al-Shorouq tower, which housed media organisations. Its ruins covered the streets of Remal, the busiest shopping street in Gaza City.
The Israeli military has said it only targets multi-storey buildings which are "military targets". Other buildings it has struck are "strategically significant" sites belonging to Hamas, it said.
Rights group denounces 'collective punishment'
In a statement published on Tuesday, the Euro-Mediterranean Human Rights Monitor (EMHRM) said that Israel's "widespread bombardment, including civilian objects without respecting the principle of proportionality … is utterly appalling".
Israeli forces have "expanded their response to include targeting dozens of civilian objects, women and children and bombing densely populated gatherings, which according to the Rome Statute, is a war crime," it said, adding that its targeting of civilian objects exceeds military necessities.
Even if there was a military necessity to target certain sites in #Gaza, it is the responsibility of #Israel as the occupying power to comply with the other provisions stipulated by international humanitarian law to avoid harming civilians.

Press release: https://t.co/oOv7zvCqty pic.twitter.com/tUGxf5N3jw

— Euro-Med Monitor in oPt (@EuroMedoPt) May 12, 2021
In one of the air strikes, Israeli forces killed Amira Abdel Fattah Subuh, 58, and her son Abd al-Rahman Yusef Subuh, 19, a disabled young man who suffers from cerebral palsy, the group said.
While the Israeli army announced later that it targeted the home of a battalion commander, field investigations confirm that no one was in the targeted flat during the bombing, according to EMHRM.
"This incident is an example of  Israel's bombing policy that does not consider the principle of proportionality. Israel targets civilian objects deliberately to inflict damage upon victims and leave them with material losses as a form of revenge and collective punishment, prohibited by the rules of international humanitarian law."
DC police suffer 'massive' info leak after ransomware attack | Cybercrime News
Leak 'possibly the most significant ransomware incident to date' due to threat to Washington, DC officers, expert says.
The police department in the United States capital has suffered a massive leak of internal information after refusing to meet the blackmail demands of a Russian-speaking ransomware syndicate. Experts said it i the worst known ransomware attack ever to hit a US police department.
The gang, known as the Babuk group, released thousands of the Washington, DC, Metropolitan Police Department's sensitive documents on the dark web Thursday.
A review by The Associated Press found hundreds of police officer disciplinary files and intelligence reports that include feeds from other agencies, including the FBI and Secret Service.
Ransomware attacks have reached epidemic levels as foreign criminal gangs paralyse computer networks at state and local governments, police departments, hospitals and private companies. They demand large payments to decrypt stolen data or to prevent it from being leaked online.
A cyberattack last week shut down the Colonial Pipeline, the nation's largest fuel pipeline, prompting petrol-hoarding and panic-buying in parts of the Southeast.
Brett Callow, a threat analyst and ransomware expert at the security firm Emsisoft, said the police leak ranks as "possibly the most significant ransomware incident to date" because of the risks it presents for officers and civilians.
Some of the documents included security information from other law enforcement agencies related to President Joe Biden's inauguration, including a reference to a "source embedded" with a militia group.
One document detailed the steps the FBI has taken in its investigation of two pipe bombs left at the headquarters of the Democratic National Committee and the Republican National Committee before the insurrection at the US Capitol on January 6.
That includes "big data pulls" of cell towers, and plans to "analyze purchases" of Nike shoes worn by a person of interest, the document said.
The police department did not immediately respond to an AP request for comment, but has previously said some officers' personal information was stolen.
Some of that information was previously leaked, revealing personal information of some officers taken from background checks, including details of their past drug use, finances and — in at least one incident — of past sexual abuse.
The newly released files include details of disciplinary proceedings of hundreds of officers dating back to 2004. The files often contain sensitive and embarrassing private details.
"This is going to send a shock through the law enforcement community throughout the country," Ted Williams, a former officer at the department who is now a lawyer, told The Associated Press.
He is representing a retired officer whose background file was included in an earlier leak.
Williams said having background checks and disciplinary files made public makes it difficult for officers to do their jobs.
"The more the crooks know about a law enforcement officer, the more the crooks try to use that for their advantage," he said.
The Babuk group indicated this week that it wanted $4m not to release the files, but was only offered $100,000.
Absolutely fascinating to see the actual negotiations between the Police and the Babuk ransomware attackers.

For more chat logs and transcripts, follow @NatSecGeek who is covering this much better than I ever could. pic.twitter.com/REtwLD8udK

— Ray [REDACTED] (@RayRedacted) May 13, 2021
The department has not said whether it made the offer. Any negotiations would reflect the complexity of the ransomware problem, with police finding themselves forced to consider making payments to criminal gangs.
The FBI, which is assisting in this case, discourages ransomware payments.