We have never seen Winnie Nwagi naked – says Swangz Avenue as they announce renewing Nwagi's contract
As we anticipated that Swangz Avenue could be planning to get rid of singer Winnie Nwagi due to different personality controversies, the management label has instead announced that they have renewed the singer's contract.
Through her social media pages, Nwagi said that she has put pen to paper to a new long term contract with Swangz. Nwagi who joined Swangz Avenue in 2014 has been such a great success working with the industrial area based record label. Over the years, Nwagi has several hits to her name from her breakthrough hit Musawo to other monster hits like Kano Koze, Embeera, Jangu, Matala, Kibulamu, magic, detergent.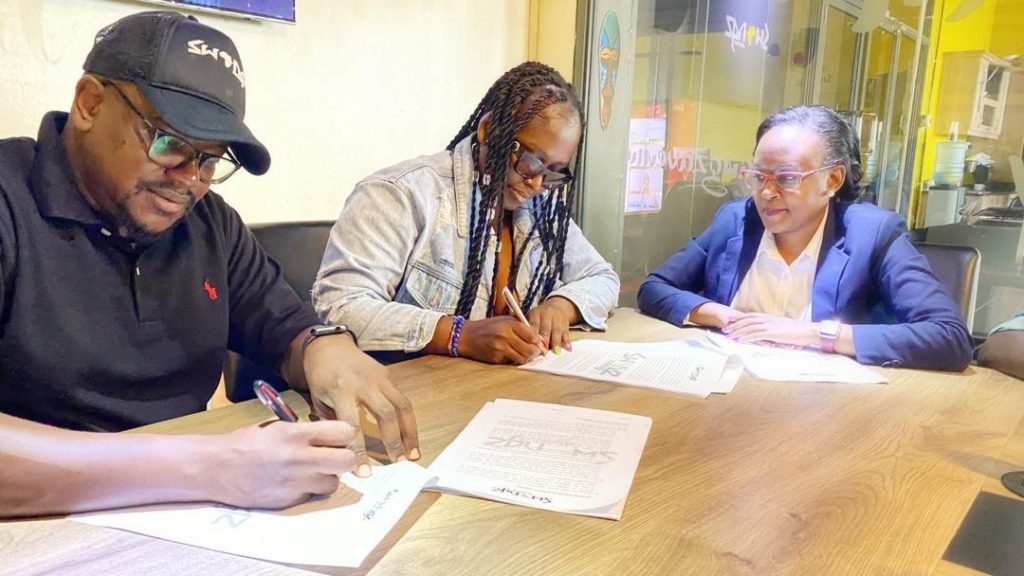 She has also been very successful with all collaborations with other artists. Fire Dancer with Nigeria's Slim prince is up to now a song still on every djs' playlist. Amaaso with her label mate Vinka was a big success last year and later remixed with Fefe Busi and Myth.  Others include Science ft King Saha, Oyitayo with Chozen Blood, Bwogana with Rachel Ray and most notably the song of 2020 Kwata Essimu featuring Free Boy.
However, Nwagi comes with a lot of controversy from her wardrobe mishaps to hints of violence. She had a big share of backlash last year when she slapped her maid and her reluctance to apologize only escalated the matter and police got involved. The matter was later resolved when her record label stepped in.
Last week she broke the internet when together with her girlfriends went on a holiday in Fort Portal and released tantalizing photos in swim suits. To make her point that this was not in error, she released more at the start of this week. Winnie has caved a reputation of taking on social media bullies and taking on fans who criticize her on social media.
"Have you ever seen Winnie naked? We have never seen her naked,"  Gonza Winnie Nwagi's Manager said as he defended he nudity. Gonza also said that they have always given Nwagi the necessary advice on how she can handle social media trolls.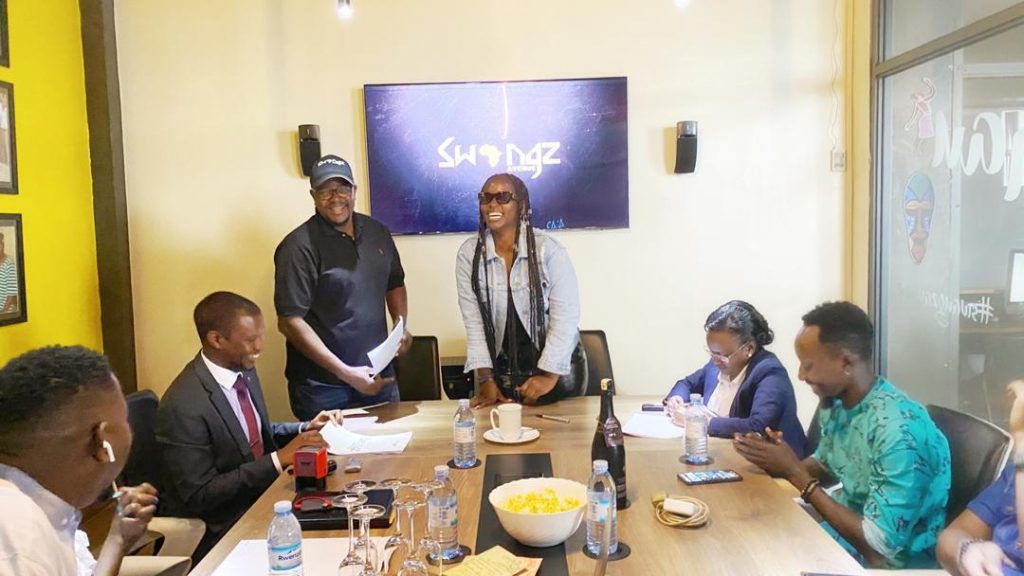 The contract renewal puts to bed all the rumors of potential fallout between her and Swangz Avenue a label that prides on good reputation and a strict code of conduct.
On what Nwagi has achieved since joining the label, Gonza said it's a personal question that should be directed to Nwagi.
"Swangz is a talent management company that manages music careers of artists. For all our artists we give them the best service to aid their development as artists to help them become better musicians and business people," he said.
Spice Diana on why she would never date a fellow musician
By BigEyeUg Team
Songstress, Hajara Namukwaya aka Spice Diana has buried hopes of male musicians who have often sought and dreamt of winning a place in her heart as lovers.
This follows her discontinuation of any chance to date a fellow musician.
Appearing in a radio interview on Galaxy FM's 'Explosion' with Mr. Henrie, the 'Ready' singer said she would never fall in love with a colleague in the same business she does.
Spice revealed how it would be disastrous for each other's music careers especially after breaking-up.
She also neatly learns from the past relationships between artists that have always ended-in-tears.
"It's a bit hard, and complicated for me. If you go by the records, such relationships have and will always end in tears. If the relationship ends in tears, we can't look in each other's face hence disrupting my business. I can't handle because when I break-up with you, I don't even look into your face," Spice Diana said on radio.
Spice's narration puts at rest all reports have often arraigned in relationships with number of fellow musicians.
We will keep you posted
UBL headquarters lit green to celebrate St Patrick's Day
Last night, Uganda Breweries illuminated their head offices at Port Bell, Luzira, green, in commemoration of St Patrick's Day.
This year, the Irish holiday celebrated across the world with fanfare, parades and Guinness, their biggest beer export, may not be as action packed as previous years due to the coronavirus pandemic restrictions and Standard Operating Procedure (SOPs) set by the government to curb its spread.
In the interests of keeping the public safe, the Luzira based brewery is recognizing the holiday by illuminating their main building, The Bell House in neon green lights ahead of the actual St Patrick's Day set for Wednesday, March 17.
UBL's Premium Beers Manager, Elizabeth Batamuliza reiterated the brewery's effort in commemorating St Patrick's Day, as recognition of their beer brand Guinness' Irish heritage. Guinness was first brewed in Dublin, Ireland in 1759 and it is a mainstay in St. Patrick's celebrations all over the world.
"As Guinness, we recognize that Ireland is our home. We encourage our Guinness consumers across the country to toast to St Patrick's as we look forward to a momentous celebration next year," she said.
UBL's headquarters illuminating in green to celebrate St. Patrick's is part of Ireland's Global Greening Initiative that has seen over 500 iconic buildings and sites across the world lit green over the years.
In Uganda, the Jinja Bridge and the Equator have previously been lit green. Famous sites across the world include Madison Square Garden in the US, London Eye, Burj al Arab in UAE, Niagara Falls in Canada, the 'Welcome' sign in Las Vegas, the Chain Bridge in Budapest, Hungary and the Christ the Redeemer statue in Rio de Janeiro, Brazil among others have also been lit in green lights.
St Patrick's started as a Christian holiday in Ireland to honour the country's patron saint that was killed in the fifth century. It has morphed into an annual celebration of Irish culture across the world.
What we know about Bad Black's wedding in the offing
Soon, and very soon, Embezola is going to walk down the aisle with the love of her life Asha. Bad Black is head over heels about the developments and here are a few things we know about the wedding in the offing.
In your head, picture Bad Black in a wedding gown, walking down the aisle, hand-in-hand with Asha, both smiling and waving to the few invited guests. What a sight that will be!
Well, it is no longer a secret that Bad Black will soon become Mrs. Somebody. In recent months, she has been showering praise upon Asha. They both now have tattoos of each other's name on their bodies.
During an interview with MC Ibrah, Bad Black revealed that the introduction ceremony will be happening very soon and the preparations are already underway.
What she is already sure about is that the introduction and wedding will take place in Uganda at venues that will be discussed upon because she is a Muganda and so is her husband to be.
Read Also: Protect my fiancée from satanic agents with sexual spirits – Bad Black prays for Asha
On the list of performers; Winnie Nwagi, Dre Cali, and Lydia Jazmine, are a must according to Bad Black who will be meeting the managers of the mentioned artistes soon.
The self-styled Embezola warned her followers against expecting to see her donning cultural wear because she is not such a cultural person.
She also stressed that she does not have a big bums and yet Gomesis only look good on women who have big bums so they won't be an option for her.
Bad Black is not bothered about whether her parents are okay with the introduction or not. She is determined to make this dream come true at all costs.