"The award will be for East Africa," Kenzo unmoved by Ugandans vowing to vote for Diamond in AFRIMMA
Arguably Uganda's best music industry export BET award winner, Edris Musuuza a.k.a Eddy Kenzo earlier this week was among the seven Ugandans that scooped nominations in the 7th edition of the African Music Magazine Awards (AFRIMMA) that will take place in Dallas, Texas on November 15 2020.
However, with the current toxic blend of politics and the entertainment industry in Uganda, People Power movement/ National Unity Platform supporters vowed not to vote for Kenzo since they accuse him of having betrayed the struggle by 'going to bed' with the regime.
A section of the supporters have instead declared to vote for Tanzania's Diamond Platnumz for the Best Male East Africa category.
Nevertheless the self-proclaimed 'Kaana Kambata' seems unbothered as he said those threatening not to vote for him have been haters since he made his breakthrough in the industry. He said they are only using politics as an excuse.
"I don't support anyone in politics; I'm independent and a tourism ambassador. All I want for my country is peace," Kenzo said.
Kenzo said being nominated in such prestigious international awards is enough indicator that he's a winner and people are free to vote whoever they want.
"It is up to the people to vote Diamond or me because he is also East African. I have no problem with that, after all, it has always been me or him," he said.
Other Ugandans that were nominated include; Sheebah Karungi and Vinka for the Best Female East Africa accolade, Masaka Kids Africana for the Best African Dancer, Keko for Best Female Rap Act, Sasha Vybz for Best Video Director and James Onen for Radio/TV Personnel Of The Year.
You deserve it all —Beenie Gunter shares a photo of girlfriend's baby bump
Seems Beenie Gunter is past the storm of allegedly fathering a son with Fiona Akankwasa as the musician is warming up for his new role as a father.
A while ago, Beenie revealed in an interview that he was soon becoming a father and he has today confirmed the news with a photo of his girlfriend's baby bump.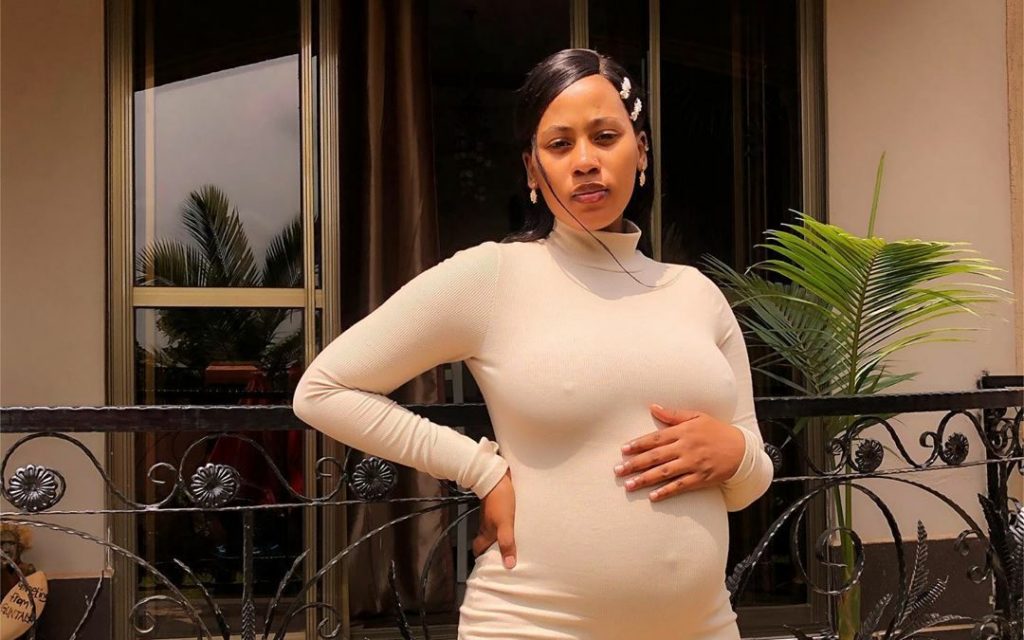 The 'PonMi' singer is expecting a child with his longtime girlfriend known as Nickie.He shared the good news on his Instagram timeline with a photo ofNickiecaptioned 'You deserve it all Nickie Berry'.
Beenie Gunter has in the past been linked to the singer had been in a Nina Roz, Photographer and Film Director Makie Melissa and Fiona Akankwasa.
Comedian Salvador to wed fiancée Daphine
With scientific weddings the new normal, renowned comedian Salvador Idring is set to tie the knot with his fiancée Daphine Franstock.
In June last year, Salvador officially visited Daphine's parents in a lavish ceremony that was attended by many celebrities.  
He pledged to walk down aisle this year but unfortunately COVID 19 put a lot of social gatherings on hold. 
However the celebrity couple has now decided to hold an intimate scientific wedding with a few friends and family. 
Unlike other wedding meetings the Salvadors' have decided to hold a wedding meeting prayer at Mbuya Church slated to take place on December 4,2020.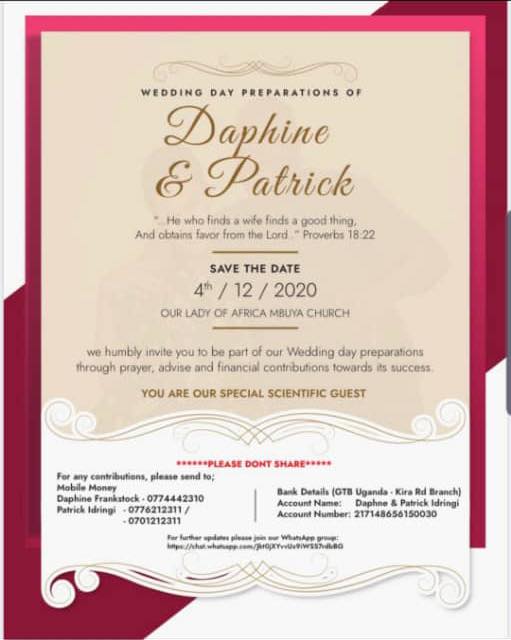 "You're invited to be part of our wedding day preparations through prayer, advise and financial contribution towards it's success," stated the card
According to the card invited scientific guests were requested to keep the meeting a secret.
"Please don't share," states the card.
Salvador and Daphine have three children together.
PHOTOS: Eddy Kenzo reunites with Sheikh Muzaata
Close to a year after Sheikh Muzaata and Eddy Kenzo's appalling episode, the two finally reconciled.  Last weekend Kenzo and Muzaata met in Masaka for an introduction ceremony where Kenzo and baby mama Rema performed.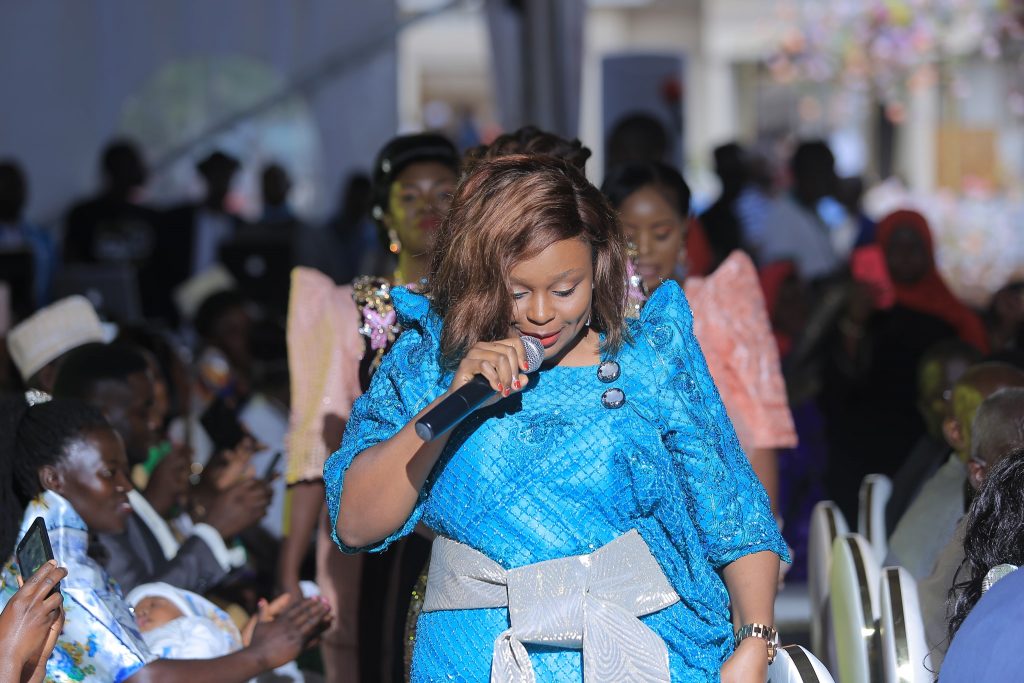 Excited Kenzo shared a photo of him and Muzaata shaking hands on the ceremony, with the caption "one love," as a sign of reconcilation.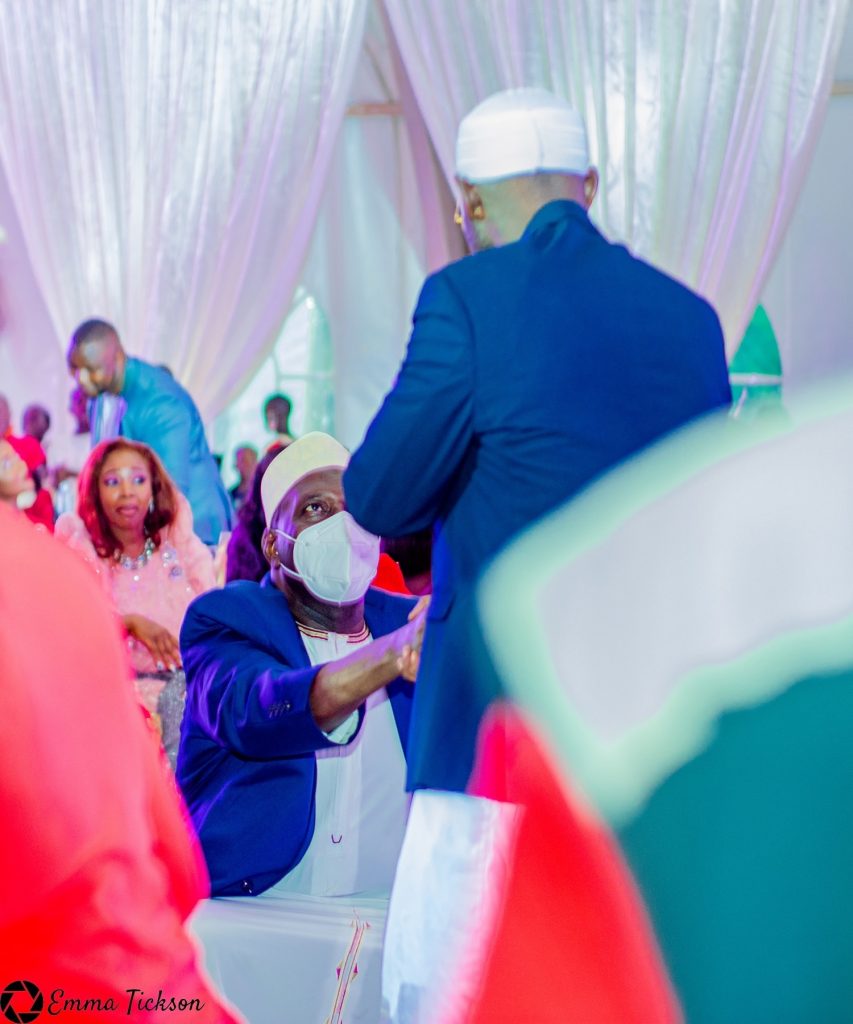 Last year while attending Rema's Kukyala Kenzo Sheikh Muzaata insulted Kenzo saying that the BET Award Winner did not deserve Rema adding that he should go and marry his deceased mother.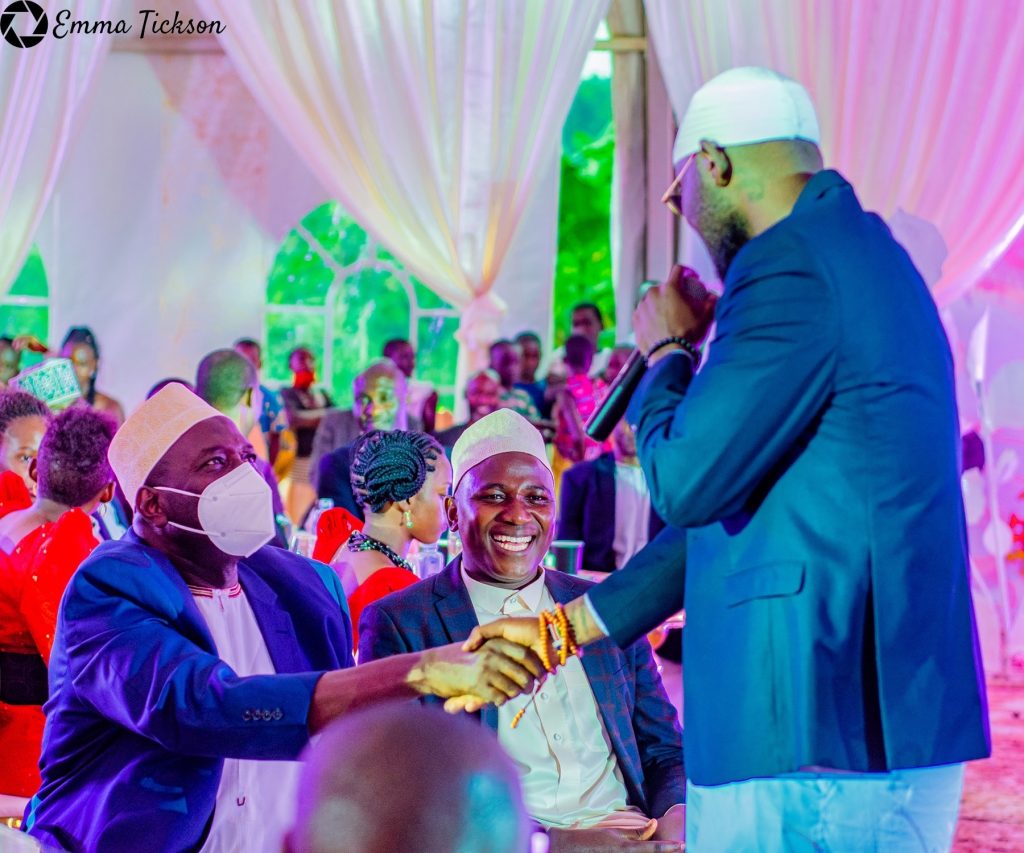 Amidst numerous threats, Kenzo asked for an apology from Muzaata and also vowed to never perform in Uganda again unless the Moslem leader apologised to him.