Andrew Kawooya's Move To KCCA Has Caused Wounds In The Vipers Camp And The Kasasiro Boys Have Responded
On Sunday through the KCCA TV on one of the local stations in the country, KCCA FC unveiled two new players to the public who included left-back Moses Kalanzi and Andrew Kawooya.
One of the players who has caused havoc in the different camps is 17 year old Andrew Kawooya who Vipers claim that he still has a running contract with them.
One of Vipers directors Harunah Kyobe says that KCCA FC should expect war for signing a still contracted player with the Kitende based side.
Information coming from the football mother body in the country says that KCCA presented the contract documents last week and Vipers presented theirs on Monday and this literally means that a player shall play for KCCA FC since Vipers decided not to present the contract documents to FUFA in time.

According to Vipers they say that Kawooya signed a minors contract with them with the consent of his parents and KCCA FC are also saying that they used the right means to acquire Kawooya who is also a form five student at St. Mary's Kitende.
Vipers is expected to petition to FUFA in the shortest period possible on the matter regarding Kawooya who has also featured for Lweza JT and Proline Soccer Academy.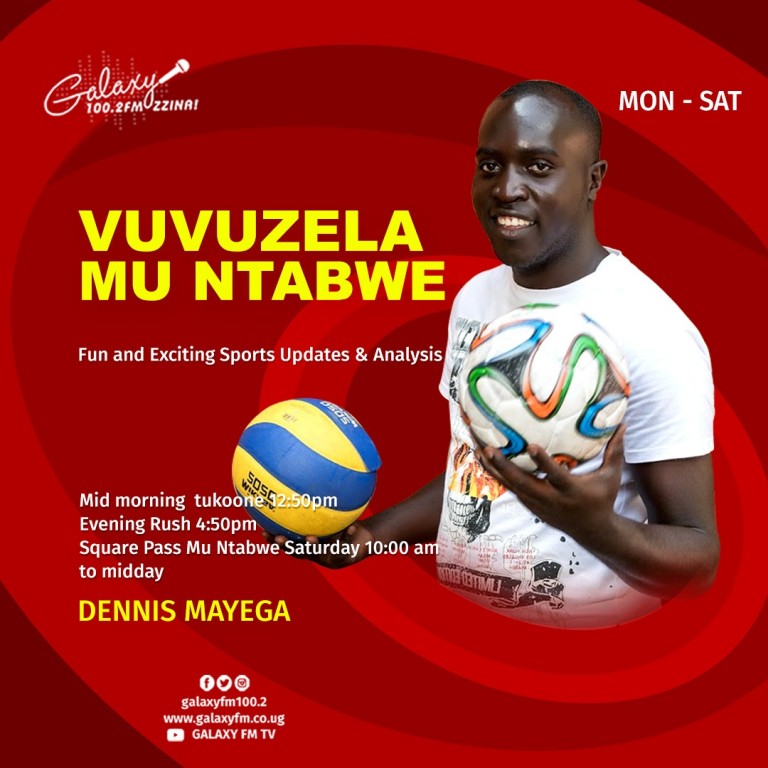 Vuvuzela Mu Ntabwe(12:50-1pm) in Midmorning Tukoone.
Vuvuzela Mu Ntabwe(4:50-5pm) in Evening Rush.
Square Pass Mu Ntabwe(10-12pm) on Saturday.
All on 100.2 Galaxy Fm Zzina!
Sand Cranes Captain Allan Katwe Completes Move To Mwererwe Based Side Bright Stars
Dependable defender Allan Katwe has completed his move from Tooro United to Bright Stars on a two year contract according to the latest information in the teams.
The former Super Cubs defender has been a free agent since his contract expired with Police Fc which he signed in January last season after he mutually parted ways with Sofapaka Fc.
Other local and foreign clubs have been interested in Allan Katwe, especially Kenyan sides that include Mathare United and Ushuru football club want to take him.

Allan Katwe has previously played for a number of clubs that include Super Cubs, Mutundwe Lions and Nkumba University in both the University Football League and FUFA Big League.
Having signed for Bright Stars, Allan Katwe has joined Samuel Ssekamate, Joseph Janjali, Samson Mutyaba, Kisitu Nvule as the latest recruits for the club.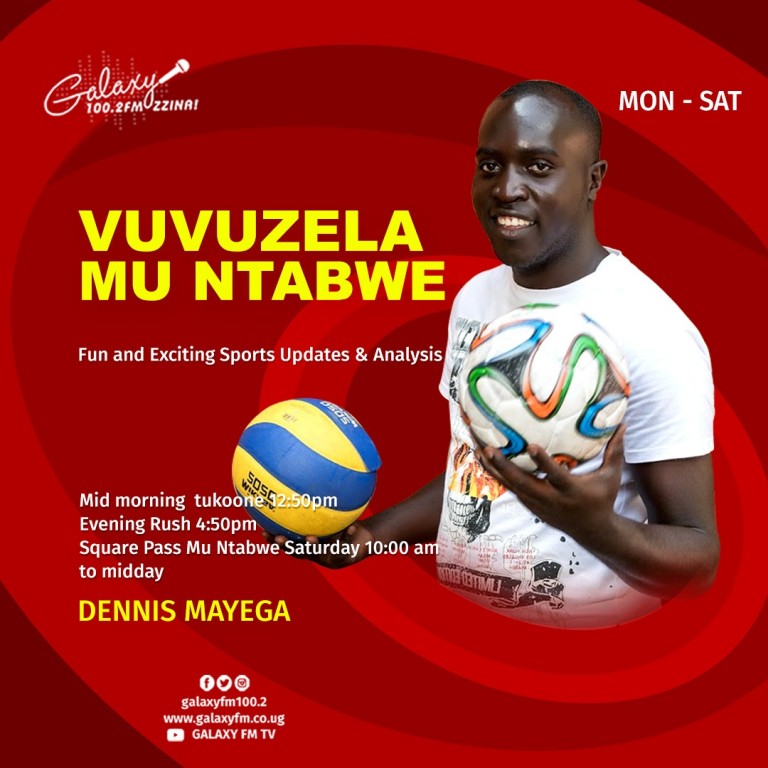 Vuvuzela Mu Ntabwe(12:50-1pm) in Midmorning Tukoone.
Vuvuzela Mu Ntabwe(4:50-5pm) in Evening Rush.
Square Pass Mu Ntabwe(10-12pm) on Saturday.
All on 100.2 Galaxy Fm Zzina!
NAYE LWAKI! Wuuno omulenzi omulala myaka 5 atemeddwako omutwe, ekiwuduwudu kitabudde abatuuze
Entiisa ebuutikidde abatuuze ku kyalo Kisaana mu ggoombolola y'e Malangala mu disitulikiti y'e Mityana, webagudde ku kiwuduwudu ky'omwana eyattiddwa.
Omwana, abadde mulenzi wakati w'emyaka 5 ku 6 era ekiwuduwudu, kisangiddwa mu lutobazi lwe Kizzikibi, nga kiteekeddwa mu kadeeya.
Okusinzira ku batuuze, omwana tamanyikiddwa ku kyalo kyabwe era kiteeberezebwa nti omulambo, gusuuliddwa mu kitundu kyabwe.
Ekiwuduwudu kitwaliddwa mu ggwanika ly'eddwaaliro ekkulu e Mityana okwekebejjebwa nga Poliisi bw'enoonya abatemu, abaatutte omutwe.
Okusinzira ku mwogezi wa Poliisi mu bitundu bye Wamala Racheal Kawala, abatemu baguddwako gwa butemu era Poliisi etandikiddewo okunoonyereza.
Police Nabs 2 Security Officers on Duty for Sleeping while the Historic Ivory Towers Burned Down
Police in Kampala have netted Two security officers in connection to the mysterious fire that ravaged Makerere University's iconic structure on Sunday.
The 2 guards, a police officer, and a private security guard have been thrown into police custody for being negligent while on duty when the unfortunate incident occurred.
Fred Enanga the Uganda police mouthpiece says investigations indicate that both officers were absent from duty at the time of the fire.
Enanga says the private security guard slept all night at the university building while the fire burnt despite attempts to awake him while the police officer absconded from duty that night.
Enanga attributes the laxity on the part of both security guards to the rapid increase in the flames saying they delayed to report the matter to the police.
He explains that it took the sleeping security guard hours to open and his room and by then the fire had spread to the roof and other rooms on the building.
Enanga also revealed that police deployed 11 trucks and a team of over 40 men to put out the fire.
Enanga says police forensic experts have retrieved CCTV camera footage from the library wing help tell if any person could have accessed the main building before the fire