Tunisian Parliament approves third government in less than a year | News
Tunisia's Parliament has approved Prime Minister-designate Hichem Mechichi's government – the country's third administration in less than a year.
Following a 15-hour session that started on Tuesday, Mechichi's cabinet – dominated by independent technocrats – won 134 votes out of the 217 members of parliament.
A former interior minister, Mechichi replaces Elyes Fakhfakh, whose government stayed in power for just five months before he resigned as prime minister last month after questions over his business dealings.
Mechichi proposed a government with 25 ministers and three secretaries of state that includes seven women and a blind man – a first in the country's history.
The 46-year-old has pledged to enact policies seen as critical to revitalising a tourism-reliant sluggish economy that has been hit hard by the coronavirus pandemic.
He gathered the ministries of finance, investment and economy into a single department led by liberal economist Ali Kooli, chief executive of Arab Banking Corporation in Tunisia.
After the vote, Mechichi said his government would be able to "move forward" provided it was not bogged down in political tensions.
Before the session, which was held amid a tussle for influence between President Kais Saied and the main parties, Mechichi defended his nominations in an address to lawmakers.
He said the deteriorating situation in the country calls for competent figures who can intervene quickly and effectively to find solutions to the various problems and challenges.
"The government formation comes at a time of political instability and the people's patience has reached its limit," he said.
The new government would focus on "social and economic questions and respond to the urgent concerns of Tunisians," he added.
'Reform this government'
Tunisia's Parliament is deeply divided and many lawmakers were angry that Mechichi bypassed the main political factions in building his cabinet.
Mechichi, a lawyer by training, named judges, academics, public servants and business executives to his cabinet.
Ennahdha, the largest parliamentary force, and others had instead demanded a "political" government that reflects the balance of parties and factions in parliament. 
But hours before the vote, the self-styled Muslim Democrats said they would back Mechichi "despite reservations".
Abdelkarim Harouni, chairman of Ennahdha's advisory board,  said the party would offer its support "given the difficult situation of the country" but would then seek to "develop and reform this government".
Tunisia has been praised as a rare success story for the Arab Spring uprisings that swept the region in 2011, bringing down its longtime President Zine El Abidine Ben Ali.
But it is now mired in social and economic crisis, with the official unemployment rate at 18 percent, and in need of new assistance from the International Monetary Fund.
Tunisia's tourism-dependent economy shrank 21.6 percent in the second quarter of 2020, compared with the same period last year, due to the coronavirus crisis.
SOURCE:
Al Jazeera and news agencies
21 workers trapped in flooded mine in China's Xinjiang | China News
CCTV says rescuers have located 12 of the 21 trapped miners.
Eight miners have been rescued and 21 remain trapped in a coal mine in China's Xinjiang region after flooding cut power underground and disrupted communications, according to state media.
The accident happened in Fengyuan coal mine in Hutubi County on Saturday evening, when staff were upgrading the site, the official Xinhua news agency said.
Rescuers had located 12 of the 21 trapped miners, broadcaster CCTV said, but it was unclear if they were all together.
Rescue personnel were trying to pump water from the flooded shaft and have been piping air into the mine.
Pipes were being laid but the pumping operation was going to be challenging, CCTV said.
Mining accidents are common in China, where the industry has a poor safety record and enforcement of regulations is often lax.
In January, 22 workers were trapped in a mine in east China's Shandong province after an explosion damaged the entrance, leaving workers stuck underground for about two weeks.
Eleven men were pulled out alive, 10 died and one miner remained unaccounted for.
In December, 23 miners died after being trapped underground in the southwest city of Chongqing – just months after 16 others died from carbon monoxide poisoning at another coal mine in the city.
African Champions League: CR Belouizdad join Sundowns in quarter-finals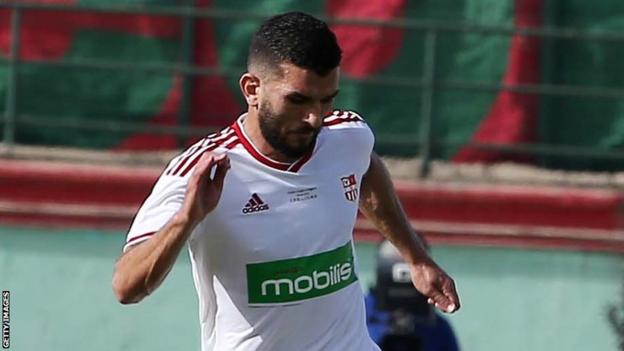 Algerian champions CR Belouizdad earned the win they needed over hosts Mamelodi Sundowns of South Africa to clinch a place in the African Champions League quarter-finals.
Amir Sayoud took his tally in the competition to seven when he gave Belouizdad the lead over Sundowns in Pretoria on 29 minutes.
That advantage was doubled just before half-time as Ahmed Gasmi headed home a cross from Zinelaabidine Boulakhoua.
It was a measure of revenge for the Algerians who were embarrassed by Sundowns on home soil in the reverse fixture when the South Africans won 5-1 in February.
In Friday's other Group B game DR Congo's TP Mazembe, who were already out of contention to make the last eight came from behind to clinch a 2-1 win over Sudan's Al Hilal.
The Sudanese club had needed a win to have any chance at all of progressing.
Al Hilal made the ideal start in their bid to win against former African champions Mazembe – Eid Mugadam gave them the lead after just two minutes in Lumbumbashi – but 16 minutes later Hilal contributed to their own downfall as Ivorian defender Mohamed Ouattara scored an own goal to level the game at 1-1.
Mazembe won the game thanks to a goal from Isaac Tshibangu, who scored just moments after he came on as substitute.
The draw for the quarter and semi-finals will be held on 30 April at the Confederation of African Football's headquarters in Cairo.
Friday's Group B results:
TP Mazembe (DR Congo)

2-1

Al Hilal (Sudan)

Mamelodi Sundowns (South Africa)

0-2

CR Belouizdad (Algeria)
Ghana's farmers eye sweet success from chocolate


Ghana is the world's second largest cocoa producer but sees little of the profits from chocolate – for now.



Source – www.bbc.co.uk