Trump denies systemic racism, pushes 'law and order' in Kenosha | USA News
United States President Donald Trump decried violence at recent racial justice protests as "domestic terror" while denying there is systemic racism within US law enforcement during a visit to Kenosha, Wisconsin.
On Tuesday, the president arrived in the city, where protests have continued since police shot Jacob Blake seven times in the back during an encounter on August 23. Local officials and members of Blake's family had requested that Trump stay away for fear he would further agitate the situation, which has at times turned violent with property damage and two protesters killed last week. 
"We don't need more pain and division from a president set on advancing his campaign at the expense of our city," Justin Blake, an uncle, said in a statement as the family of Jacob Blake, who was paralysed in the shooting, held a "community celebration" during Trump's visit.
"We need justice and relief for our vibrant community," he said.
After landing in Wisconsin, a key battleground state in the upcoming election, Trump toured the charred remains of a block besieged by violence and fire and spoke to the owners of a century-old furniture store that had been destroyed.
While meeting with local law enforcement, he blasted Democrats for what he described as enabling the violence and again took credit for deploying the US National Guard to the city, even though Wisconsin's governor activated the troops and sought reinforcements from other state forces without the involvement of the federal government.  
"These are not acts of peaceful protests, but really domestic terror," Trump said during a round table with law enforcement, referring to objects being thrown at police officers and property damage. 
"Reckless far-left politicians continue to push the destructive message that our nation or our law enforcement are oppressive or racist, they'll throw out any word that comes to them," he added.
The visit comes amid weeks of racial justice protests across the country that began after the police killing of George Floyd in Minnesota in May. Several high-profile killings of Black citizens have since fuelled the discord.
Biden blasts Trump's 'law and order' platform in campaign return
Trump's campaign has seized the moment to push a "law and order" message that says US cities and suburbs are under threat of being swallowed by "looters", "rioters" and "agitators". 
Joe Biden, Trump's Democratic opponent in the November election, has accused the president of stoking tensions for political gain and drawing attention away from the coronavirus.
"Fires are burning. We have a president who fanned the flames, rather than fighting the flames," Biden said during a visit to Pittsburgh, Pennsylvania amid his return to the campaign trail on Monday.
Biden's team has considered a visit to Kenosha and has indicated that a trip to Wisconsin was imminent but has not offered details. 
The NAACP said Tuesday neither candidate should visit the city as tension simmers. 
'Bad apples'
During the trip on Tuesday, Trump also vowed to build up law enforcement in the country, pledging $1m to the local police force in Kenosha, $4m to help rebuild businesses in the city, and $42m to promote overall public safety in the state.
Trump's victory in Wisconsin in 2016 was key to his Electoral College win and remains significant going into November's election.
The family of Jacob Blake and organizers of Saturday's Justice for Jacob Rally are hosting a community gathering at the site of Jacob's shooting.

The gathering began with free music ???? from missionaries from Downtown, LA. #Kenosha pic.twitter.com/Iuaj8I3pSw

— Hillary Flores (@hgflores_) September 1, 2020
Responding to reporters' questions, Trump denied that there were problems of systemic racism within US law enforcement, instead blaming recent incidents on "bad apples" or good cops who "choke" in decisive moments.
"Other people are calling for structural change, and then you can take the people of Kenosha who aren't here and you won't see and they aren't protesting," he told reporters. "They want to see change also, they want to see law and order. That's a change they want."
The visit also comes a day after Trump appeared to defend 17-year-old Kyle Rittenhouse, who is accused of fatally shooting two protesters last week in Kenosha and wounding a third man.
Is Trump's message winning? | The Bottom Line
In widely circulated mobile phone footage taken before the shootings, Rittenhouse, who came to the protest armed with a semiautomatic rifle, said he was there to protect property. 
On Monday, Trump gave a version of events that appears to diverge from prosecutors' accounts, saying Rittenhouse was "trying to get away" when he fell "and then they very violently attacked him".
Prosecutors have said Rittenhouse allegedly shot one man during a confrontation in a parking lot, and was then pursued by protesters who attempted to disarm him. 
That is when he fell and then opened fire, killing the second man and wounding a third.
21 workers trapped in flooded mine in China's Xinjiang | China News
CCTV says rescuers have located 12 of the 21 trapped miners.
Eight miners have been rescued and 21 remain trapped in a coal mine in China's Xinjiang region after flooding cut power underground and disrupted communications, according to state media.
The accident happened in Fengyuan coal mine in Hutubi County on Saturday evening, when staff were upgrading the site, the official Xinhua news agency said.
Rescuers had located 12 of the 21 trapped miners, broadcaster CCTV said, but it was unclear if they were all together.
Rescue personnel were trying to pump water from the flooded shaft and have been piping air into the mine.
Pipes were being laid but the pumping operation was going to be challenging, CCTV said.
Mining accidents are common in China, where the industry has a poor safety record and enforcement of regulations is often lax.
In January, 22 workers were trapped in a mine in east China's Shandong province after an explosion damaged the entrance, leaving workers stuck underground for about two weeks.
Eleven men were pulled out alive, 10 died and one miner remained unaccounted for.
In December, 23 miners died after being trapped underground in the southwest city of Chongqing – just months after 16 others died from carbon monoxide poisoning at another coal mine in the city.
African Champions League: CR Belouizdad join Sundowns in quarter-finals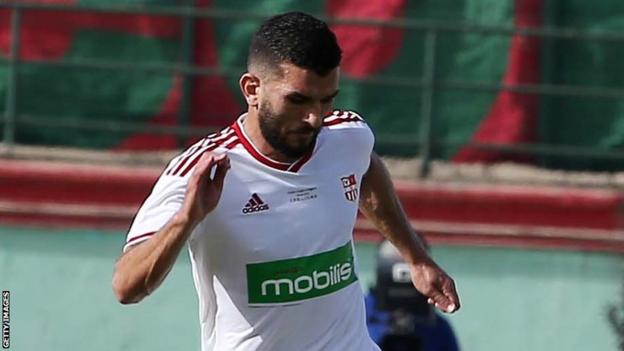 Algerian champions CR Belouizdad earned the win they needed over hosts Mamelodi Sundowns of South Africa to clinch a place in the African Champions League quarter-finals.
Amir Sayoud took his tally in the competition to seven when he gave Belouizdad the lead over Sundowns in Pretoria on 29 minutes.
That advantage was doubled just before half-time as Ahmed Gasmi headed home a cross from Zinelaabidine Boulakhoua.
It was a measure of revenge for the Algerians who were embarrassed by Sundowns on home soil in the reverse fixture when the South Africans won 5-1 in February.
In Friday's other Group B game DR Congo's TP Mazembe, who were already out of contention to make the last eight came from behind to clinch a 2-1 win over Sudan's Al Hilal.
The Sudanese club had needed a win to have any chance at all of progressing.
Al Hilal made the ideal start in their bid to win against former African champions Mazembe – Eid Mugadam gave them the lead after just two minutes in Lumbumbashi – but 16 minutes later Hilal contributed to their own downfall as Ivorian defender Mohamed Ouattara scored an own goal to level the game at 1-1.
Mazembe won the game thanks to a goal from Isaac Tshibangu, who scored just moments after he came on as substitute.
The draw for the quarter and semi-finals will be held on 30 April at the Confederation of African Football's headquarters in Cairo.
Friday's Group B results:
TP Mazembe (DR Congo)

2-1

Al Hilal (Sudan)

Mamelodi Sundowns (South Africa)

0-2

CR Belouizdad (Algeria)
Ghana's farmers eye sweet success from chocolate


Ghana is the world's second largest cocoa producer but sees little of the profits from chocolate – for now.



Source – www.bbc.co.uk