Police Transfers: Kakamba to Head Airport Security; Akoth Takes Over Railway Docket
The Inspector General of Police has made fresh deployments, transfers and appointments of gazetted officers from the rank of Senior Superintendent of Police to Assistant Superintendent of Police, Chimp Corps report.
Deputy police publicist, Polly Namaye said the decision impacts on various offices including heads of departments, Regional Police commanders, district police commanders and others.
"The officers are tasked with ensuring professional and efficient delivery of all police services in their area of jurisdiction," said Namaye.
Notably, SSP Paul Kakamba has been moved from Head of Kampala Metropolitan Police (KMP) South to Entebbe International Airport where he will serve as Chief Joint Security Officer.
ACP James Ruhweza leaves Entebbe Airport to take over as Regional Police Commander, KMP South.
He is remembered for countering opposition protests in Kampala.
Forces under his command regularly clashed with opposition activists in street battles.
SSP Caroline Akoth was transferred from Savannah to Railway Police as Commandant.
In the appointments, Ochola named new officers to conduct counter intelligence at the police headquarters.
Some officers who recently returned from courses have been deployed in crime intelligence. Others including D/ASP Badru Kakaire from Interpol and Edgar Akankwatsa from Buyende have been sent to police headquarters pending investigations of misconduct by Professional Standards Unit (PSU).
Namaye said the "transfers are normal and take immediate effect."
Below is the list of transfers in full:
SSP NAHYUHA ROSE HELLEN FROM COURSE TO DEPARTMENT OF WOMEN AFFAIRS AS AG. CP WOMEN AFFAIRS.
SSP KAKAMBA PAUL FROM KMP/SOUTH TO AIRPORT AS CHIEF JOINT SECURITY OFFICER (CISO)
SSP AKOTH CAROLINE FROM SAVANNAH TO RAILWAY POLICE AS COMMANDANT.
ACP RUHWEZA JAMES FROM AIRPORT TO KMP/S AS RPC
ACP MULUYA FROM RAILWAY TO MBARARA UNIVERSITY OF SCIENCE AND TECHNOLOGY AS SECURITY OFFICER.
SSP NALWOGA SUSAN EDITH FROM COURSE TO SAVANNAH AS RPC
SP NSABA CHARLES FROM COURSE TO KMP/NORTH AS D/RPC
SP KICONCO JOHNSON FROM KMP – N TO ELGON AS D/RPC
SP BYARUHANGA BENSON MWOROZI FROM COURSE TO KATWE KMP/SOUTH AS DPC
SP KINYERA BONIFACE FROM MANAFA TO NAMAYINGO AS DPC
SP EGWANGUGEOFREY FROM NAMAYINGO TO HRM POL. HQTRS PENDING INVESTIGATIONS BY PSU.
SPADEKE ESTHER TUMUSIIME FROM COURSE TO KIBAALE AS DPC.
ASP OTABONG DAVID FROM KIBAALE TO KOLE AS DPC.
ASP AKANKWATSA EDGAR FROM BUYENDE TO HRM POL. HQTRS PENDING INVESTIGATIONS BY PSU.
ASP KACUMU ROBERT FROM MUTAMBALA TO HRM POL. HQTRS PENDING INVESTIGATIONS BY PSU.
SP KIHAMBA JOSEPH FROM COURSE TO BUTAMBALA AS DPC
SP ETIMA TWAHA FROM COURSE TO KAZO AS DPC.
ASP KINENE A KELLY FROM KAZO TO SAVANNAH AS REGIONAL CLO.
ASP NIWAGABA HERBERT FROM KIRA RD TO HRM POL. HQTRS PENDING DEPLOYMENT.
SP TURYASINGURA MATHIAS FROM COURSE TO KIRA RD AS DPC.
ASP MUSINGUZI DENNIS FROM SSEMBABULE TO HRM POL. HQTRS PENDING INVESTIGATIONS.
SP BINDEEBA DICKENS FROM COURSE TO SSEMBABULE AS DPC.
SP ONDOGA TONNY FROM KATAKWE TO HRM PENDING DEPLOYMENT.
SP KAPERE RODGERS FROM BUNYANGABO TO KATAKWI AS DPC.
ASP NDIITA NASIB FROM KIRUHURA TO BUNYANGABO AS DPC.
SP TIBAKIRANA MUSA FROM COURSE TO KIRUHURA AS DPC.
SP OCEN PETER AUSTINE FROM COURSE TO KAABONG AS DPC.
SP MUHWEZO DONALD FROM COURSE TO ISINGIRO AS DPC.
SP ERIMU RICHARD FROM ISINGIRO TO HRM PENDING DEPLOYMENT
SP ONGICHA MICHEAL FROM NAPAK TO HRM PENDING DEPLOYMENT.
SP MURUNGI GAD FROM MBARARA TO NAPAK AS DPC.
SP MUSIIMENTA JOHN RUTAGIR FROM COURSE TO MBARARA AS DPC.
SP KINTU DICKENS FROM COURSE TO RUKUNGIRI AS DPC.
ASP MUZOORA KANARURA FROM AGULE P/P-PALLISA  TO MASINDI AS OC STN.
ASP BALYEGONZA RICHARD FROM KIRYANDONGO TO LWEMIYAGA SEMBABULE AS OC STN
ASP OKWI ERIENY MUSA FROM KIRUHURA TO BUGAMBA P/STN – RWAMPARA AS OC STN.
ASP OKELLO KENNEDY FRO M HRM POL. HQTRS TO KIRUHURA AS OC STN
ASP ASIIMWE ALBERT FROM NTENJERU – MUKONO TO NYEIHANGA CPS RWAMPARA AS OC STN.
ASP NALWOGA SOPHIA FROM MUNI UNIVERSITY TO SOROTI AS OC STN NAKATUNYA.
ASP NASHUHA EVA FROM KYABUGIMBI- BUSHENYI TO OC MUNI UNIVESITY POLICE STN.
ASP AKAMPULIRA BRIAN FROM KUMI TO WANDEGEYA DIV. AS OC STN
ASP KANANURA JOSHUA FROM WERA P/P AMURIA TO CPS KUMI AS OC STN.
ASP KYOSABIRE BEATRICE FROM BUSUNJU – MITYANA TO KAWEMPE REFERRRAL HOSPITAL AS SECURITY OFFICER.
ASP MAFABI JOHN FROM BUJENJE – MASINDI TO BUSUBJU P/STN – MITYANA AS OC.
ASP TAYEBWA APOLLO FROM JINJA RD TO NAMAYINGO AS OC STN.
ASP ACIDRI XAVIER FROM NAMAYINGO TO ISHAKA P/STN AS OC STN
D/SSP TAREMWA MOSES FROM COURSE TO CID HQTRS.
D/SP OZELLO JOHN BOSCO FROM COURSE TO CID HQTRS
D/ASP NAKAWALA JULIET FROM NANSANA TO CID HQTRS PENDING INVESTIGATIONS BY PSU.
D/ASP CHEPCHUMBA STELLA FROM CI HQTR IS REGRADED TO G/DUTIES AND TRANSFERRED TO SIPI AS R/HRO.
D/ASP BAJOOZI ENOCK FROM KYOTERA TO HRM PENDING INVESTIGATIONS BY PSU.
D/ASP MUGUMYA RAYMOND FROM CI HQTR TO ICT DIRECTORATE HQTR
D/ASP KWEBIHA SARAPIO FROM CI HQTR TO POL HQTR AS COUNTER INTELLIGENCE OFFICER.
D/ASP NAMUYONJO MIRIA IS REGRADED TO G/DUTIES AND TRANSFERRED TO SPORTS DEPT – DIRECTORATE OF WELFARE.
D/ASP NATUHAMYA LEVIUS FROM KMP/E TI HRM AS STAFF OFFICER REGISTRIES.
D/ASP KAKAIRE BADRU FROM INTERPOL TO HRM PENDING INVESTIGATIONS.
D/ASP SARAH TIBESIGWA IS REGRADED TO G/DUTIES AND TRANSFERRED TO NAKWERO P/P – KASANGATI.
D/ASP MUNYANEZA RICHARD FROM COURSE TO CI HQTRS.
ASP MWESIGYE GODFREY FROM ELGON TO G.MASAKA AS RTO
ASP NKESIGA ANTHONY FROM G. MASAKA TO ELGON AS RTO.
ASP ONONO GEORGE FROM KAKUMIRO TO MUTUKULA AS OC TRAFFIC.
ASP ODONG DICKSON'S TRANSFER TO FROM NTUNGAMO TO KALIRO VIDE REF HRM 131-133/08/VO.5 IS CANCELLED. HE INSTEAD MOVES TO MASAKA AS OC TRAFFIC.
SSP BESIGYE CHRIS FROM CT TO ANTI MONEY LAUNDERING/COMBATING FINANCE TERRORISM TAST FORCE.
ASP NABULOBI ANNET FROM MISSION TO CI HQTRS.
SSP ULAMA DAVID FROM COURSE TO FFU.
ASP TWINAMASIKO ERISEN FROM MISSION TO FFU
ASP KIWANUKA SARAH FROM PHS PSC&SC BWEBAJJA TO POL. HQTRS HCII.
ASP MFUTINDINDA WARREN FROM BUSHENYI TO LUWEEO FIRE STATION AS R/FIRE OFFICER.
ASP AGABA COLLINS FROM JINJA TO BUSHENYI FIRE STATION AS R/FIRE OFFICER.
ASP RUGABA BENON FROM TORORO TO HOIMA FIRE STATION AS R/FIRE OFFICER.
ASP OLECHA PATRICK FROM HOIMA TO TORORO FIRE STATION AS REGIONAL FIRE OFFICER.
ASP KAMAYO RASHID FROM LUWEERO TO JINJA FIRE STATION AS R/FIRE OFFICER
21 workers trapped in flooded mine in China's Xinjiang | China News
CCTV says rescuers have located 12 of the 21 trapped miners.
Eight miners have been rescued and 21 remain trapped in a coal mine in China's Xinjiang region after flooding cut power underground and disrupted communications, according to state media.
The accident happened in Fengyuan coal mine in Hutubi County on Saturday evening, when staff were upgrading the site, the official Xinhua news agency said.
Rescuers had located 12 of the 21 trapped miners, broadcaster CCTV said, but it was unclear if they were all together.
Rescue personnel were trying to pump water from the flooded shaft and have been piping air into the mine.
Pipes were being laid but the pumping operation was going to be challenging, CCTV said.
Mining accidents are common in China, where the industry has a poor safety record and enforcement of regulations is often lax.
In January, 22 workers were trapped in a mine in east China's Shandong province after an explosion damaged the entrance, leaving workers stuck underground for about two weeks.
Eleven men were pulled out alive, 10 died and one miner remained unaccounted for.
In December, 23 miners died after being trapped underground in the southwest city of Chongqing – just months after 16 others died from carbon monoxide poisoning at another coal mine in the city.
African Champions League: CR Belouizdad join Sundowns in quarter-finals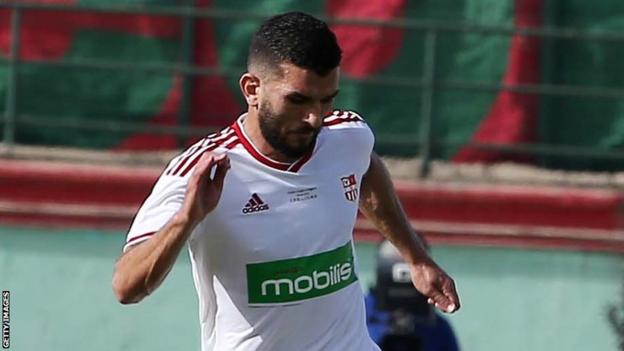 Algerian champions CR Belouizdad earned the win they needed over hosts Mamelodi Sundowns of South Africa to clinch a place in the African Champions League quarter-finals.
Amir Sayoud took his tally in the competition to seven when he gave Belouizdad the lead over Sundowns in Pretoria on 29 minutes.
That advantage was doubled just before half-time as Ahmed Gasmi headed home a cross from Zinelaabidine Boulakhoua.
It was a measure of revenge for the Algerians who were embarrassed by Sundowns on home soil in the reverse fixture when the South Africans won 5-1 in February.
In Friday's other Group B game DR Congo's TP Mazembe, who were already out of contention to make the last eight came from behind to clinch a 2-1 win over Sudan's Al Hilal.
The Sudanese club had needed a win to have any chance at all of progressing.
Al Hilal made the ideal start in their bid to win against former African champions Mazembe – Eid Mugadam gave them the lead after just two minutes in Lumbumbashi – but 16 minutes later Hilal contributed to their own downfall as Ivorian defender Mohamed Ouattara scored an own goal to level the game at 1-1.
Mazembe won the game thanks to a goal from Isaac Tshibangu, who scored just moments after he came on as substitute.
The draw for the quarter and semi-finals will be held on 30 April at the Confederation of African Football's headquarters in Cairo.
Friday's Group B results:
TP Mazembe (DR Congo)

2-1

Al Hilal (Sudan)

Mamelodi Sundowns (South Africa)

0-2

CR Belouizdad (Algeria)
Ghana's farmers eye sweet success from chocolate


Ghana is the world's second largest cocoa producer but sees little of the profits from chocolate – for now.



Source – www.bbc.co.uk