OPINION: There is Immense Need to Safeguard People, Nature Amidst Petroleum Sector Development in Uganda
By Daniel Abowe
It's now 14 years since Uganda discovered commercially viable quantities of oil and gas along the Lake Albert basin. Since then, Uganda's oil and gas sector has transitioned from the exploration and appraisal phase to the development phase in preparation for production projected for 2023.
Planned oil and gas development infrastructure projects have significant potential to alter this biodiversity-rich landscape and negatively impact the environment, given the sensitivity of this area which is regarded as Africa's biodiversity hotspot.
The 1,445km long East African Crude Oil Pipeline (EACOP) will transport crude oil from Hoima to the Coastal Town of Tanga in Tanzania.
Other projects include; oil roads construction within and outside protected areas, feeder pipelines, flow lines and central processing facilities in the Tilenga and Kingfisher development areas, which are operated by Total E&P and CNOOC respectively. The 60,000 barrels per day refinery is also part of the planned infrastructure projects.
According to the Environment and Social Impact Assessment reports for Tilenga, Kingfisher, EACOP, and other aforementioned projects, these developments will have far-reaching consequences on nature and society that will require effective and timely mitigation measures.
A number of specific Environment and Social Management Plans (ESMPs) have been developed to address the likely project impacts. These will require effective implementation and monitoring in order to achieve their target objectives.
In addition, Uganda's tourism sector majorly thrives on natural resources. As a source of livelihood to many Ugandans, tourism will be at stake if environmental safeguards are not properly integrated into the planning and implementation of petroleum projects.
Conservation of the environment amidst oil development requires concerted efforts by government, developers, development partners, civil society, and citizens.
NORAD, through government Ministries and Agencies like NEMA, financing facilities like Democratic Governance Facility and NGOs like World Wide Fund for Nature Uganda Country Office (WWF-UCO) has supported the development of policy and legal frameworks that support environmental conservation.
WWF-UCO has for the last couple of years supported a project entitled "limiting negative impacts of oil and gas development on nature, people, and climate in Uganda through civil society engagement and advocacy".
The project aims at ensuring sustainable exploitation of petroleum resources, while maintaining the integrity of nature and its capacity to provide products and services, especially to the vulnerable and the poor.
The project has supported studies, among them a study on safeguarding people and nature during petroleum development in Uganda and East Africa at large.
The study recognized several potential socio-economic impacts that petroleum projects could lead to, including; opportunities for increased employment and business growth, additional tax revenue and macro-economic growth, increased inequality resulting from the socio-economic changes, inflation resulting from increased incomes – prices for products and services; more stress, crime and disruption of community cohesion due to rapid population growth.
Other impacts include; changes in land-use patterns and erosion of cultural heritage; contamination of water, land and other basic livelihood necessities; human rights violations, community health, and safety as well as occupation hazards among others.
Consequently, the study recommended a number of actions and policy remedial considerations to key decision makers in Uganda and contracted oil companies.
They include: thorough Environmental and Social Impact Assessment (ESIA) for every project, an inclusive and open decision-making and conflict resolution process, respect for the land tenure and other human rights at all times, a robust and inclusive regulatory framework and capacity in the sector.
Other recommendations include; preparing local communities to directly benefit from the jobs and associated business opportunities, strategic location of projects to avoid or minimize encroachment on existing wildlife sensitive areas, managed visual impacts of projects for co-existence with the flourishing nature tourism sector, established and strict enforcement of an oil spill contingency mechanism, effectively managed community health and safety issues and occupational hazards.
Mid-last month, the Extractive Industries Transparency Initiative (EITI) admitted Uganda as the 54th member country of the EITI.
Uganda became the 26th African country to join the initiative. The EITI requires governments and mining companies to publish and reconcile data on oil and gas, and mining revenues as a mechanism for ensuring transparency, accountability, and subsequently proper management of revenues that accrue from natural resources among other associated benefits.
The 2019 EITI standard requires governments to integrate the impact of extractives operation on the environment and community in their EITI reports.
By reporting on the impacts extractive companies are having on nature and biodiversity, EITI will be handy in Uganda's pursuit of sustainable development through the effective exploitation of mineral resources.
Notwithstanding the attractive economic benefits associated with oil and gas developments in Uganda, this should not come at a high ecological cost and irreversible damage to the environment with potentially disastrous consequences for current and future generations.
Daniel Abowe is Researcher at CSCO/ACODE
21 workers trapped in flooded mine in China's Xinjiang | China News
CCTV says rescuers have located 12 of the 21 trapped miners.
Eight miners have been rescued and 21 remain trapped in a coal mine in China's Xinjiang region after flooding cut power underground and disrupted communications, according to state media.
The accident happened in Fengyuan coal mine in Hutubi County on Saturday evening, when staff were upgrading the site, the official Xinhua news agency said.
Rescuers had located 12 of the 21 trapped miners, broadcaster CCTV said, but it was unclear if they were all together.
Rescue personnel were trying to pump water from the flooded shaft and have been piping air into the mine.
Pipes were being laid but the pumping operation was going to be challenging, CCTV said.
Mining accidents are common in China, where the industry has a poor safety record and enforcement of regulations is often lax.
In January, 22 workers were trapped in a mine in east China's Shandong province after an explosion damaged the entrance, leaving workers stuck underground for about two weeks.
Eleven men were pulled out alive, 10 died and one miner remained unaccounted for.
In December, 23 miners died after being trapped underground in the southwest city of Chongqing – just months after 16 others died from carbon monoxide poisoning at another coal mine in the city.
African Champions League: CR Belouizdad join Sundowns in quarter-finals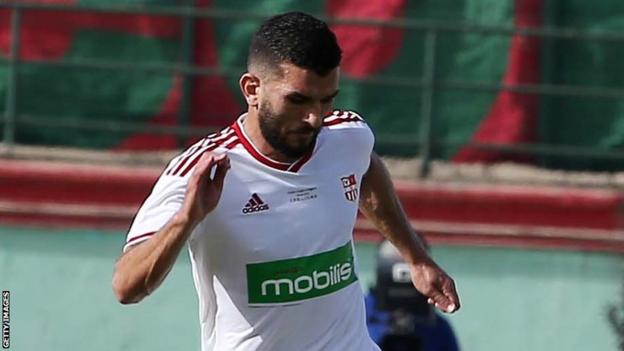 Algerian champions CR Belouizdad earned the win they needed over hosts Mamelodi Sundowns of South Africa to clinch a place in the African Champions League quarter-finals.
Amir Sayoud took his tally in the competition to seven when he gave Belouizdad the lead over Sundowns in Pretoria on 29 minutes.
That advantage was doubled just before half-time as Ahmed Gasmi headed home a cross from Zinelaabidine Boulakhoua.
It was a measure of revenge for the Algerians who were embarrassed by Sundowns on home soil in the reverse fixture when the South Africans won 5-1 in February.
In Friday's other Group B game DR Congo's TP Mazembe, who were already out of contention to make the last eight came from behind to clinch a 2-1 win over Sudan's Al Hilal.
The Sudanese club had needed a win to have any chance at all of progressing.
Al Hilal made the ideal start in their bid to win against former African champions Mazembe – Eid Mugadam gave them the lead after just two minutes in Lumbumbashi – but 16 minutes later Hilal contributed to their own downfall as Ivorian defender Mohamed Ouattara scored an own goal to level the game at 1-1.
Mazembe won the game thanks to a goal from Isaac Tshibangu, who scored just moments after he came on as substitute.
The draw for the quarter and semi-finals will be held on 30 April at the Confederation of African Football's headquarters in Cairo.
Friday's Group B results:
TP Mazembe (DR Congo)

2-1

Al Hilal (Sudan)

Mamelodi Sundowns (South Africa)

0-2

CR Belouizdad (Algeria)
Ghana's farmers eye sweet success from chocolate


Ghana is the world's second largest cocoa producer but sees little of the profits from chocolate – for now.



Source – www.bbc.co.uk