French forces in Mali kill civilian, wound two | Mali News
France's army command in Mali has said French troops killed a civilian and wounded two others after a bus did not slow down in a volatile area despite their visual warnings and warning shots.
This version of events, however, was disputed by bus company director Abdoulaye Haidara, who told AFP news agency that his driver had denied refusing to stop and did not hear any warning shots. 
The incident occurred about 50km (30 miles) from the city of Gao in the conflict-hit country's north.
The French army command said on Tuesday the troops fired warning shots in the ground but two bullets ricocheted and hit the windscreen, wounding three people, including one fatally.
"The seriously wounded person was evacuated by helicopter to the hospital of the [French] Barkhane force in Gao, but died of his injuries," it said.
"All steps have been taken to ascertain the exact sequence of events," it said, expressing its "sincere condolences to the family of the deceased."
Mali is now under the control of military officers who seized power in an August 18 coup d'etat, forcing the resignation of embattled President Ibrahim Boubacar Keita.
In the weeks leading up to the coup, tens of thousands of opposition supporters had rallied in the capital, Bamako, to protest against a disputed parliamentary election, persistent economic woes and a spiralling security crisis that erupted in 2012, when a previous coup allowed northern Tuareg separatists, allied with an al-Qaeda offshoot, to take advantage of the political instability and briefly seize large swaths of land in the north.
That loss of territory precipitated the currently devolving situation, with large swaths of Mali outside of the control of central authorities and armed groups linked to ISIL (ISIS) and al-Qaeda capitalising on intercommunal tensions as they jockey for control.
Despite the increased presence of international forces – including the French-led Operation Barkhane, with more than 5,000 troops – violence has continued to increase in Mali, claiming thousands of lives since 2012.
SOURCE:
Al Jazeera and news agencies
21 workers trapped in flooded mine in China's Xinjiang | China News
CCTV says rescuers have located 12 of the 21 trapped miners.
Eight miners have been rescued and 21 remain trapped in a coal mine in China's Xinjiang region after flooding cut power underground and disrupted communications, according to state media.
The accident happened in Fengyuan coal mine in Hutubi County on Saturday evening, when staff were upgrading the site, the official Xinhua news agency said.
Rescuers had located 12 of the 21 trapped miners, broadcaster CCTV said, but it was unclear if they were all together.
Rescue personnel were trying to pump water from the flooded shaft and have been piping air into the mine.
Pipes were being laid but the pumping operation was going to be challenging, CCTV said.
Mining accidents are common in China, where the industry has a poor safety record and enforcement of regulations is often lax.
In January, 22 workers were trapped in a mine in east China's Shandong province after an explosion damaged the entrance, leaving workers stuck underground for about two weeks.
Eleven men were pulled out alive, 10 died and one miner remained unaccounted for.
In December, 23 miners died after being trapped underground in the southwest city of Chongqing – just months after 16 others died from carbon monoxide poisoning at another coal mine in the city.
African Champions League: CR Belouizdad join Sundowns in quarter-finals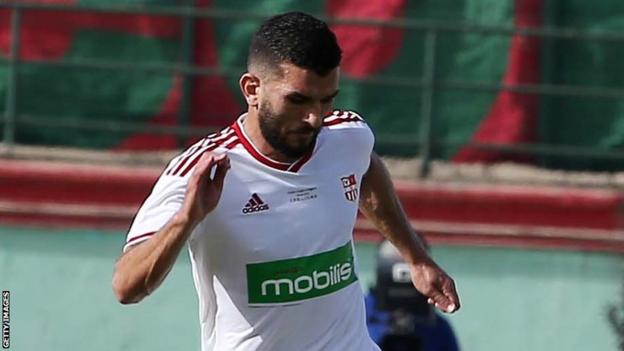 Algerian champions CR Belouizdad earned the win they needed over hosts Mamelodi Sundowns of South Africa to clinch a place in the African Champions League quarter-finals.
Amir Sayoud took his tally in the competition to seven when he gave Belouizdad the lead over Sundowns in Pretoria on 29 minutes.
That advantage was doubled just before half-time as Ahmed Gasmi headed home a cross from Zinelaabidine Boulakhoua.
It was a measure of revenge for the Algerians who were embarrassed by Sundowns on home soil in the reverse fixture when the South Africans won 5-1 in February.
In Friday's other Group B game DR Congo's TP Mazembe, who were already out of contention to make the last eight came from behind to clinch a 2-1 win over Sudan's Al Hilal.
The Sudanese club had needed a win to have any chance at all of progressing.
Al Hilal made the ideal start in their bid to win against former African champions Mazembe – Eid Mugadam gave them the lead after just two minutes in Lumbumbashi – but 16 minutes later Hilal contributed to their own downfall as Ivorian defender Mohamed Ouattara scored an own goal to level the game at 1-1.
Mazembe won the game thanks to a goal from Isaac Tshibangu, who scored just moments after he came on as substitute.
The draw for the quarter and semi-finals will be held on 30 April at the Confederation of African Football's headquarters in Cairo.
Friday's Group B results:
TP Mazembe (DR Congo)

2-1

Al Hilal (Sudan)

Mamelodi Sundowns (South Africa)

0-2

CR Belouizdad (Algeria)
Ghana's farmers eye sweet success from chocolate


Ghana is the world's second largest cocoa producer but sees little of the profits from chocolate – for now.



Source – www.bbc.co.uk