France's Macron reaches Baghdad on first official visit to Iraq | Iraq News
French President Emmanuel Macron has landed in Baghdad on his first official trip to Iraq, where he hopes to help the country reassert its "sovereignty" after years of conflict.
Macron is the first head of state to visit the Iraqi capital since Prime Minister Mustafa al-Kadhimi, Iraq's former intelligence chief, formed a new government in May.
The French leader is expected to meet al-Kadhimi and President Barham Salih at the presidential palace during his day-long trip on Wednesday, which comes amid a severe economic crisis and coronavirus pandemic that has put a huge strain on Iraqi economy and politics.
The visit would be of "great importance, as it's the third by French officials in a single month," said Husham Dawood, an adviser to the Iraqi premier.
Speaking in Lebanon on Tuesday night while concluding his two-day visit there, Macron said he was heading to Baghdad "to launch an initiative alongside the United Nations to support a process of sovereignty". 
In Lebanon, Macron offers the carrot or the stick  
"The fight for Iraq's sovereignty is essential," Macron had told reporters on Friday, before departing for Lebanon.
He said Iraqis, who "suffered so much", deserved options besides domination by regional powers or groups such as ISIL (ISIS).
"There are leaders and a people who are aware of this, and who want to take their destiny in hand. The role of France is to help them do so," Macron said. 
He said he would also discuss the case of French citizens who fought with ISIL, which was defeated in Iraq in 2017 with international support. Nearly a dozen French ISIL members have been sentenced to death before Iraqi courts.
Macron is also expected to meet Nechirvan Barzani, president of the semi-autonomous northern Kurdish region.
Soon after winning the presidency in 2017, Macron had tried to mediate between the Kurdish north and the federal government, but financial and security disputes between the two sides remain unresolved. 
US-Iran tensions
After a United States-led invasion toppled former president Saddam Hussein in 2003, Iraq was ravaged by waves of sectarian conflict that culminated in ISIL capturing swaths of the country six years ago.
At the same time, the country has been caught for years between its two main allies, Iran and the United States, a balancing act that has become increasingly tortured since Washington's withdrawal in 2018 from a multilateral nuclear deal with Tehran.
France is among the European nations that remain key backers of the 2015 agreement.
Al-Kadhimi, who is backed by the US, assumed office on May 7 when Baghdad's relations with Washington were precarious. Like previous Iraqi leaders, he has to walk a tightrope amid the US-Iran rivalry.
The January assassination of Iranian General Qassem Soleimani and top Iraqi militia leader Abu Mahdi al-Muhandis by the US in Baghdad prompted demands by Shia legislators that US forces leave Iraq.
Al-Kadhimi visited Washington last month, where he held talks with President Donald Trump. He said his administration is committed to introducing security reforms as rogue militia groups stage near-daily attacks against the seat of his government.
Other crises for al-Kadhimi include slashed state coffers in the crude oil-dependent country following a severe drop in prices, adding to the woes of an economy already struggling amid the pandemic.
SOURCE:
Al Jazeera and news agencies
21 workers trapped in flooded mine in China's Xinjiang | China News
CCTV says rescuers have located 12 of the 21 trapped miners.
Eight miners have been rescued and 21 remain trapped in a coal mine in China's Xinjiang region after flooding cut power underground and disrupted communications, according to state media.
The accident happened in Fengyuan coal mine in Hutubi County on Saturday evening, when staff were upgrading the site, the official Xinhua news agency said.
Rescuers had located 12 of the 21 trapped miners, broadcaster CCTV said, but it was unclear if they were all together.
Rescue personnel were trying to pump water from the flooded shaft and have been piping air into the mine.
Pipes were being laid but the pumping operation was going to be challenging, CCTV said.
Mining accidents are common in China, where the industry has a poor safety record and enforcement of regulations is often lax.
In January, 22 workers were trapped in a mine in east China's Shandong province after an explosion damaged the entrance, leaving workers stuck underground for about two weeks.
Eleven men were pulled out alive, 10 died and one miner remained unaccounted for.
In December, 23 miners died after being trapped underground in the southwest city of Chongqing – just months after 16 others died from carbon monoxide poisoning at another coal mine in the city.
African Champions League: CR Belouizdad join Sundowns in quarter-finals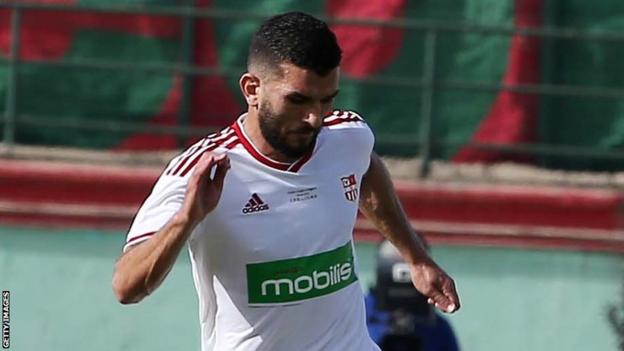 Algerian champions CR Belouizdad earned the win they needed over hosts Mamelodi Sundowns of South Africa to clinch a place in the African Champions League quarter-finals.
Amir Sayoud took his tally in the competition to seven when he gave Belouizdad the lead over Sundowns in Pretoria on 29 minutes.
That advantage was doubled just before half-time as Ahmed Gasmi headed home a cross from Zinelaabidine Boulakhoua.
It was a measure of revenge for the Algerians who were embarrassed by Sundowns on home soil in the reverse fixture when the South Africans won 5-1 in February.
In Friday's other Group B game DR Congo's TP Mazembe, who were already out of contention to make the last eight came from behind to clinch a 2-1 win over Sudan's Al Hilal.
The Sudanese club had needed a win to have any chance at all of progressing.
Al Hilal made the ideal start in their bid to win against former African champions Mazembe – Eid Mugadam gave them the lead after just two minutes in Lumbumbashi – but 16 minutes later Hilal contributed to their own downfall as Ivorian defender Mohamed Ouattara scored an own goal to level the game at 1-1.
Mazembe won the game thanks to a goal from Isaac Tshibangu, who scored just moments after he came on as substitute.
The draw for the quarter and semi-finals will be held on 30 April at the Confederation of African Football's headquarters in Cairo.
Friday's Group B results:
TP Mazembe (DR Congo)

2-1

Al Hilal (Sudan)

Mamelodi Sundowns (South Africa)

0-2

CR Belouizdad (Algeria)
Ghana's farmers eye sweet success from chocolate


Ghana is the world's second largest cocoa producer but sees little of the profits from chocolate – for now.



Source – www.bbc.co.uk