Colombia expands reopening as coronavirus cases stabilise | Coronavirus pandemic News
Airports, bus terminals, restaurants and gyms have reopened in most of Colombia as the Latin American nation attempts to reignite its economy following months of restrictions to slow the spread of the novel coronavirus.
Hospital occupancy rates and COVID-19 deaths have stabilised across much of Colombia over the past 10 days, prompting the government on Tuesday to lift more of the emergency measures that had been in place for five months, including a ban on most travel within the country.
The health ministry said on Tuesday that coronavirus deaths had topped 20,000 as confirmed cases surpassed 624,000, the seventh-highest total in the world.
Declared in late March by President Ivan Duque, the nationwide restrictions led to the closure of thousands of businesses, causing joblessness to soar.
The Colombian government said the country is now in a phase of selective quarantine, with restrictions on events and large crowds to continue this month as more economic activity resumes with safety protocols in place.
"We are not returning to things as they were before [the pandemic]," Duque said in a nationally televised programme on Monday night. "Nobody can let their guard down and all of us must protect each other."
Bogota's El Dorado airport opened on Tuesday to passengers flying domestic routes for the first time since March, and long lines formed outside bus terminals around the country.
"I am going to see my family. It's been too long without them," said Sara Rivas, a university student, who lost her part-time job at an office-supply shop two months ago.
Officials said international flights are expected to resume later this month and land borders could open in October.
Under Tuesday's reopening, municipal governments will be allowed to impose additional restrictions on businesses within their territories.
Bogota Mayor Claudia Lopez announced that restaurants in the capital would be allowed to resume table service starting Thursday but at only 25-percent capacity.
She also said her administration would shut down portions of 100 streets around the city from Thursdays to Sundays so restaurants can serve more customers by placing tables outside.
The unemployment rate in Colombia has doubled to 20 percent since the pandemic broke out, and the Central Bank says the economy shrank 19 percent in the second quarter amid the lockdown.
21 workers trapped in flooded mine in China's Xinjiang | China News
CCTV says rescuers have located 12 of the 21 trapped miners.
Eight miners have been rescued and 21 remain trapped in a coal mine in China's Xinjiang region after flooding cut power underground and disrupted communications, according to state media.
The accident happened in Fengyuan coal mine in Hutubi County on Saturday evening, when staff were upgrading the site, the official Xinhua news agency said.
Rescuers had located 12 of the 21 trapped miners, broadcaster CCTV said, but it was unclear if they were all together.
Rescue personnel were trying to pump water from the flooded shaft and have been piping air into the mine.
Pipes were being laid but the pumping operation was going to be challenging, CCTV said.
Mining accidents are common in China, where the industry has a poor safety record and enforcement of regulations is often lax.
In January, 22 workers were trapped in a mine in east China's Shandong province after an explosion damaged the entrance, leaving workers stuck underground for about two weeks.
Eleven men were pulled out alive, 10 died and one miner remained unaccounted for.
In December, 23 miners died after being trapped underground in the southwest city of Chongqing – just months after 16 others died from carbon monoxide poisoning at another coal mine in the city.
African Champions League: CR Belouizdad join Sundowns in quarter-finals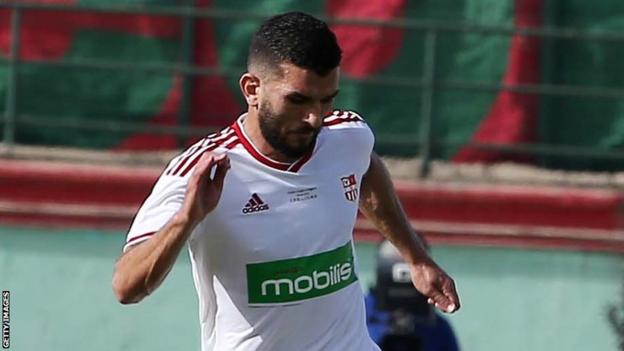 Algerian champions CR Belouizdad earned the win they needed over hosts Mamelodi Sundowns of South Africa to clinch a place in the African Champions League quarter-finals.
Amir Sayoud took his tally in the competition to seven when he gave Belouizdad the lead over Sundowns in Pretoria on 29 minutes.
That advantage was doubled just before half-time as Ahmed Gasmi headed home a cross from Zinelaabidine Boulakhoua.
It was a measure of revenge for the Algerians who were embarrassed by Sundowns on home soil in the reverse fixture when the South Africans won 5-1 in February.
In Friday's other Group B game DR Congo's TP Mazembe, who were already out of contention to make the last eight came from behind to clinch a 2-1 win over Sudan's Al Hilal.
The Sudanese club had needed a win to have any chance at all of progressing.
Al Hilal made the ideal start in their bid to win against former African champions Mazembe – Eid Mugadam gave them the lead after just two minutes in Lumbumbashi – but 16 minutes later Hilal contributed to their own downfall as Ivorian defender Mohamed Ouattara scored an own goal to level the game at 1-1.
Mazembe won the game thanks to a goal from Isaac Tshibangu, who scored just moments after he came on as substitute.
The draw for the quarter and semi-finals will be held on 30 April at the Confederation of African Football's headquarters in Cairo.
Friday's Group B results:
TP Mazembe (DR Congo)

2-1

Al Hilal (Sudan)

Mamelodi Sundowns (South Africa)

0-2

CR Belouizdad (Algeria)
Ghana's farmers eye sweet success from chocolate


Ghana is the world's second largest cocoa producer but sees little of the profits from chocolate – for now.



Source – www.bbc.co.uk