Video shows Israeli soldier kneeling on protester's neck | News
A video circulating on social media appears to show an Israeli soldier kneeling on an elderly Palestinian protester's neck while arresting him during a demonstration in the occupied West Bank.
Footage circulating on Tuesday shows an Israeli soldier pushing Khairi Hannoun, a 65-year-old Palestinian protester, to the ground as other troops raise their rifles and shout at a group of news photographers to back away. One projectile was fired, although it is not clear if it was a stun grenade or tear gas.
The soldier then wrestled Hannoun to the ground and kneeled on his neck and back while putting him in handcuffs.
Hannoun said he was with dozens of demonstrators in Shufa village near the occupied West Bank town of Tulkarem who were protesting Israeli plans to confiscate some 800 dunums (800,000 square kilometres) of the land to build an industrial park.
This is the world's most moral army violently arresting a peaceful Palestinian protestor today in the West Bank. #FreePalestine pic.twitter.com/tu372ASHLv

— Alexandra Halaby (@iskandrah) September 1, 2020
The video shows Hannoun pushing an Israeli soldier after he snatched a Palestine flag from another demonstrator, setting off the scuffle.
"The Israeli soldiers hit me hard and one of them pressed his knee against my neck for a few minutes," he told The Associated Press. "I stayed still to avoid more pressure on my neck, but people pulled me out."
Hannoun said he suffered bruising but no serious injuries.
Local Palestinian forces said dozens of protesters suffered from tear gas inhalation after Israeli forces fired canisters in their direction and shot live rounds.
Palestinians and Israeli rights groups often accuse Israeli security forces of using excessive force to disperse Palestinian protests.
Those confrontations have come under heightened scrutiny amid the recent protests against racial injustice in the United States, as some Palestinians have sought to link their cause to the Black Lives Matter movement.
The US protests were sparked by the killing of George Floyd, a Black man who died in police custody after a white officer kneeled on his neck for several minutes as he cried out that he could not breathe.
The Israeli military said the commander "showed restraint" after Hannoun resisted arrest. It said he was given medical care at the scene, before being later released.
"The videos on social media are partial, heavily edited and do not reflect the violent riot nor the violence against [Israeli] troops that happened prior to the apprehension," the military said in a statement. It added the protesters had thrown stones and "assaulted" the soldiers.
"The event will be looked into over the next days," it said.
SOURCE:
Al Jazeera and news agencies
21 workers trapped in flooded mine in China's Xinjiang | China News
CCTV says rescuers have located 12 of the 21 trapped miners.
Eight miners have been rescued and 21 remain trapped in a coal mine in China's Xinjiang region after flooding cut power underground and disrupted communications, according to state media.
The accident happened in Fengyuan coal mine in Hutubi County on Saturday evening, when staff were upgrading the site, the official Xinhua news agency said.
Rescuers had located 12 of the 21 trapped miners, broadcaster CCTV said, but it was unclear if they were all together.
Rescue personnel were trying to pump water from the flooded shaft and have been piping air into the mine.
Pipes were being laid but the pumping operation was going to be challenging, CCTV said.
Mining accidents are common in China, where the industry has a poor safety record and enforcement of regulations is often lax.
In January, 22 workers were trapped in a mine in east China's Shandong province after an explosion damaged the entrance, leaving workers stuck underground for about two weeks.
Eleven men were pulled out alive, 10 died and one miner remained unaccounted for.
In December, 23 miners died after being trapped underground in the southwest city of Chongqing – just months after 16 others died from carbon monoxide poisoning at another coal mine in the city.
African Champions League: CR Belouizdad join Sundowns in quarter-finals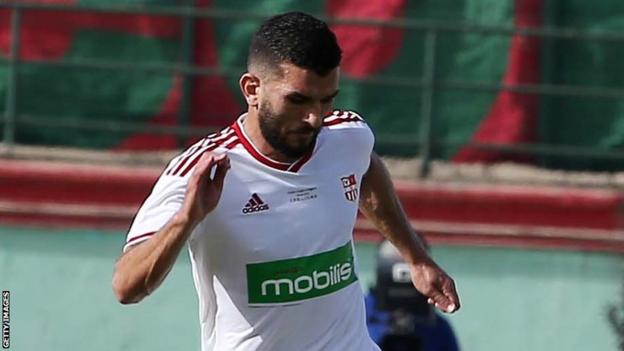 Algerian champions CR Belouizdad earned the win they needed over hosts Mamelodi Sundowns of South Africa to clinch a place in the African Champions League quarter-finals.
Amir Sayoud took his tally in the competition to seven when he gave Belouizdad the lead over Sundowns in Pretoria on 29 minutes.
That advantage was doubled just before half-time as Ahmed Gasmi headed home a cross from Zinelaabidine Boulakhoua.
It was a measure of revenge for the Algerians who were embarrassed by Sundowns on home soil in the reverse fixture when the South Africans won 5-1 in February.
In Friday's other Group B game DR Congo's TP Mazembe, who were already out of contention to make the last eight came from behind to clinch a 2-1 win over Sudan's Al Hilal.
The Sudanese club had needed a win to have any chance at all of progressing.
Al Hilal made the ideal start in their bid to win against former African champions Mazembe – Eid Mugadam gave them the lead after just two minutes in Lumbumbashi – but 16 minutes later Hilal contributed to their own downfall as Ivorian defender Mohamed Ouattara scored an own goal to level the game at 1-1.
Mazembe won the game thanks to a goal from Isaac Tshibangu, who scored just moments after he came on as substitute.
The draw for the quarter and semi-finals will be held on 30 April at the Confederation of African Football's headquarters in Cairo.
Friday's Group B results:
TP Mazembe (DR Congo)

2-1

Al Hilal (Sudan)

Mamelodi Sundowns (South Africa)

0-2

CR Belouizdad (Algeria)
Ghana's farmers eye sweet success from chocolate


Ghana is the world's second largest cocoa producer but sees little of the profits from chocolate – for now.



Source – www.bbc.co.uk