Uganda Registers 65 New COVID-19 Cases as Taskforce Moves to Decide the Fate of Schools, Places of Worship
The Ministry of Health has on Tuesday confirmed 65 new COVID-19 cases in Uganda bringing the cumulative total number of infections in the country to 3,037.
The cases were confirmed from samples tested for COVID-19 on Monday.
Out of the 65 new cases, 62 are contacts and alerts and they include 20 from Kampala, 10 from Kikuube, 8 from Luweero, 4 from Buikwe, 4 from Zombo, 3 from Adjumani, 3 from Arua, 3 from Hoima, 2 from Wakiso while Jinja, Mbarara, Mayuge, Pallisa and Yumbe registered 1 case each.
2 foreign truck drivers who arrived into Uganda via Padea and Lia points of entry and 1 health worker from Kampala also tested positive for COVID-19.
Meanwhile, 2 foreign truck drivers, one from Kenya and another one from DRC also tested positive for COVID-19 and were denied entry into Uganda as per the presidential directive that only COVID-19 negative truck drivers be allowed entry into the country.
Out of the 3,564 COVID-19 samples tested on Monday, 1,010 were from points of entry while 2,554 were from contacts and alerts.
Since Uganda began testing for COVID-19, a cumulative total of 381,749 cases have been tested.
Currently, Uganda has a cumulative total of 3,037 COVID-19 confirmed cases, 1,489 recoveries and 32 fatalities.
Today, the COVID-19 Taskforce is meeting to decide whether to reopen schools, places of worship, bars and other sectors that have been closed for close to 6 months in a bid to contain the spread of COVID-19.
The Government, over the weekend, introduced a COVID-19 testing fee saying that testing kits are expensive.
This, the government said, is because out of over 300,000 COVID-19 tests done, 1% of the people were discovered to have COVID-19.
Despite criticism from the public, the presidential advisor on epidemics Prof Monica Musenero, has since said that paying for their COVID-19 tests is normal since it is done in some countries such as Kenya.
The categories of people that will be paying the COVID-19 testing fee of 240,500 shillings include truck drivers arriving into Uganda via different points of entry, Ugandans coming from abroad, people seeking to know their COVID-19 status and companies and organisations testing their staff.
However, people who present to the health facilities with COVID-19 signs and symptoms, contacts and alerts to previously confirmed cases are exempted from paying the fee.
21 workers trapped in flooded mine in China's Xinjiang | China News
CCTV says rescuers have located 12 of the 21 trapped miners.
Eight miners have been rescued and 21 remain trapped in a coal mine in China's Xinjiang region after flooding cut power underground and disrupted communications, according to state media.
The accident happened in Fengyuan coal mine in Hutubi County on Saturday evening, when staff were upgrading the site, the official Xinhua news agency said.
Rescuers had located 12 of the 21 trapped miners, broadcaster CCTV said, but it was unclear if they were all together.
Rescue personnel were trying to pump water from the flooded shaft and have been piping air into the mine.
Pipes were being laid but the pumping operation was going to be challenging, CCTV said.
Mining accidents are common in China, where the industry has a poor safety record and enforcement of regulations is often lax.
In January, 22 workers were trapped in a mine in east China's Shandong province after an explosion damaged the entrance, leaving workers stuck underground for about two weeks.
Eleven men were pulled out alive, 10 died and one miner remained unaccounted for.
In December, 23 miners died after being trapped underground in the southwest city of Chongqing – just months after 16 others died from carbon monoxide poisoning at another coal mine in the city.
African Champions League: CR Belouizdad join Sundowns in quarter-finals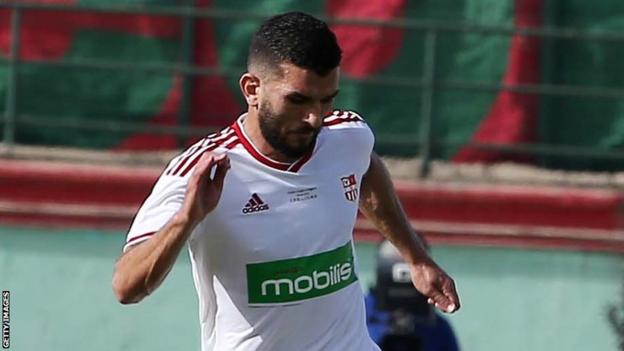 Algerian champions CR Belouizdad earned the win they needed over hosts Mamelodi Sundowns of South Africa to clinch a place in the African Champions League quarter-finals.
Amir Sayoud took his tally in the competition to seven when he gave Belouizdad the lead over Sundowns in Pretoria on 29 minutes.
That advantage was doubled just before half-time as Ahmed Gasmi headed home a cross from Zinelaabidine Boulakhoua.
It was a measure of revenge for the Algerians who were embarrassed by Sundowns on home soil in the reverse fixture when the South Africans won 5-1 in February.
In Friday's other Group B game DR Congo's TP Mazembe, who were already out of contention to make the last eight came from behind to clinch a 2-1 win over Sudan's Al Hilal.
The Sudanese club had needed a win to have any chance at all of progressing.
Al Hilal made the ideal start in their bid to win against former African champions Mazembe – Eid Mugadam gave them the lead after just two minutes in Lumbumbashi – but 16 minutes later Hilal contributed to their own downfall as Ivorian defender Mohamed Ouattara scored an own goal to level the game at 1-1.
Mazembe won the game thanks to a goal from Isaac Tshibangu, who scored just moments after he came on as substitute.
The draw for the quarter and semi-finals will be held on 30 April at the Confederation of African Football's headquarters in Cairo.
Friday's Group B results:
TP Mazembe (DR Congo)

2-1

Al Hilal (Sudan)

Mamelodi Sundowns (South Africa)

0-2

CR Belouizdad (Algeria)
Ghana's farmers eye sweet success from chocolate


Ghana is the world's second largest cocoa producer but sees little of the profits from chocolate – for now.



Source – www.bbc.co.uk