DP Gives Parliamentary Aspirants a Week to Return Nomination Forms
The Democratic Party (DP) has set Monday September 7, 2020 as the closing date of returning nomination forms for Parliamentary seats.
Addressing the Press on Tuesday, the DP Secretary General Gerald Siranda Black disclosed that this slight extension was prompted by huge demand for the Party's ticket.
"We sat as management and extended the deadline of returning these papers to Monday because of high demand. We don't want to lock out anyone," Siranda intimated.
In the meantime, he added that the Organization's top management has constituted a team of experts to scrutinize the particulars of those who wish to vie for legislative positions.
This, he said, was necessary to avoid last minute disqualification of their candidates on grounds that they lack academic credentials.
"We expect them to have a letter, also, they should attach their academic documents and National IDs because we want to know whether we are dealing with candidates who are eligible to contest and be voted," Siranda elaborated.
On July 20, 2016, Wakayima Musoke Nsereko, Nansana Municipality Legislator and DP loyalist was thrown out of parliament for discrepancies in his official documents.
This was after Judge Vincent Ogwang discovered that the former's National Identification (ID) bore the names of Musoke Hannington Nsereko.
Two years later, Deo Hasubi Njoki the Party's candidate in the Local Council Five (LC V) By-elections was also barred at the last minute for not being a registered voter.
The Secretariat Management Committee shall be headed by former Coca Cola Sales Manager Kennedy Mutenyo, Jomeo Richard Komakech, John Bosco Mayinja, Flavia Nassaka and Aisha Tibaruha.
With nominations yet to close, over 120 Party members have expressed intent to contest for various parliamentary positions, something Nobert Mao the Party President says is promising going forward.
"I am convinced that we are going to have more members of parliament than we have now. We are going to have more councilors and we are going to take back Kampala," Mao vowed.
That said, it remains to be seen how the Party will deal with a group of legislators who earlier last month defected to the National Unity Platform (NUP) but are now asking for forgiveness.
A top administrator told us that Kyotera Woman Member of Parliament (MP) Robinah Nakasirye Ssentongo and three other 'rebels' have so far stealthily picked DP nomination forms.
In his prompt response on this matter, Gerald Siranda Black stated "If you leave the party, the party will put someone."
True to his words, the party has since identified new talent to fill the void left by the departing MPs.
Some of these include, Fred Mbidde, Charles Gala, Hajj Farouk Sebandeke and John Bosco Lusagala who are eyeing Masaka Municipality, Busiro East, Makindye Sabagabbo and Makindye West respectively.
21 workers trapped in flooded mine in China's Xinjiang | China News
CCTV says rescuers have located 12 of the 21 trapped miners.
Eight miners have been rescued and 21 remain trapped in a coal mine in China's Xinjiang region after flooding cut power underground and disrupted communications, according to state media.
The accident happened in Fengyuan coal mine in Hutubi County on Saturday evening, when staff were upgrading the site, the official Xinhua news agency said.
Rescuers had located 12 of the 21 trapped miners, broadcaster CCTV said, but it was unclear if they were all together.
Rescue personnel were trying to pump water from the flooded shaft and have been piping air into the mine.
Pipes were being laid but the pumping operation was going to be challenging, CCTV said.
Mining accidents are common in China, where the industry has a poor safety record and enforcement of regulations is often lax.
In January, 22 workers were trapped in a mine in east China's Shandong province after an explosion damaged the entrance, leaving workers stuck underground for about two weeks.
Eleven men were pulled out alive, 10 died and one miner remained unaccounted for.
In December, 23 miners died after being trapped underground in the southwest city of Chongqing – just months after 16 others died from carbon monoxide poisoning at another coal mine in the city.
African Champions League: CR Belouizdad join Sundowns in quarter-finals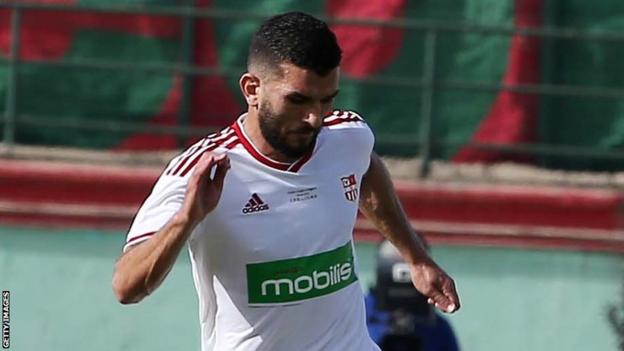 Algerian champions CR Belouizdad earned the win they needed over hosts Mamelodi Sundowns of South Africa to clinch a place in the African Champions League quarter-finals.
Amir Sayoud took his tally in the competition to seven when he gave Belouizdad the lead over Sundowns in Pretoria on 29 minutes.
That advantage was doubled just before half-time as Ahmed Gasmi headed home a cross from Zinelaabidine Boulakhoua.
It was a measure of revenge for the Algerians who were embarrassed by Sundowns on home soil in the reverse fixture when the South Africans won 5-1 in February.
In Friday's other Group B game DR Congo's TP Mazembe, who were already out of contention to make the last eight came from behind to clinch a 2-1 win over Sudan's Al Hilal.
The Sudanese club had needed a win to have any chance at all of progressing.
Al Hilal made the ideal start in their bid to win against former African champions Mazembe – Eid Mugadam gave them the lead after just two minutes in Lumbumbashi – but 16 minutes later Hilal contributed to their own downfall as Ivorian defender Mohamed Ouattara scored an own goal to level the game at 1-1.
Mazembe won the game thanks to a goal from Isaac Tshibangu, who scored just moments after he came on as substitute.
The draw for the quarter and semi-finals will be held on 30 April at the Confederation of African Football's headquarters in Cairo.
Friday's Group B results:
TP Mazembe (DR Congo)

2-1

Al Hilal (Sudan)

Mamelodi Sundowns (South Africa)

0-2

CR Belouizdad (Algeria)
Ghana's farmers eye sweet success from chocolate


Ghana is the world's second largest cocoa producer but sees little of the profits from chocolate – for now.



Source – www.bbc.co.uk