Businessman Hamis Kiggundu Asks Court to Expunge Diamond Trust Bank's Defense
Hamis Kiggundu, the proprietor of Ham Enterprises, through his lawyers of Muwema and Company Advocates has asked High Court Commercial Division Judge Henry Peter Adonyo to struck out Diamond Trust Bank's (DTB) defense in a case which he accuses the bank of deducting money from his account without his consent.
Muwema argued that the defense filed in court by DTB Bank Lawyers led by Kiryowa Kiwanuka, contains a number of illegalities.
"The loan is based on an illegal transaction, the loan agreements are illegal because they were made from Kenya lending money here. It involves a local bank which facilitated a foreign bank to break the law," Muwema stated.
At first, Muwema  had raised a contention that DTB Kenya has no license allowing it to operate in Uganda but this was solved by the defendant lawyer who accepted that its true.
They further faulted DTB of having lent their client money while in Uganda and instead decided to use DTB Uganda as their agent to demand for collection of the said loan.
Due to the importance of this application, the judge has decided to conclude it in time before resuming with the main case.
He has ordered both parties to file their written submissions and promised to deliver his ruling on October 5, 2020.
Counsel Kiryowa, in his submissions, insisted that all loan transactions were done in Kenya but it was only the property which was provided as security that is found in Uganda.
In case this application succeeds, the matter will be awaiting judgement but in case it fails, court will proceed with hearing of the case.
In today's session, the two parties have agreed on a number of key issues which must be focused on during the hearing of the matter.
Ham dragged DTB -Uganda, and DTB-Kenya to Commercial Court for fraudulently siphoning over shs 120b from his accounts without his knowledge and consent.
In its Defense, DTB says that Ham Enterprise Limited is indebted to a tune of USD 6,298,380 on term loan facility of USD 6,663,453, Shs 2.8 billion on the demand overdraft facility of Shs 1.5 billion, temporary demand overdraft facility of Shs1b, 3,662,241 on the term loan facility of USD 4,000,000 and 4458,604 on the term loan facility of USD 500,000.
According to court documents, Kiggundu provided security/mortgage comprised in Plot no.923, Block 9 located at Makerere Hill Road to support the credit facilities he had got from DTB but the businessman says when he carried out an audit and reconciliation of the loan accounts, he found out that the DTB had taken Shs 34 billion and $23 million from his account.
21 workers trapped in flooded mine in China's Xinjiang | China News
CCTV says rescuers have located 12 of the 21 trapped miners.
Eight miners have been rescued and 21 remain trapped in a coal mine in China's Xinjiang region after flooding cut power underground and disrupted communications, according to state media.
The accident happened in Fengyuan coal mine in Hutubi County on Saturday evening, when staff were upgrading the site, the official Xinhua news agency said.
Rescuers had located 12 of the 21 trapped miners, broadcaster CCTV said, but it was unclear if they were all together.
Rescue personnel were trying to pump water from the flooded shaft and have been piping air into the mine.
Pipes were being laid but the pumping operation was going to be challenging, CCTV said.
Mining accidents are common in China, where the industry has a poor safety record and enforcement of regulations is often lax.
In January, 22 workers were trapped in a mine in east China's Shandong province after an explosion damaged the entrance, leaving workers stuck underground for about two weeks.
Eleven men were pulled out alive, 10 died and one miner remained unaccounted for.
In December, 23 miners died after being trapped underground in the southwest city of Chongqing – just months after 16 others died from carbon monoxide poisoning at another coal mine in the city.
African Champions League: CR Belouizdad join Sundowns in quarter-finals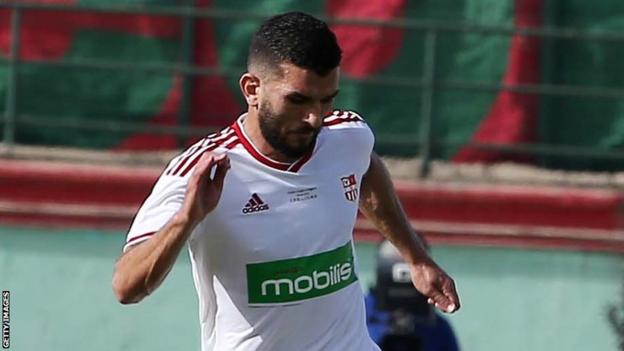 Algerian champions CR Belouizdad earned the win they needed over hosts Mamelodi Sundowns of South Africa to clinch a place in the African Champions League quarter-finals.
Amir Sayoud took his tally in the competition to seven when he gave Belouizdad the lead over Sundowns in Pretoria on 29 minutes.
That advantage was doubled just before half-time as Ahmed Gasmi headed home a cross from Zinelaabidine Boulakhoua.
It was a measure of revenge for the Algerians who were embarrassed by Sundowns on home soil in the reverse fixture when the South Africans won 5-1 in February.
In Friday's other Group B game DR Congo's TP Mazembe, who were already out of contention to make the last eight came from behind to clinch a 2-1 win over Sudan's Al Hilal.
The Sudanese club had needed a win to have any chance at all of progressing.
Al Hilal made the ideal start in their bid to win against former African champions Mazembe – Eid Mugadam gave them the lead after just two minutes in Lumbumbashi – but 16 minutes later Hilal contributed to their own downfall as Ivorian defender Mohamed Ouattara scored an own goal to level the game at 1-1.
Mazembe won the game thanks to a goal from Isaac Tshibangu, who scored just moments after he came on as substitute.
The draw for the quarter and semi-finals will be held on 30 April at the Confederation of African Football's headquarters in Cairo.
Friday's Group B results:
TP Mazembe (DR Congo)

2-1

Al Hilal (Sudan)

Mamelodi Sundowns (South Africa)

0-2

CR Belouizdad (Algeria)
Ghana's farmers eye sweet success from chocolate


Ghana is the world's second largest cocoa producer but sees little of the profits from chocolate – for now.



Source – www.bbc.co.uk