Biden blasts Trump's 'law and order' platform in campaign return | USA News
Democratic presidential candidate Joe Biden has returned to the campaign trail, travelling for the first time since the party's convention and portraying Trump's "law and order" message as empty rhetoric that further incites violence. 
Biden's appearance in Pittsburgh on Monday sought to quiet criticism that the former vice president, who has cautiously approached the coronavirus pandemic, had ceded ground to US President Donald Trump – particularly when it comes to the country's social unrest – during his physical absence from the campaign trail. 
The president has increasingly relied on a message that violent agitators are threatening US cities and suburbs while being given a pass by the "radical left". On Tuesday, Trump plans to visit Kenosha, Wisconsin, where Jacob Blake, a Black man, was shot in the back by police officers on August 23, sparking days unrest in the city which two people have been killed. 
"You know me, know my heart. You know my story … Ask yourself. Do I look like a radical socialist with a soft spot for rioters, really?" Biden said during his speech. "I want a safe America. Safe from COVID. Safe from crime and looting, safe from racially motivated violence, safe from bad cops."
"Fires are burning we have a president who fanned the flames, rather than fighting the flames," he added. "He can't stop the violence, because for years he's fomented it."
'We do need him here'
Biden's appearance on Monday comes during a time in the race when he can ill afford to not have his presence felt, political analyst Eric Ham told Al Jazeera. 
"Trump has found a little bit of a groove because now the focus is no longer on COVID-19," said Ham, "it's on these protests and demonstrations and the civil unrest." 
"Biden doesn't have to get into Trump's mud pen, but he's got to be able to speak to where the country is. There's a lot of concern that people are feeling over civil unrest, over COVID-19, over the economy," he said.
That need is particularly apparent in predominantly white northern battlegrounds states that were key to Trump's 2016 victory and where the president has maintained a presence in recent weeks. 
While polls show Biden remains ahead in Michigan, Pennsylvania and Wisconsin, there have been signs of weakening support in Minnesota, the state where George Floyd was killed by police in May, Ham said. 
"Trump has had such a difficult time being able to paint Biden with a broad brush. Now, he's able to get traction, because some of those white suburbanites are going to listen to this law and order message and they're going to think, 'Hey, this guy may, in fact, be strong on crime'," said Ham, who noted that Democratic vice-presidential candidate Kamala Harris, who is Black and former California attorney general, has been largely underutilised in responding to charges that Democrats are soft on crime. 
Trump, for his part, has repeatedly seized on Biden's distanced approach, portraying him as "hiding" in his basement and taking credit for pressuring Biden to appear publicly. 
The physical absence has also been felt within the Democratic party, with US Representative Andy Levin, a Democrat from Michigan, telling the Washington Post on Sunday: "We really just need to hammer on the economics and the complete failure to manage COVID."
"But we do need him here. We need him to tell that story. And I'm confident that it will happen."
Trump to visit Kenosha
Meanwhile, Trump on Monday doubled-down on his plans to visit Kenosha, despite warnings from local officials that his presence could further agitate the situation. 
"I am concerned your presence will only hinder our healing. I am concerned your presence will only delay our work to overcome division and move forward together," Governor Tony Evers, who declared a state of emergency and activated the National Guard last week, wrote in a letter to the White House on Sunday.
On Tuesday, Trump, who also said last week he would send more federal forces to the city, is set to meet law enforcement and "look at some of the damage from the riots," according to the White House. 
If I didn't INSIST on having the National Guard activate and go into Kenosha, Wisconsin, there would be no Kenosha right now. Also, there would have been great death and injury. I want to thank Law Enforcement and the National Guard. I will see you on Tuesday!

— Donald J. Trump (@realDonaldTrump) August 31, 2020
In a tweet on Monday, the president took credit for preventing the violence in the city from being worse. 
"If I didn't INSIST on having the National Guard activate and go into Kenosha, Wisconsin, there would be no Kenosha right now," Trump wrote on Twitter. "Also, there would have been great death and injury. I want to thank Law Enforcement and the National Guard. I will see you on Tuesday!"
Kenosha authorities had asked for assistance from National Guard troops August 24, with requests for additional troops as needed, in support of the locally-led response to protests.
The Biden campaign has yet to release plans to the visit the city, although Biden spoke with the Blake family last week. 
Trucks Traveling to Juba Get Military Escort
Government of Southern Sudan has agreed to provide full military security and safety to all road users including Ugandan cargo truck drivers plying Juba – Nimule highway starting this week.
This was reached during a meeting between South Sudan government and Ugandan authorities on Friday at Elegu One-stop Border point in Amuru district, Northern Uganda.
High level security officials from both countries met to deliberate on the deteriorating security along major highways in South Sudan in which eight Ugandan truck drivers have been shot dead by armed men in the past weeks.
The Sudanese high-level delegation was led by the country's Chief of Defense Forces, Gen. Johnson Juma, Inspector General of Police, Gen. Majak Akech, and Director-General of Internal Security, Gen. Akol Khor.
The Deputy Commissioner General of the National Revenue Authority, Hon. Africano Mande was also present and four East African Ambassadors.
On the other side, Uganda's delegation was led by Police Operations Director AIGP Edward Ochom, Director Crime Intelligence Col. Damulira among others high ranking officers.
"We have successively concluded our two days meetings with Ugandan authorities including the drivers who later agreed to resume the normal operation," said South Sudan authorities.
"And as government, we assure them of full security on the major highways in the Republic of South Sudan and removal of the illegal road blocks and check-points for easy movement of trucks to Juba and others towns within the country."
Last week, truck drivers from across the East African region protested the increasing insecurity in South Sudan, illegal taxes and also demanded for compensation of their deceased colleagues.
They parked their trucks at Elegu border and demanded for both governments to intervene before the situation deteriorates further.
In regards to compensation, Sudanese authorities agreed to pay for the victims but said that the process will be discussed through the foreign ministries of the two countries.
Although traders had also requested Ugandan authorities and in this case the UPDF to escort their goods to South Sudan, Lt.Col Deo Akiki said that "this can't be a decision of UPDF. South Sudan is a sovereign State, therefore anything done on its territory at the moment has to be a bilateral matter beyond the two forces. It's a government to government affair."
ChimpReports understands that some trucks on Saturday left Elegu border for Juba under full security escort.
The post Trucks Traveling to Juba Get Military Escort first appeared on ChimpReports.



Source – chimpreports.com
21 workers trapped in flooded mine in China's Xinjiang | China News
CCTV says rescuers have located 12 of the 21 trapped miners.
Eight miners have been rescued and 21 remain trapped in a coal mine in China's Xinjiang region after flooding cut power underground and disrupted communications, according to state media.
The accident happened in Fengyuan coal mine in Hutubi County on Saturday evening, when staff were upgrading the site, the official Xinhua news agency said.
Rescuers had located 12 of the 21 trapped miners, broadcaster CCTV said, but it was unclear if they were all together.
Rescue personnel were trying to pump water from the flooded shaft and have been piping air into the mine.
Pipes were being laid but the pumping operation was going to be challenging, CCTV said.
Mining accidents are common in China, where the industry has a poor safety record and enforcement of regulations is often lax.
In January, 22 workers were trapped in a mine in east China's Shandong province after an explosion damaged the entrance, leaving workers stuck underground for about two weeks.
Eleven men were pulled out alive, 10 died and one miner remained unaccounted for.
In December, 23 miners died after being trapped underground in the southwest city of Chongqing – just months after 16 others died from carbon monoxide poisoning at another coal mine in the city.
African Champions League: CR Belouizdad join Sundowns in quarter-finals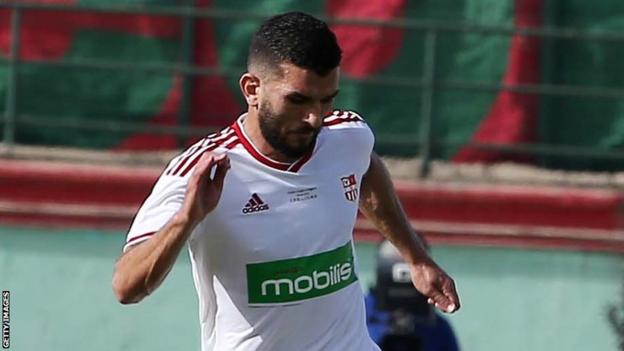 Algerian champions CR Belouizdad earned the win they needed over hosts Mamelodi Sundowns of South Africa to clinch a place in the African Champions League quarter-finals.
Amir Sayoud took his tally in the competition to seven when he gave Belouizdad the lead over Sundowns in Pretoria on 29 minutes.
That advantage was doubled just before half-time as Ahmed Gasmi headed home a cross from Zinelaabidine Boulakhoua.
It was a measure of revenge for the Algerians who were embarrassed by Sundowns on home soil in the reverse fixture when the South Africans won 5-1 in February.
In Friday's other Group B game DR Congo's TP Mazembe, who were already out of contention to make the last eight came from behind to clinch a 2-1 win over Sudan's Al Hilal.
The Sudanese club had needed a win to have any chance at all of progressing.
Al Hilal made the ideal start in their bid to win against former African champions Mazembe – Eid Mugadam gave them the lead after just two minutes in Lumbumbashi – but 16 minutes later Hilal contributed to their own downfall as Ivorian defender Mohamed Ouattara scored an own goal to level the game at 1-1.
Mazembe won the game thanks to a goal from Isaac Tshibangu, who scored just moments after he came on as substitute.
The draw for the quarter and semi-finals will be held on 30 April at the Confederation of African Football's headquarters in Cairo.
Friday's Group B results:
TP Mazembe (DR Congo)

2-1

Al Hilal (Sudan)

Mamelodi Sundowns (South Africa)

0-2

CR Belouizdad (Algeria)