Jacob Blake: Official says Trump Kenosha visit not helpful | George Floyd protests News
Wisconsin's Lieutenant Governor Mandela Barnes has said his state, the site of recent protests following the police shooting of Black man, does not need a visit from President Donald Trump following his "incendiary remarks" on the racial justice demonstrations that have swept the United States in recent months. 
Trump, who has taken a hard stance against the protests, will on Tuesday visit the city of Kenosha, where further demonstrations have erupted after police shot Jacob Blake, a 29-year-old Black man, seven times in the back last Sunday.
The incident, which occurred in front of three of his children and was recorded on a mobile phone, turned the mostly white city of 100,000 people south of Milwaukee into the latest flashpoint in a summer of country-wide demonstrations against police brutality and racism.
On Tuesday, amid continuing protests in the city, two people were fatally shot by an armed civilian. Kyle Rittenhouse, a 17-year-old from Illinois who had gone to the protests armed with a semi-automatic rifle, was later arrested for the violence. 
The demonstrations have also resulted in property damage, with the commander of the National Guard saying on Friday that more than 1,000 guard members had been deployed to help keep the peace in the city, and more were on the way.
The shooting of Blake has come amid a larger reckoning over racial justice in the US following the death of George Floyd in police custody in May. 
Jacob Blake paralysed by shooting, his father says
"They centred an entire convention around creating more animosity and creating more division around what's going on in Kenosha," Barnes said on CNN, referring to the Republican National Convention, which featured a recurring law-and-order theme that framed the ongoing protests as threatening the safety of cities and suburbs across the country.
"So I don't know how, given any of the previous statements that the president made, that he intends to come here to be helpful, and we absolutely don't need that right now," he added.
Meanwhile, US Representative Karen Bass, who chairs the Congressional Black Caucus, predicted Trump's Kenosha visit would make matters worse.
"His visit has one purpose and one purpose only, and that is to agitate things," the Democrat told CNN's State of the Union programme. "We're 66 days from an election and I think it's a tragedy that we have a president that is doing everything he can to fan the flames."
The White House said on Saturday that Trump would travel to the city to "meet with law enforcement and survey damage from recent riots", but did not say whether the president planned to meet with Blake's family.
Teenager charged over killings at Kenosha protest
Wisconsin Attorney General Josh Kaul said this week that police confronted Blake when they were called to the home of a woman who had reported her "boyfriend was present" without permission. Officers then tried to arrest him. 
Kaul said efforts to subdue Blake with a Taser failed, and that investigators later recovered a knife from the floor of the car that Blake was leaning into when he was shot.
On Friday, the Kenosha police union defended the officers' actions, saying Blake was armed with a knife, fought the officers and was given several chances to cooperate before they used deadly force.
Blake's lead lawyer, Ben Crump, has said his client was not armed with a knife and did not provoke or threaten police. The witness who took the cell phone footage also said Blake did not appear to be holding a knife.
Lieutenant Governor Barnes, on Sunday, also called on Democratic presidential candidate Joe Biden to "step up to the mantle" and lay out a clear plan to address racial inequalities.
21 workers trapped in flooded mine in China's Xinjiang | China News
CCTV says rescuers have located 12 of the 21 trapped miners.
Eight miners have been rescued and 21 remain trapped in a coal mine in China's Xinjiang region after flooding cut power underground and disrupted communications, according to state media.
The accident happened in Fengyuan coal mine in Hutubi County on Saturday evening, when staff were upgrading the site, the official Xinhua news agency said.
Rescuers had located 12 of the 21 trapped miners, broadcaster CCTV said, but it was unclear if they were all together.
Rescue personnel were trying to pump water from the flooded shaft and have been piping air into the mine.
Pipes were being laid but the pumping operation was going to be challenging, CCTV said.
Mining accidents are common in China, where the industry has a poor safety record and enforcement of regulations is often lax.
In January, 22 workers were trapped in a mine in east China's Shandong province after an explosion damaged the entrance, leaving workers stuck underground for about two weeks.
Eleven men were pulled out alive, 10 died and one miner remained unaccounted for.
In December, 23 miners died after being trapped underground in the southwest city of Chongqing – just months after 16 others died from carbon monoxide poisoning at another coal mine in the city.
African Champions League: CR Belouizdad join Sundowns in quarter-finals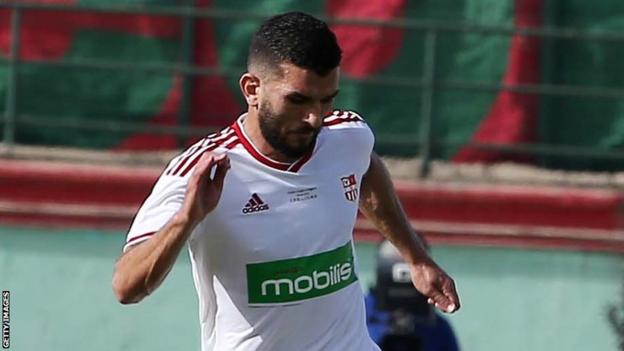 Algerian champions CR Belouizdad earned the win they needed over hosts Mamelodi Sundowns of South Africa to clinch a place in the African Champions League quarter-finals.
Amir Sayoud took his tally in the competition to seven when he gave Belouizdad the lead over Sundowns in Pretoria on 29 minutes.
That advantage was doubled just before half-time as Ahmed Gasmi headed home a cross from Zinelaabidine Boulakhoua.
It was a measure of revenge for the Algerians who were embarrassed by Sundowns on home soil in the reverse fixture when the South Africans won 5-1 in February.
In Friday's other Group B game DR Congo's TP Mazembe, who were already out of contention to make the last eight came from behind to clinch a 2-1 win over Sudan's Al Hilal.
The Sudanese club had needed a win to have any chance at all of progressing.
Al Hilal made the ideal start in their bid to win against former African champions Mazembe – Eid Mugadam gave them the lead after just two minutes in Lumbumbashi – but 16 minutes later Hilal contributed to their own downfall as Ivorian defender Mohamed Ouattara scored an own goal to level the game at 1-1.
Mazembe won the game thanks to a goal from Isaac Tshibangu, who scored just moments after he came on as substitute.
The draw for the quarter and semi-finals will be held on 30 April at the Confederation of African Football's headquarters in Cairo.
Friday's Group B results:
TP Mazembe (DR Congo)

2-1

Al Hilal (Sudan)

Mamelodi Sundowns (South Africa)

0-2

CR Belouizdad (Algeria)
Ghana's farmers eye sweet success from chocolate


Ghana is the world's second largest cocoa producer but sees little of the profits from chocolate – for now.



Source – www.bbc.co.uk