Activists Call for More Investment in Sexual, Reproductive Health Rights
As the incidents of teenage pregnancies and other related adolescent health problems are increasingly being reported especially during the Covid-19 pandemic, focus is being drawn on how the situation can be revised.
Activists have called for more participation and investment to be directed towards providing sexual and reproductive health services to the youth. This entails support in form of financing, providing information as well as availing youth-friendly services.
Flavia Kyomukama, the Executive Director Action Group for Health Human Rights and HIV/AIDS (AGHA) confirmed that more girls are dropping out of school due to early pregnancies; something which will impact negatively Uganda's future population and overall economy.
According to Ruth Awori, Project Coordinator for Network of Young People Living with HIV/AIDS (UNYPA), Government should prioritize adolescent health services under domestic financing.
She also stressed that there should be ready access to youth friendly services.
"The absence of the youth friendly services is a challenge to SRHR. In case a young lady looking for maternal services is mistreated at a health facility for being young and pregnant, this scares some and they stay away. As such, some mothers don't get antenatal care, resulting into complications and deaths in some cases," she said.
Robert Ocaya National Coordinator Right here Right now Uganda, said that some leaders are shy when discussions centred on sexuality among young people are brought up, which shouldn't be the case.
Muhumuza Abdulkharim, the Programs officer at Centre for Health, Human Rights and Development (CEHURD), explained that youth need to take part in the policy formulation process, as they (youth) carry a greater percentage of the population in the country.
"The government needs to involve young people in policy formulation and decision making processes and also take the finalization of policies that inform young people's issues a priority," said Muhumuza.
The Assistant Commissioner in charge of budgets and health financing at the Ministry of Health confirmed that currently, Uganda is registering lesser mortality rates; infant or maternal, compared to years before.
On financing of health services, he said that there should be a balance in the distribution of money among various sectors; as money is got from the same treasury.
"It would not make sense for health to take a lot of money and education doesn't. So, we should be considerate," he said.
21 workers trapped in flooded mine in China's Xinjiang | China News
CCTV says rescuers have located 12 of the 21 trapped miners.
Eight miners have been rescued and 21 remain trapped in a coal mine in China's Xinjiang region after flooding cut power underground and disrupted communications, according to state media.
The accident happened in Fengyuan coal mine in Hutubi County on Saturday evening, when staff were upgrading the site, the official Xinhua news agency said.
Rescuers had located 12 of the 21 trapped miners, broadcaster CCTV said, but it was unclear if they were all together.
Rescue personnel were trying to pump water from the flooded shaft and have been piping air into the mine.
Pipes were being laid but the pumping operation was going to be challenging, CCTV said.
Mining accidents are common in China, where the industry has a poor safety record and enforcement of regulations is often lax.
In January, 22 workers were trapped in a mine in east China's Shandong province after an explosion damaged the entrance, leaving workers stuck underground for about two weeks.
Eleven men were pulled out alive, 10 died and one miner remained unaccounted for.
In December, 23 miners died after being trapped underground in the southwest city of Chongqing – just months after 16 others died from carbon monoxide poisoning at another coal mine in the city.
African Champions League: CR Belouizdad join Sundowns in quarter-finals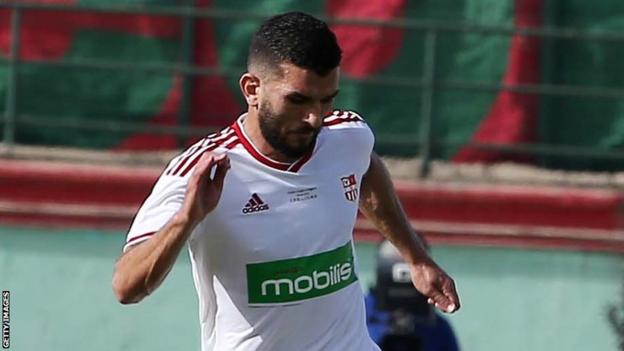 Algerian champions CR Belouizdad earned the win they needed over hosts Mamelodi Sundowns of South Africa to clinch a place in the African Champions League quarter-finals.
Amir Sayoud took his tally in the competition to seven when he gave Belouizdad the lead over Sundowns in Pretoria on 29 minutes.
That advantage was doubled just before half-time as Ahmed Gasmi headed home a cross from Zinelaabidine Boulakhoua.
It was a measure of revenge for the Algerians who were embarrassed by Sundowns on home soil in the reverse fixture when the South Africans won 5-1 in February.
In Friday's other Group B game DR Congo's TP Mazembe, who were already out of contention to make the last eight came from behind to clinch a 2-1 win over Sudan's Al Hilal.
The Sudanese club had needed a win to have any chance at all of progressing.
Al Hilal made the ideal start in their bid to win against former African champions Mazembe – Eid Mugadam gave them the lead after just two minutes in Lumbumbashi – but 16 minutes later Hilal contributed to their own downfall as Ivorian defender Mohamed Ouattara scored an own goal to level the game at 1-1.
Mazembe won the game thanks to a goal from Isaac Tshibangu, who scored just moments after he came on as substitute.
The draw for the quarter and semi-finals will be held on 30 April at the Confederation of African Football's headquarters in Cairo.
Friday's Group B results:
TP Mazembe (DR Congo)

2-1

Al Hilal (Sudan)

Mamelodi Sundowns (South Africa)

0-2

CR Belouizdad (Algeria)
Ghana's farmers eye sweet success from chocolate


Ghana is the world's second largest cocoa producer but sees little of the profits from chocolate – for now.



Source – www.bbc.co.uk