UN: Nearly 500 million children excluded from remote schooling | News
An estimated 463 million children have been unable to access remote learning amid the coronavirus pandemic and widespread school closures, according to the United Nations children's fund.
A new report published on Thursday by UNICEF said at least one-third of the world's schoolchildren lack the equipment or electronic access that would allow them to pursue distance education. 
"The sheer number of children whose education was completely disrupted for months on end is a global education emergency," Henrietta Fore, executive director of UNICEF, said in a statement.
"The repercussions could be felt in economies and societies for decades to come," she said.
The coronavirus pandemic has caused the largest disruption to education in history, with schools closed in some 160 countries in mid-July, affecting an estimated 1.5 billion students, according to the UN. 
A new report published in July by international charity Save the Children said nearly 10 million children may never go back to school because of deep budget cuts and rising poverty caused by the pandemic.
In an attempt to prevent the spread of the virus, many countries switched to online learning, but aid groups say this has only widened the learning gap between children from rich and poor families.
The UNICEF report underlined gaping geographical differences in children's access to distance education, with far fewer affected in Europe, for example, than in Africa or parts of Asia.
The report is based on data gathered from roughly 100 countries, measuring public access to the internet, television and radio.
Even children with adequate access may face other obstacles to distance education – whether the lack of a good workspace at home, pressure to do other work for the family, or a lack of technical support when computer problems arise, the UNICEF report said.
Of the students around the world unable to access virtual education, 67 million are in Eastern and Southern Africa, 54 million in western and central Africa, 80 million in the Pacific and East Asia, 37 million in the Middle East and North Africa, 147 million in South Asia, and 13 million in Latin America and the Caribbean.
No figures were given for Canada or the United States – the worst-affected country by the virus – where the issue of reopening of schools has sparked fierce political debate and concern among educators.
With the new school year soon to begin in many countries – including in-person classes in many places – UNICEF urged governments to "prioritise the safe reopening of schools when they begin easing lockdown restrictions".
Where reopening is impossible, governments should arrange for "compensatory learning for lost instructional time", the report said.
SOURCE:
Al Jazeera and news agencies
21 workers trapped in flooded mine in China's Xinjiang | China News
CCTV says rescuers have located 12 of the 21 trapped miners.
Eight miners have been rescued and 21 remain trapped in a coal mine in China's Xinjiang region after flooding cut power underground and disrupted communications, according to state media.
The accident happened in Fengyuan coal mine in Hutubi County on Saturday evening, when staff were upgrading the site, the official Xinhua news agency said.
Rescuers had located 12 of the 21 trapped miners, broadcaster CCTV said, but it was unclear if they were all together.
Rescue personnel were trying to pump water from the flooded shaft and have been piping air into the mine.
Pipes were being laid but the pumping operation was going to be challenging, CCTV said.
Mining accidents are common in China, where the industry has a poor safety record and enforcement of regulations is often lax.
In January, 22 workers were trapped in a mine in east China's Shandong province after an explosion damaged the entrance, leaving workers stuck underground for about two weeks.
Eleven men were pulled out alive, 10 died and one miner remained unaccounted for.
In December, 23 miners died after being trapped underground in the southwest city of Chongqing – just months after 16 others died from carbon monoxide poisoning at another coal mine in the city.
African Champions League: CR Belouizdad join Sundowns in quarter-finals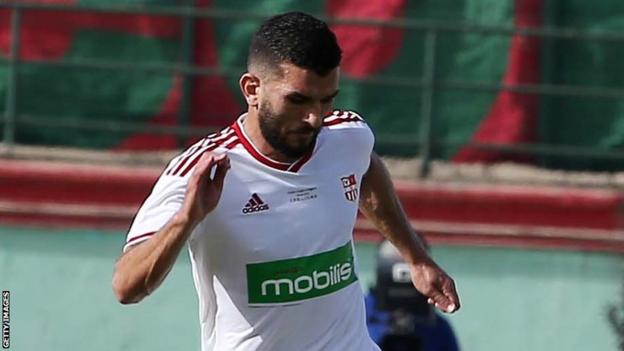 Algerian champions CR Belouizdad earned the win they needed over hosts Mamelodi Sundowns of South Africa to clinch a place in the African Champions League quarter-finals.
Amir Sayoud took his tally in the competition to seven when he gave Belouizdad the lead over Sundowns in Pretoria on 29 minutes.
That advantage was doubled just before half-time as Ahmed Gasmi headed home a cross from Zinelaabidine Boulakhoua.
It was a measure of revenge for the Algerians who were embarrassed by Sundowns on home soil in the reverse fixture when the South Africans won 5-1 in February.
In Friday's other Group B game DR Congo's TP Mazembe, who were already out of contention to make the last eight came from behind to clinch a 2-1 win over Sudan's Al Hilal.
The Sudanese club had needed a win to have any chance at all of progressing.
Al Hilal made the ideal start in their bid to win against former African champions Mazembe – Eid Mugadam gave them the lead after just two minutes in Lumbumbashi – but 16 minutes later Hilal contributed to their own downfall as Ivorian defender Mohamed Ouattara scored an own goal to level the game at 1-1.
Mazembe won the game thanks to a goal from Isaac Tshibangu, who scored just moments after he came on as substitute.
The draw for the quarter and semi-finals will be held on 30 April at the Confederation of African Football's headquarters in Cairo.
Friday's Group B results:
TP Mazembe (DR Congo)

2-1

Al Hilal (Sudan)

Mamelodi Sundowns (South Africa)

0-2

CR Belouizdad (Algeria)
Ghana's farmers eye sweet success from chocolate


Ghana is the world's second largest cocoa producer but sees little of the profits from chocolate – for now.



Source – www.bbc.co.uk