In Pictures: Hurricane Laura's winds cause widespread damage |
Hurricane Laura ripped through southwestern Louisiana early on Thursday, destroying buildings in the city of Lake Charles and killing a 14-year-old girl after making landfall in the early morning as one of the most powerful storms to hit the southern US state.
The hurricane's first reported US fatality was a 14-year-old girl in Leesville, Louisiana, who died when a tree fell on her house, a spokeswoman for Governor John Bel Edwards said.
"We do expect that there could be more fatalities," Edwards's spokeswoman, Christina Stephens, said on Twitter.
A chemical plant caught fire in Laura's wake on Thursday morning in Westlake, Louisiana, 6.4 kilometres (four miles) west of Lake Charles, sending thick black smoke billowing into the sky over the wind-torn landscape near the Interstate 10 highway in the region.
Governor Edwards warned residents in the area to shelter in place, close doors and windows and turn off air conditioners as authorities investigated. Traffic was blocked on the interstate and Highway 90.
Residents of Lake Charles heard Laura's winds howling and the sound of breaking glass as the storm passed through the city of 78,000 with winds of 85 miles per hour (137 km per hour) and gusts up to 128 mph (206 kph) in the hour after landfall.
The windows of the city's 22-floor Capital One Tower were blown out, street signs were toppled and pieces of wooden fence and debris from collapsed buildings lay scattered in the flooded streets, video footage on Twitter and Snapchat showed.
President Donald Trump on Thursday approved an emergency declaration for Arkansas, the White House said, authorising federal officials to coordinate relief efforts and freeing up federal funds. He had approved an emergency declaration for Texas on Monday.
Around 650,000 homes and businesses in Louisiana and Texas were without power early on Thursday, and local utilities in the storm's path warned outage numbers would climb as the storm marched inland.
21 workers trapped in flooded mine in China's Xinjiang | China News
CCTV says rescuers have located 12 of the 21 trapped miners.
Eight miners have been rescued and 21 remain trapped in a coal mine in China's Xinjiang region after flooding cut power underground and disrupted communications, according to state media.
The accident happened in Fengyuan coal mine in Hutubi County on Saturday evening, when staff were upgrading the site, the official Xinhua news agency said.
Rescuers had located 12 of the 21 trapped miners, broadcaster CCTV said, but it was unclear if they were all together.
Rescue personnel were trying to pump water from the flooded shaft and have been piping air into the mine.
Pipes were being laid but the pumping operation was going to be challenging, CCTV said.
Mining accidents are common in China, where the industry has a poor safety record and enforcement of regulations is often lax.
In January, 22 workers were trapped in a mine in east China's Shandong province after an explosion damaged the entrance, leaving workers stuck underground for about two weeks.
Eleven men were pulled out alive, 10 died and one miner remained unaccounted for.
In December, 23 miners died after being trapped underground in the southwest city of Chongqing – just months after 16 others died from carbon monoxide poisoning at another coal mine in the city.
African Champions League: CR Belouizdad join Sundowns in quarter-finals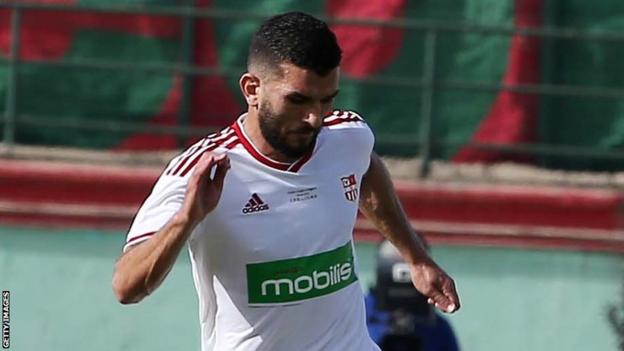 Algerian champions CR Belouizdad earned the win they needed over hosts Mamelodi Sundowns of South Africa to clinch a place in the African Champions League quarter-finals.
Amir Sayoud took his tally in the competition to seven when he gave Belouizdad the lead over Sundowns in Pretoria on 29 minutes.
That advantage was doubled just before half-time as Ahmed Gasmi headed home a cross from Zinelaabidine Boulakhoua.
It was a measure of revenge for the Algerians who were embarrassed by Sundowns on home soil in the reverse fixture when the South Africans won 5-1 in February.
In Friday's other Group B game DR Congo's TP Mazembe, who were already out of contention to make the last eight came from behind to clinch a 2-1 win over Sudan's Al Hilal.
The Sudanese club had needed a win to have any chance at all of progressing.
Al Hilal made the ideal start in their bid to win against former African champions Mazembe – Eid Mugadam gave them the lead after just two minutes in Lumbumbashi – but 16 minutes later Hilal contributed to their own downfall as Ivorian defender Mohamed Ouattara scored an own goal to level the game at 1-1.
Mazembe won the game thanks to a goal from Isaac Tshibangu, who scored just moments after he came on as substitute.
The draw for the quarter and semi-finals will be held on 30 April at the Confederation of African Football's headquarters in Cairo.
Friday's Group B results:
TP Mazembe (DR Congo)

2-1

Al Hilal (Sudan)

Mamelodi Sundowns (South Africa)

0-2

CR Belouizdad (Algeria)
Ghana's farmers eye sweet success from chocolate


Ghana is the world's second largest cocoa producer but sees little of the profits from chocolate – for now.



Source – www.bbc.co.uk