Mbarara beauty queen needs Ushs3m to represent Uganda in Miss Pan African pageant
Sandra Nambazira, 23, is among the Top 10 finalists for the Miss Pan African pageant that will be hosted in Ghana's Capital, Accra in November despite the COVID-19 pandemic still interrupting international travel. The YMCA Diploma student now seeks $800 (roughly Ushs 3 Million) to join other contestants in the pageant camp in West Africa.
In an interview with Matooke Republic, the beauty queen says she's on a deadline of September 15, 2020, to raise the funds that will enable her to cater for our camping which will last for two weeks among other expenses.
"I'm relying on your generosity to help me reach my dream — to use my voice to address some of the social issues that affect women and the young people in Africa as our mission focuses on empowering women. I want to be the voice for the voiceless and an inspiration to my peers," Nambazira pleaded.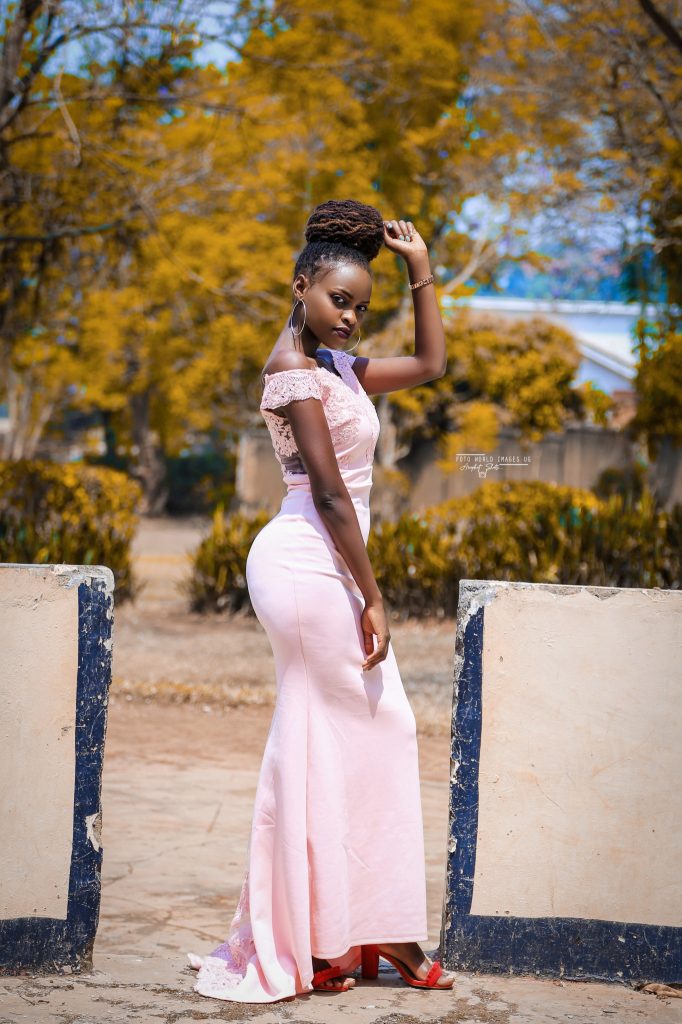 The Miss Pan Africa Queen pageant–is a pageant based on celebrating Africa's diverse cultures and also celebrating the African woman. It is there to empower young ladies so that they can become the best version of themselves without forgetting who they are or their roots. The pageant is an open platform for all Africans across the world. This is a call to all Africans to embrace this vision because we need a lot of unity in our continent and this a platform to achieve the vision and grow together on empowering women and the girl child
Nambaziira pledges to ably represent her peers at continental level and drum support for causes that affect women, youth, children and other special interest groups. Her inspiration is drawn her inner fire to be a trailblazer as opposed to a passive spectator.
"I will use privilege to start up an initiative for which I am passionate. Top of my list is protecting the girl child mentally, physically and emotionally from violence."
Editor's Note:
To support Nambaziira, send your contribution to Airtel Money (0751252671 – Nambazira Sandrah) or to Centenary Bank Account No: 3202399102.
Sasha Brighton pens an emotional letter appreciating Shonga
Former Da NU Eagles singer Sasha Brighton Karungi has shared a lovely and an emotional letter appreciating her hubby Herbert Shonga for the support he has shown her in life.
The Kambite singer began by explaining that the two met after she quit Da NU Eagles band. Then Shonga promised to help her with her music career because he deeply loved her music so much and believed in her talent.
However, life turned out to be harsh and rough for the pair in 2019 when Shonga lost most of his property like cars and businesses after his ex-lover Dorothy Shonga filed for divorce and the two part ways.
Despite the troublesome year, the two remained intact amidst rumors that they were on the verge of separating since Shonga had run broke.
The pair who were also expecting twins showed solidarity to each other and stuck to their promises until the storm passed. Having found their footing, the overwhelmed Sasha Brighton found it wise to heap praise upon Shonga in a lengthy post on Facebook.
Basing on the post, it clearly indicates how Sasha seems to have found her perfect match in life.
When I left the Nu Eagles I met this amazing person in my life, He promised to help me musically which he did because he loved my 'Kambite' song so much. 2019 was a very rough and tough year for both of us mainly him but do u know what, he never gave up.

He lost his cars and businesses because of some reasons some of u know and the rest don't but he never gave up on me neither my career, he could go with me everywhere studio, shows, he supported me wholeheartedly because he never wanted anything in return, in short, he did everything he could in his capacity. If he had 1000 in his pockets he gave me the 900 and he remained with 100.

Many always reminded him of a mistake he was making they told him how I'm gonna leave him since we musicians like they say we are users, a lot was said about me but words didn't move him he continued supporting me the same to me.

Many reminded me of how I was making a mistake fronting a man in public, how my career is going down because of him, nga bwansudde, nti omuyimbi omukazzi bwalagga omusajja in public that will be the end of her naye byonna sabifaako, u don't know what this person u say that ansudde musically byankoledde in these two years we've been together musically naye alina mu kumagezi asobola okukitegeera nokukiraba. At the end of the day era omukazi olina kufumbirwa and what I realized is: ur fans will love you for who you are.

Hebert, I wanna appreciate you in these two years I've been with you I don't regret a thing but I appreciate the effort jontademu you've really sacrificed a lot for me era nsiima byonna byonkoledde newendigenda wa ndi kusiima. U know the truth down in ur heart nti am not a user, a few people I've interacted with the know-how good u are to me, the good words I tell them about you how you love my career more than I do. How u wanna see me shine more than any other person's words can't express it all because I have a lot to write but just know I appreciate you in my life.

Sasha Brighton Kalungi
Read Also: Singer Sasha Brighton rues the day she lost her twins
TECNO Mobile launches the Camon 16 series with free data from MTN Uganda
By Staff Writer
Introducing the Next level Camera Evolution Phone that has already won prestigious awards worldwide.
The smartphone comes fully connected with free 3GB internet bundle from MTN, every month for three months and 100% bonus on all data bundles purchased on MTN over the same period.
TECNO Mobile Uganda, the global premier mobile phone brand has today released Camon 16 series the latest addition in the Camon series.
The launch of Camon 16 series comes again with collaboration between TECNO and MTN to give more to customers with this sleek smartphone that comes with free 3GB internet every month for three months. In addition to this, customers will also get 100% bonus on all bundles they activate for 90 days on the MTN SIM used in the Camon 16 they purchase.
"Our partnership with TECNO is one we carry with pride because it fits very well with our vision of delivering a bold new digital world for customers. This launch of yet another top of the range, affordable smartphone, is testament to our commitment of ensuring that everyone enjoys the benefits of a modern connected life through the services and products we offer", said Somdev Sen, MTN Uganda Chief Marketing Officer.
Camon16 series is an all upgraded smartphone from the hardware to the software. Camon16series pioneers on many fronts like Camera technology, stylish design, operating system, and many other features you will discover when you use the device.
The new Camon 16 series prides in specifications like the Ultra Clear Night shots by TAIVOS technology, video anti-shake mode, 4K videos, 48MP AI dual selfie Camera with flash, 64MP Quad Camera, 33W super flash charger, 128GB of internal storage and supported by pioneer CPU, beyond fast and powerful processor Helio G90T among other great features. This is all to give customers the best seamless experience.
The launch of Camon 16 series in Uganda comes after winning serial major awards worldwide such as the Global Product Innovation Award at IFA.
"In 2019, we launched a partnership with MTN to enhance the value TECNO smartphones offer to our customers. We are here today to continue fulfilling our promise of enabling all Ugandans to experience the best smartphones while using the best internet service provider in the country. Camon 16 is more than just a smartphone looking at the upgrades we have installed in the device. The upgrades are not just from the hardware but the software as well. This is because of our mission and desire to give our customers at an affordable price," said Shiva Zhong, the TECNO country Director.
The COVID-19 pandemic has changed all areas of life, both social and economic. This has pushed us to think outside the box on how best we can give more value to our customers. As TECNO, we launch the Camon 16 series to enable all Ugandans stay connected to their friends, families, and workmates by experiencing the best smartphone on the market.
Camon 16 series is a device for everyone, no matter what you do or age, it is a great phone, and we encourage everyone to purchase this powerful device.
From the groundbreaking 64MP main camera, this is supported by 8MP ultra wide-angle snapper with two 2MP units to assist night photos, and Portraits to the impressive 33W fast-charging.
The device comes with more upgrades with a supper fast and strong processor G90T processor to enable customers to have a seamless experience when using the phone, more to this the device comes with more internal storage of 128GB to cater for all problems caused by low storage like freezing and deletion of customers files from the phone.
Furthermore, Camon 16 series comes in three different versions: Camon 16S, Camon 16 Pro and Camon 16 Premier.
TECNO Camon 16 Premier which is in the top tier of the Camon16 series is available currently in a single color, Glacial Silver with an 8GB ROM + 128GB storage runs on the Android 10.0 + HIOS 6.0 operating system and features a 6.9-inch full-HD (1,080×2, 460 pixels) display with a pill-shaped hole-punch cutout on the top left corner of the screen.
Side-fingerprint All-new access this time, for a better visual sense of the whole design, the fingerprint sensor was moved to the side of the mobile body enabling customers to unlock the phone in a more convenient and comfortable manner.
The 64MP Ultimate clear photography, 48MP Super clear portrait selfie supported by new camera technology TAIVOS (TECNO AI Vision Optimization solution) which is an image processing and enhancement lab for the Camon series.
The launch comes with a lot of benefits for our special customers. All customers that purchase Camon 16 Premier get free 3GB internet data every month for three months and a 100% data bonus on every data bundle purchased, all on their MTN line.
"We urge all customers to get this Next level Camera Evolution Phone from any TECNO branded shop or MTN Service center near them and enjoy the benefits that come with it", concluded Mr. Shiva.
The person I will have sex with will be the one to marry me
Kabareebe Models 4 Charity and DK Branding Coach CEO Doreen Kabareebe dropped the bomb revealing that she is a virgin and that the first man to sleep with her will be her husband.
With her semi-nude photos trending online and being picked to represent Uganda at the Ms World International beauty pageant, Kabareebe is back where she belongs – in the headlines.
While appearing in an interview with NBS TV's Lord Kaiyz, the former Miss Uganda contestant revealed that she is not bothered by the criticism that comes her way for being nude during her modeling photoshoots.
She noted that most of these photoshoots have concepts created by the photographers and she only steps in as the bold model who can execute the ideas at hand.
In the same interview, Kabareebe revealed that she has never had sex despite being having lived a life of fame within the entertainment industry.
Kabareebe is aware that her revelation will not be easily accepted by the public because of the nature of her lifestyle and her photos that trend online but she is virgin and does not fornicate.
"I'm virgin, I do not fornicate, men do not play around with me. I see a lot of girls who are single mothers and it hurts me as a person because am supporting many girls," Kabareebe added.
Well, there you have it!
Read Also: I wonder if Bash Mutumba gets turned on during boudoir shoots – Doreen Kabareebe