Mbarara beauty queen needs Ushs3m to represent Uganda in Miss Pan African pageant
Sandra Nambazira, 23, is among the Top 10 finalists for the Miss Pan African pageant that will be hosted in Ghana's Capital, Accra in November despite the COVID-19 pandemic still interrupting international travel. The YMCA Diploma student now seeks $800 (roughly Ushs 3 Million) to join other contestants in the pageant camp in West Africa.
In an interview with Matooke Republic, the beauty queen says she's on a deadline of September 15, 2020, to raise the funds that will enable her to cater for our camping which will last for two weeks among other expenses.
"I'm relying on your generosity to help me reach my dream — to use my voice to address some of the social issues that affect women and the young people in Africa as our mission focuses on empowering women. I want to be the voice for the voiceless and an inspiration to my peers," Nambazira pleaded.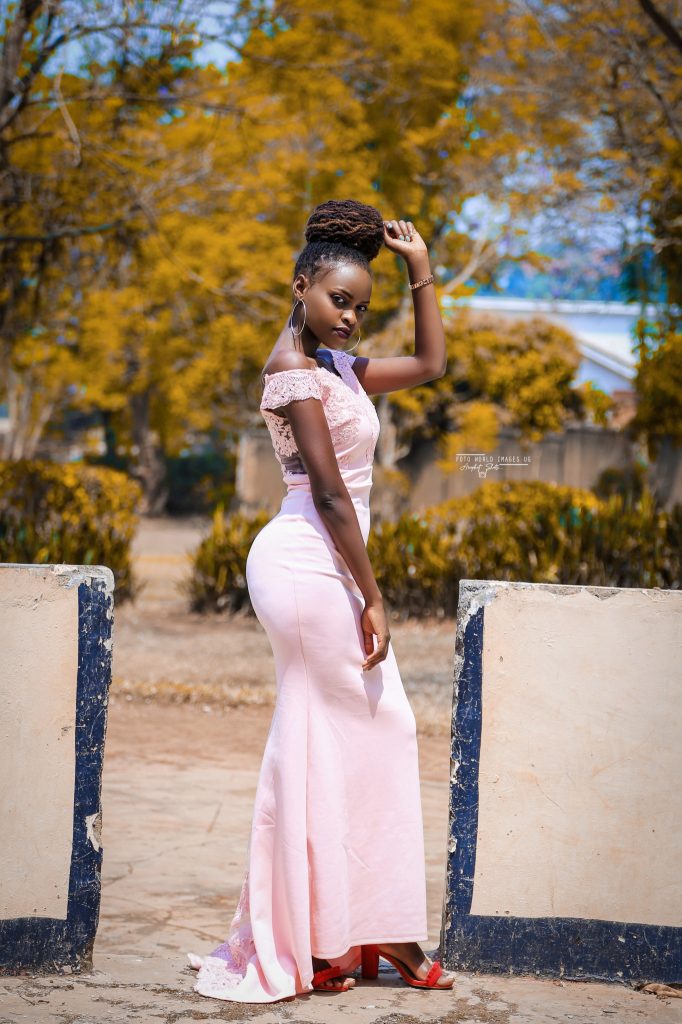 The Miss Pan Africa Queen pageant–is a pageant based on celebrating Africa's diverse cultures and also celebrating the African woman. It is there to empower young ladies so that they can become the best version of themselves without forgetting who they are or their roots. The pageant is an open platform for all Africans across the world. This is a call to all Africans to embrace this vision because we need a lot of unity in our continent and this a platform to achieve the vision and grow together on empowering women and the girl child
Nambaziira pledges to ably represent her peers at continental level and drum support for causes that affect women, youth, children and other special interest groups. Her inspiration is drawn her inner fire to be a trailblazer as opposed to a passive spectator.
"I will use privilege to start up an initiative for which I am passionate. Top of my list is protecting the girl child mentally, physically and emotionally from violence."
Editor's Note:
To support Nambaziira, send your contribution to Airtel Money (0751252671 – Nambazira Sandrah) or to Centenary Bank Account No: 3202399102.
What we know about Bad Black's wedding in the offing
Soon, and very soon, Embezola is going to walk down the aisle with the love of her life Asha. Bad Black is head over heels about the developments and here are a few things we know about the wedding in the offing.
In your head, picture Bad Black in a wedding gown, walking down the aisle, hand-in-hand with Asha, both smiling and waving to the few invited guests. What a sight that will be!
Well, it is no longer a secret that Bad Black will soon become Mrs. Somebody. In recent months, she has been showering praise upon Asha. They both now have tattoos of each other's name on their bodies.
During an interview with MC Ibrah, Bad Black revealed that the introduction ceremony will be happening very soon and the preparations are already underway.
What she is already sure about is that the introduction and wedding will take place in Uganda at venues that will be discussed upon because she is a Muganda and so is her husband to be.
Read Also: Protect my fiancée from satanic agents with sexual spirits – Bad Black prays for Asha
On the list of performers; Winnie Nwagi, Dre Cali, and Lydia Jazmine, are a must according to Bad Black who will be meeting the managers of the mentioned artistes soon.
The self-styled Embezola warned her followers against expecting to see her donning cultural wear because she is not such a cultural person.
She also stressed that she does not have a big bums and yet Gomesis only look good on women who have big bums so they won't be an option for her.
Bad Black is not bothered about whether her parents are okay with the introduction or not. She is determined to make this dream come true at all costs.
How Bad Black lost 10m to a witch doctor and was still sent to prison
Renown Ugandan socialite Shanitah Namuyimbwa a.k.a Bad Black regrets trusting witch doctors to save her from the four years prison sentence she received on Thursday 12th July, 2012 for embezzling Shs 11 billion from Daveshan Company.
Justice Catherine Bamugemereire observed that the evidence presented by the prosecution which constituted of a team of lawyers representing Bad Black's ex-boyfriend David Greenhalgh proved beyond reasonable doubt that she was guilty.
Before the forgettable day, Bad Black visited shrine and consulted several witch doctors who promised that the case would eventually fall in her favor and it would cost her Shs10m.
During the interview with MC Ibrah, the 31-year-old revealed that she had friends who she now describes as bad peer groups and it was them that took her to the witch doctors.
She says that she visited witch doctors' shrines in Masaka, Kiboga, Kisoga, and Iganga but she regrets the time and money she wasted and wishes she had just accepted her fate and saved her money.
Read Also: "Four days without Internet reminded me of prison" – Bad Black
"I had friends, you know bad peer groups. I thank God I became a Born again then later a Muslim but I tried witch doctors. They are real good thieves. They can create something," Bad Black noted.
Bad Black despises witch doctors and she believes that they are bafere who only use a situation to steal money from the victims just like they took her Shs10m.
That white man disturbed me a lot but those witch doctors are thieves. They took my money I thought they were not going to sentence me. The morning I went in court looking like a boss the judge told me, "You're guilty. Am here sentencing you to 7 years!" I said this witch doctor ate my ten millions for nothing.

Bad Black
Bad Black was released on Monday 14th March, 2016 after serving the four years sentence and she has since lived a reformed life which she says she decided upon while still in prison.
UMA is not a charity organization-Cindy
Following Ykee Benda's abrupt resignation from the Uganda Musicians Association, the acting president Cinderella Sanyu alias Cindy informed musicians who think UMA) is a rescue platform to stop expecting food from the organisation.
While speaking in an interview on a local television, Cindy narrated that UMA is neither a relief nor a charity organization. It's just an umbrella that brings together musicians to have a collective voice and preserve the music in Uganda. 
"Artistes are so hungry that if you don't show up with bread, they don't listen to you. UMA is not a relief or charity organization. I don't want them to expect that I will give them food," she explained.
 The Uganda Musicians Association (UMA) has had a number of presidents resigning before their terms end including Ykee Benda who resigned a few weeks back, but Cindy says she will not let anyone force her to quit.
Cindy noted that she'll learn from her former superiors and do her job based on what they had gone through.
"I'm not a quitter because I have been in the industry for 15 years. I know the people before me have quit and I have always been around to witness this. I will learn from their mistakes and correct their fears," She added.