Teens killed by Angolan police enforcing virus curbs: Amnesty | News
Amnesty International has said Angolan security forces tasked with enforcing coronavirus restrictions killed at least seven young men, including minors, between May and July.
After a joint investigation with Angolan rights group OMUNGA, the UK-based watchdog said on Tuesday most of the victims were teenagers allegedly shot dead by police and army officers, who either fired at them directly or hit them accidentally.
"The stories we heard from relatives and eyewitnesses are harrowing," said Deprose Muchena, Amnesty's director for east and southern Africa.
"One teenage boy was shot in the face while he lay injured; another was killed when police fired on a group of friends practising at a sports field," he added.
The government in March declared a state of emergency and imposed restrictions to help curb the spread of the coronavirus. Soldiers were deployed to help police implement the new rules as people continued to mass at markets and water points – breaching curfews and gathering bans.
Security forces used "excessive and unlawful force" in dealing with coronavirus lockdown breaches, the watchdog said.
"The authorities have used emergency measures to impose arbitrary restrictions on human rights. Any use of force by security forces should be exceptional and must comply with the state's international human rights obligations," said Joao Malavindele, executive director of OMUNGA.
Toll likely 'much higher'
The youngest confirmed victim was a 14-year-old, said to have been accidentally killed in May when police fired into the air to disperse a crowd of people working on fishing boats, according to the investigation.
In June, a 15-year-old was allegedly shot in the back outside his aunt's house as police used firearms to disperse a street crowd.
Amnesty and OMUNGA said they had verified five other similar killings but believed the "true death toll" could be "much higher". They called for an independent and transparent' investigation into the deaths to bring perpetrators to justice.
There was no immediate comment by the Angolan police.
Most people in the country have failed to benefit from vast oil and mineral reserves that amassed wealth in the hands of a political elite.
For many, poverty and lack of access to basic services outweigh concerns about catching a disease that has so far infected 2,222 people and caused 100 deaths, according to Johns Hopkins University.
SOURCE:
Al Jazeera and news agencies
21 workers trapped in flooded mine in China's Xinjiang | China News
CCTV says rescuers have located 12 of the 21 trapped miners.
Eight miners have been rescued and 21 remain trapped in a coal mine in China's Xinjiang region after flooding cut power underground and disrupted communications, according to state media.
The accident happened in Fengyuan coal mine in Hutubi County on Saturday evening, when staff were upgrading the site, the official Xinhua news agency said.
Rescuers had located 12 of the 21 trapped miners, broadcaster CCTV said, but it was unclear if they were all together.
Rescue personnel were trying to pump water from the flooded shaft and have been piping air into the mine.
Pipes were being laid but the pumping operation was going to be challenging, CCTV said.
Mining accidents are common in China, where the industry has a poor safety record and enforcement of regulations is often lax.
In January, 22 workers were trapped in a mine in east China's Shandong province after an explosion damaged the entrance, leaving workers stuck underground for about two weeks.
Eleven men were pulled out alive, 10 died and one miner remained unaccounted for.
In December, 23 miners died after being trapped underground in the southwest city of Chongqing – just months after 16 others died from carbon monoxide poisoning at another coal mine in the city.
African Champions League: CR Belouizdad join Sundowns in quarter-finals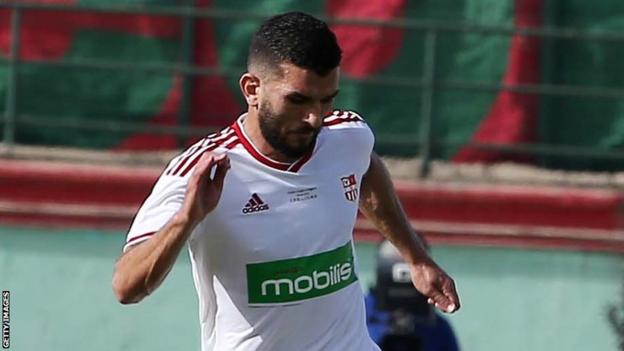 Algerian champions CR Belouizdad earned the win they needed over hosts Mamelodi Sundowns of South Africa to clinch a place in the African Champions League quarter-finals.
Amir Sayoud took his tally in the competition to seven when he gave Belouizdad the lead over Sundowns in Pretoria on 29 minutes.
That advantage was doubled just before half-time as Ahmed Gasmi headed home a cross from Zinelaabidine Boulakhoua.
It was a measure of revenge for the Algerians who were embarrassed by Sundowns on home soil in the reverse fixture when the South Africans won 5-1 in February.
In Friday's other Group B game DR Congo's TP Mazembe, who were already out of contention to make the last eight came from behind to clinch a 2-1 win over Sudan's Al Hilal.
The Sudanese club had needed a win to have any chance at all of progressing.
Al Hilal made the ideal start in their bid to win against former African champions Mazembe – Eid Mugadam gave them the lead after just two minutes in Lumbumbashi – but 16 minutes later Hilal contributed to their own downfall as Ivorian defender Mohamed Ouattara scored an own goal to level the game at 1-1.
Mazembe won the game thanks to a goal from Isaac Tshibangu, who scored just moments after he came on as substitute.
The draw for the quarter and semi-finals will be held on 30 April at the Confederation of African Football's headquarters in Cairo.
Friday's Group B results:
TP Mazembe (DR Congo)

2-1

Al Hilal (Sudan)

Mamelodi Sundowns (South Africa)

0-2

CR Belouizdad (Algeria)
Ghana's farmers eye sweet success from chocolate


Ghana is the world's second largest cocoa producer but sees little of the profits from chocolate – for now.



Source – www.bbc.co.uk