Man Dumps Girlfriend And Cancels Wedding Plans After Seeing Her Pic Among The List Of 'Loose Babes', Zungu Mike Oliver Bonked
Mike Oliver, a Zungu whopper champion who is now trending for bonking over hundreds of babes in Kenya is continuing to wreck havoc.
Oliver, shocked the whole East African community over the weekend when he posted pics of 'loose' babes he claims to have successfully bonked on social media.
To add more salt in their fresh wounds, Oliver went on to reveal his HIV status.
"I came, I saw, I conquered!
When a friend of mine told me that Kenyan women are loose
I didn't believe, couldn't believe it
Until I came to Kenya for a holiday
With a mission.
And yes, I swung into action immediately
With post paid lodging services in major cities
I indiscriminately went for them
Tall and short
Slim and fat
Single and taken
Married but loose
I left no stone unturned.
Today I agree with my friend's assertion
In fact loose is understatement of what these women are
Just show them a dollar and you'll see them shake
A dollar melts them like ice in summer
Perhaps my skin color to excites them.
Today I'm surprised some people want me arrested
For which crime?
Spending my own money?
Having good time with cheap women?
Or posting photos of us?
Oh no Kenyans,
It's willing buyer, willing seller deal
I forced no one, I raped no one
I just showed them a dollar.
If you can be terrified by those few photos
What if I posted all of them?
I'm sure these hot videos would send you all into a comma
A rumour has it that I'm HIV positive
That's neither here nor there
But if indeed I'm infected
Then it's not I, but WE.
My aim of posting those few photos wasn't to hurt anyone
I just wanted to show you how cheap your women are
Even those who call themselves "independent" women
Have you ever asked yourselves where they get their independence from?
They trade their dignity for independence.
We have exploited them well without looking back
I said WE because I'm not the only dignity buyer here
The rest aren't brave enough to show it
Or maybe they haven't hit the target.
Consequently, I believe I've no case to answer
All the hundreds of women I've smashed were adults
And I paid for all the services they offered
Those who accepted to eat peeled banana harvested more
Kindly don't crucify me, I will be leaving soon
And for you cheap women
You can block me on social media
But you cannot un-moan my name!", he posted.
Now one of Oliver's victims has been dumped by her man after he landed on her pic among those that the controversial Zungu posted. According their whatsapp conversation, the pair were to walk down the aisle but now the guy has already halted the wedding plans.
" i  have already called the Bishop and the wedding will be cancelled", the guy tells the babe in the teary conversation as she tries to plead.
Check it out
Enock Mugabi aka Eye Witness is a Journalist, Seasoned Writer and Music Analyst with a passion for sports.
Connect with him on social media using the links below in bio.
Police Bust Gangster Syndicate for Robbing and Raping Residents
Police in Jinja city has netted 16 goons, mainly youth for terrorizing residents day and night by robbing, raping, and hacking unsuspecting victims.
The goons are part of a syndicate that is partitioned into 4 smaller groups where they carry out their illegal practices including team B 13, Team No Sleep, the Vacuum team, and 'Team Sex'.
The goons who were arrested on Monday night are said to base their illicit acts at the Bugembe ward in the Northern Division, Jinja city.
The goons work by staging traps using bayonets for their unsuspecting victims between 7:00 pm and 11:00 pm before robbing or hacking defiant persons.
Abbey Ngako, the regional police spokesperson says Police managed to nab the criminal gang following complaints of increased crime in several areas of Mafubira, Masese, Mpumudde, Obote Way, and Bugembe where they reside.
They were arrested after police teams combed through these areas and exhibits were recovered from their homes including housebreaking tools, Marijuana, stolen phones, sim cards, and other suspected stolen items.
Ngako further says that they have also arrested four suspects who specialized in raping women and then extorting ransom from their relatives.
17 Badly Injured in Mabira Road Accident involving YY Coach on Transit to Mbale
Police are investigating a nasty accident that happened on Tuesday morning involving the YY coach bus causing grave injuries to over 17 people on board.
The accident involving a bus, Registration Number UAX 852F happened at about 7:30 am at Kanyonyi in Mabira Forest, Buikwe district.
The Bus was on transit from Kampala to Mbale when the ill-fated accident occurred.
Hellen Butoto, the Ssezibwa Regional Police Spokesperson, says although no deaths have been reported, preliminary investigations suggest that the accident could have been as a result of over speeding and made worse by a heavy downpour.
She explained that the driver of the bus veered off the road when it was raining, leading the bus to crush on the ground.
Buttoto adds that 2 passengers sustained broken legs while 15 others were badly injured and have all been hospitalized at Kawolo hospital as investigations continue into the exact cause of the accident.
This is the second accident involving YY coaches in a period of three months. Another YY bus, Registration Number No. UAS 765V, crashed in July at Tirinyi village, Kadama trading center in Mbale.
Breaking News; Stanbic Uganda Cup Cancelled But Prize Money To Be Paid
The federation of Uganda Football Association (FUFA) has cancelled the 2019/20 season of the Stanbic Uganda Cup declaring it null and void with no winner due to the COVID-19 restrictions on sports.
Despite the Cup cancellations, Stanbic Bank will honor its commitment by paying prize monies to clubs that had progressed to the Round of 16 and the quarter finals.
According to FUFA president Eng. Moses Magogo, the federation had hoped to complete the season but due to the continued restrictions on sports, the federation reluctantly decided to declare the 2019-20 season of the Stanbic Uganda Cup null and void with no winner.

Stanbic's head of marketing and communications Daniel Ogong said it was unfortunate that the season had to be cancelled as it promised to be the most exciting one yet.
Prize money for the cancelled 2019/20 season will be paid as follows:
The six teams that qualified for the quarter finals will each receive six million Uganda shillings and these include Proline, KCCA, Kyetume, Light SS, Kitara fc and Kataka fc.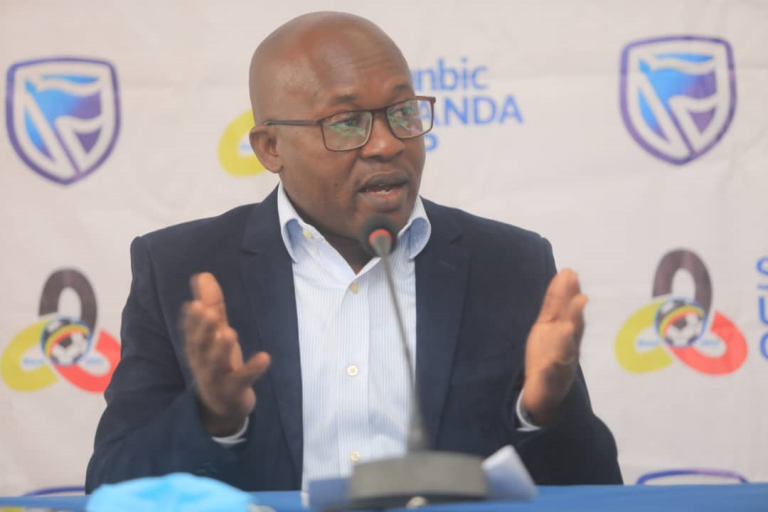 The six teams that were knocked out at the Round of 16 will each receive three million Uganda shillings, and these include: Kiboga Young, Dove fc, Maroons, UPDF, Tooro United and Free Stars.
And the four teams that were yet to play their round of 16 matches will share the prize money for their ties. Each will receive 1.5 millions. These teams include;
URA FC Vs Wakiso Giants
SC Villa Vs Mbarara City.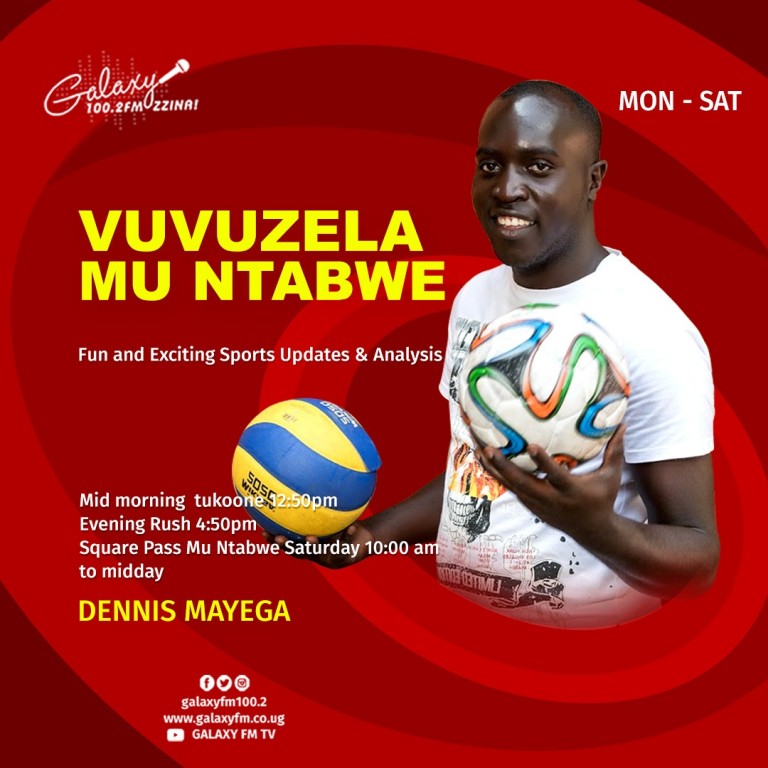 Vuvuzela Mu Ntabwe(12:50-1pm) in Midmorning Tukoone.
Vuvuzela Mu Ntabwe(4:50-5pm) in Evening Rush.
Square Pass Mu Ntabwe(10-12pm) on Saturday.
All on 100.2 Galaxy Fm Zzina!