Leila Kayondo accused of stealing car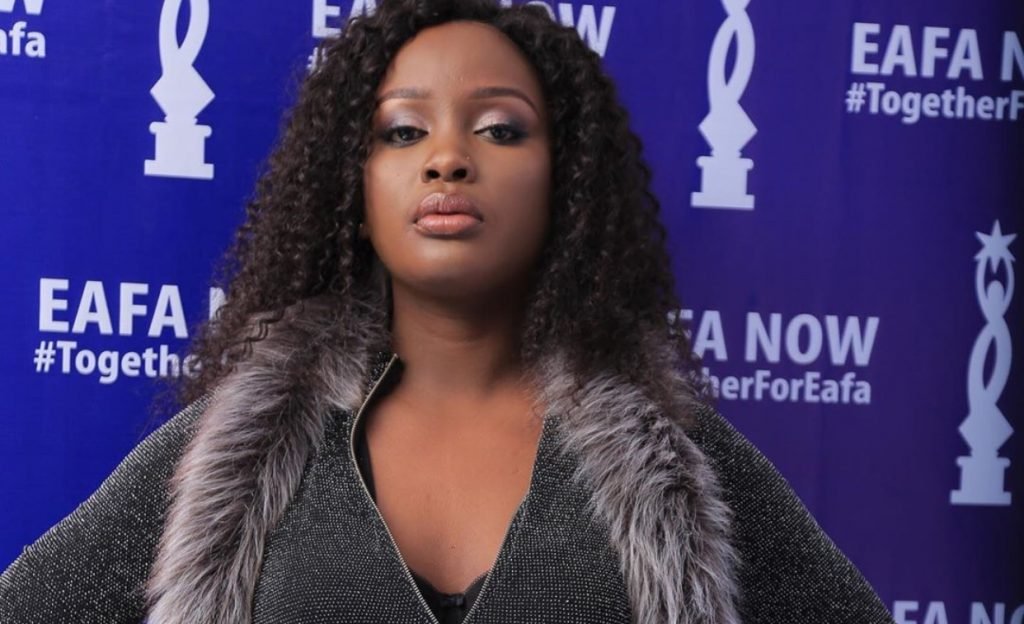 By BigEyeUg Writer
Singer Leila Kayondo has been dragged into a new scandal.
This after a one Nayima Nassuna accused the singer of stealing a car belonging to her late husband Luke Junior Sendawula.
Nassuna claims that Leila Kayondo is in illegal possession of the said car and has adamantly refused to hand it over.
"Every time I asked my late husband about the car, he used to tell that it is with his friends. It's so unfortunate that he died before returning it home. I later found out that it is Leila Kayondo who had the car. She should return it since it was not officially given to her." Nayima Nassuna said.
When Leila was asked about the same issue, she said she is not ready to for attention seekers.
"I do not have time for that woman, Sendawula gave me the car so I completely do not understand what she is saying. I understand such individuals who always come out to get attention but I personally do not have time to waste, I am still mourning my dad ." She said
At the time of Sendawula's death, it was rumored that he was in a relationship with Leila.
Sendawula succumbed to COVID-19 mid-July in South Africa.
The post Leila Kayondo accused of stealing car appeared first on BigEye.UG.
Sheilah declares; "My soulmate is money" after Gods Plan's hit and run
Sheilah Gashumba is one of the people who believed in love after pouring her heart out to boyfriend Marcus Ali Lwanga aka God's Plan expecting a wedding with him however all her anticipations turned into daily nightmares.
God's Plan is a man who had left his wife and children to be with beautiful Sheila. She loved him so much, traveled different places together, and always showed the world that they were meant to be. This seemed enough for her to trust Marcus and offer him her whole heart as well as believing that they were meant to be together forever.
She made a number of social media posts praising him and his riches. It was evident that she was drowning in his love. In fact, when their relationship was at its peak, she hinted about a wedding. However, Marcus couldn't honor her wishes as he jumped out of the relationship before she started demanding to tie the knot hence leaving her heartbroken.
Sheilah couldn't let him go when she still wanted him. She, therefore, invited him to join her in Zanzibar so they can discuss getting back together. Unfortunately, Marcus was committed to ending the relationship.
While Marcus found it easy to move on, Sheilah still had things that reminded her of him for instance a tattoo of his name on her back which she would later get rid of.
Days after the breakup, she decided to replace the tattoo with another tattoo made in a shape of Angel wings. 
While she showed off a new man on her socials where she was kissing him, she still claims that she is single. 
For example, just one day after showing him off, she posted on her Twitter remarking that she never told anyone that she was dating adding that she is single.
Just recently she also made another tweet showing how she has given up on love and decided to concentrate on money.
She stated that she will never have a wedding.
"My soulmate is money unfortunately I will never get a wedding" she tweeted.
Enock Mugabi aka Eye Witness is a Journalist, Seasoned Writer and Music Analyst with a passion for sports.
Connect with him on social media using the links below in bio.
Express Fc To Resurrect Their Form As They Travel To Mwererwe –
Express Fc To Resurrect
Express fc will be aiming to return to winning ways after being held by SC Villa and most recently Mbarara City in their last two league games in Bombo and Wankulukuku respectively.
The Red Eagles are third on 37 points, five behind Venoms and Tax Collectors whereas Soltilo Bright Stars are 8th with 26 points accumulated from 18 games played so far.
Wasswa Bbosa welcomes back Cranes senior defender Murushid Jjuuko who has been serving a two match suspension following his red card in the 3-1 win over URA.
In Jjuuko's absence, Enock Walusimbi has been pairing Isa Lumu in the center back. Walusimbi, who will also be facing his former side, is expected to shift back to the right back position.
Soltilo Bright Stars have won all their most recent three league games and have managed to score three goals in each of their last four games across all competitions. They beat Kitara 3-1, Wakiso Giants 3-1, Paidha Black Angels (Uganda Cup) 3-1, and MYDA 3-0.
Sam Ssekamatte Kayongo has so far managed to score eight goals for the Baker Mbowa's coached team and will be expected to lead the attack against the meanest defense in the league.
Kayongo together with his offensive partners Joseph Janjali and Joseph Akandwanaho scored the three goals for Bright Stars in their recent victory against MYDA in Tororo.
Bright Stars will be without their first two goalkeepers Edwin Buule Kiwanuka and Benson Wegima. Kiwanuka got an accident while Wegima got injured during the win against Wakiso Giants last week.
Simon Tamale is expected to maintain his place in goal while Shamulan Kamya, a keeper from the U-17 team will be his deputy.
Right back Andrew Kaggwa is suspended after accumulating yellow cards while Amis Gabite, Jamir Nvule Kisitu, Ronald Ssempala and Samuel Ssekitto are all injured.
Jonathan Odong, a senior six student at Buddo SS is engaged in UACE exams.
Express will be without winger Godfrey Lwesibawa who is suspended due to accumulated bookings.
Long term absentees Abel Eturude, Arthur Kiggundu and striker George Ssenkaaba remain out of action.
Martin Kizza is expected to start despite limping off during their one all draw with Mbarara City on Saturday.
Express Fc To Resurrect
Both teams have met on 16 occasions across all competitions. Express have won five times, Bright Stars have managed three wins while the other eight games have ended in draws.
The first leg at Wankulukuku ended 2-1 in favour of Express with Frank Kalanda and Eric Kambale scoring inside the first 10 minutes of the game. Augustine Kacancu pulled one back for Bright Stars.
Vuvuzela Mu Ntabwe(12:50-1pm) in Midmorning Tukoone.
Vuvuzela Mu Ntabwe(4:50-5pm) in Evening Rush.
Square Pass Mu Ntabwe(10-12pm) on Saturday.
All on 100.2 Galaxy Fm Zzina!
AMAZIGA! Abaana 301 basobezeddwako abasajja abalwadde ba Siriimu, Poliisi ebiyingiddemu
Poliisi eraze nti abaana 301 baasobezebwako abasajja abalina siriimu omwaka oguwedde ogwa 2020.
Okusinzira ku Lipoota ya Poliisi, okusobya ku baana kukolebwa bazadde baabwe, ab'enganda ssaako n'abasomesa.
Alipoota eraga nti Poliisi yafuna emisango 14,134, ekiraga nti okusobya ku baana kweyongerako ebitundu 3.8% ate mu 2019, Poliisi yafuna emisango 13,613.
Ku baana abasobezebwako, 9,954 baali wakati w'emyaka 15-17, 2,986 wakati w'emyaka 9-14 ate 1280 wakati 1-8.
Wabula ku baana 14,134, 301 basobezebwako abasajja abalina siriimu. Ku baana 301, 120 abalina okubakuuma, 120 abazadde ate 55 basomesa.
Akulira bambega ba poliisi, Grace Akullo agamba nti abantu bangi batya okutwala emisango ku Poliisi egy'abaana abasobezeddwako olw'okutya okubatusaako obulabe ssaako n'okutiisibwatiisibwa.
Akullo agamba nti abazadde okufumbiza abaana wakati w'emyaka 15-17 y'emu ku nsonga lwaki omuwendo gweyongedde okulinya.
Lipoota eraga nti Poliisi y'e Katwe mu Kampala yafuna emisango 252 egy'okusobya ku baana abato, Kamuli 236, Mbale 230, Buyende 207, Mukono 193, Tororo 188, Buikwe 186, Kiryandongo 185 ate Luweero 174.
Akullo agamba nti abazadde abamu okufuna ssente okuva ku bazajje abasobeza ku mwana waabwe, kiremeseza abazadde bangi okutwala emisango ku Poliisi.