Stanbic Bank Registers Shs 127.4B Profits in Half Year Performance
Stanbic Bank has posted UGX 127.4b Profit after tax in its 2020 half year performance ending June 2020.
This however, was less than that the UGX 134 billion profit after tax that was registered for the same period 2019.
The decline in profits was primarily attributed to the negative impact of Covid-19 that has disrupted the different sectors of the economy.
Speaking at the virtual press conference held for the release of the half year results, Ms Anne Juuko, the Chief Executive Officer, Stanbic Bank noted that despite the difficult operating environment, Stanbic bank has continued to show resilience and commitment to implementing a robust strategy in the current economic conditions.
"For example, Stanbic's lending grew by 24% to UGX 3.4 trillion from UGX 2.7 trillion in June 2019 while maintaining the Compound annual growth rate of 16.4%. The bank also saw its customer deposits increase by UGX1.1 trillion from UGX 4.1 trillion in June 2019 to UGX 5.2 trillion in June 2020.This growth is attributed to the good relationship that we have without customers," she said.
The report also shows that there was 26.5% growth in assets from UGX 6.1trillion to UGX 7.7 trillion, Half Year results for year 2020 show while the shareholders' equity increase by UGX 247 billion.
Commenting on the performance, Patrick Mweheire, Regional CEO, Standard Bank Group attributed the resilient performance to the great strategy that the bank has in place especially for its customers.
"We have always stood by our clients in good and bad times.
In the last first half months which have been negatively affected by the Cocid-19 pandemic that saw several businesses closed while many lost their jobs, Stanbic has been able to lend a hand to its clients. We lowered our Prime Lending Rate twice during the period to 16% which is one of the lowest PLRs of all active retail financial institutions in Uganda. Our aim is to ensure our customers can benefit from more affordable lending rates," he said.
The bank also extended Credit Relief Programmes to over 1,600 clients. With a portfolio of over 40,000 SME clients, the bank encouraged all SME customers whose incomes have been impacted as a result of COVID19 to apply for a loan repayment holiday based on their circumstances. Over 60% of the loans restructured in the Stanbic's portfolio have been SMEs.
21 workers trapped in flooded mine in China's Xinjiang | China News
CCTV says rescuers have located 12 of the 21 trapped miners.
Eight miners have been rescued and 21 remain trapped in a coal mine in China's Xinjiang region after flooding cut power underground and disrupted communications, according to state media.
The accident happened in Fengyuan coal mine in Hutubi County on Saturday evening, when staff were upgrading the site, the official Xinhua news agency said.
Rescuers had located 12 of the 21 trapped miners, broadcaster CCTV said, but it was unclear if they were all together.
Rescue personnel were trying to pump water from the flooded shaft and have been piping air into the mine.
Pipes were being laid but the pumping operation was going to be challenging, CCTV said.
Mining accidents are common in China, where the industry has a poor safety record and enforcement of regulations is often lax.
In January, 22 workers were trapped in a mine in east China's Shandong province after an explosion damaged the entrance, leaving workers stuck underground for about two weeks.
Eleven men were pulled out alive, 10 died and one miner remained unaccounted for.
In December, 23 miners died after being trapped underground in the southwest city of Chongqing – just months after 16 others died from carbon monoxide poisoning at another coal mine in the city.
African Champions League: CR Belouizdad join Sundowns in quarter-finals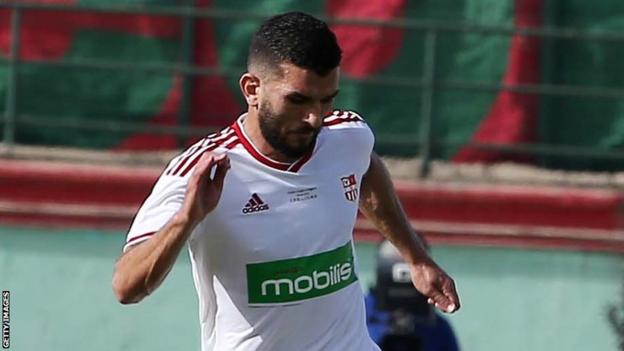 Algerian champions CR Belouizdad earned the win they needed over hosts Mamelodi Sundowns of South Africa to clinch a place in the African Champions League quarter-finals.
Amir Sayoud took his tally in the competition to seven when he gave Belouizdad the lead over Sundowns in Pretoria on 29 minutes.
That advantage was doubled just before half-time as Ahmed Gasmi headed home a cross from Zinelaabidine Boulakhoua.
It was a measure of revenge for the Algerians who were embarrassed by Sundowns on home soil in the reverse fixture when the South Africans won 5-1 in February.
In Friday's other Group B game DR Congo's TP Mazembe, who were already out of contention to make the last eight came from behind to clinch a 2-1 win over Sudan's Al Hilal.
The Sudanese club had needed a win to have any chance at all of progressing.
Al Hilal made the ideal start in their bid to win against former African champions Mazembe – Eid Mugadam gave them the lead after just two minutes in Lumbumbashi – but 16 minutes later Hilal contributed to their own downfall as Ivorian defender Mohamed Ouattara scored an own goal to level the game at 1-1.
Mazembe won the game thanks to a goal from Isaac Tshibangu, who scored just moments after he came on as substitute.
The draw for the quarter and semi-finals will be held on 30 April at the Confederation of African Football's headquarters in Cairo.
Friday's Group B results:
TP Mazembe (DR Congo)

2-1

Al Hilal (Sudan)

Mamelodi Sundowns (South Africa)

0-2

CR Belouizdad (Algeria)
Ghana's farmers eye sweet success from chocolate


Ghana is the world's second largest cocoa producer but sees little of the profits from chocolate – for now.



Source – www.bbc.co.uk