Be a Pro-People Force – Museveni  Urges Police as 4,809 Graduate
President Yoweri Kaguta Museveni who is also the Commander in Chief of the armed forces has passed out a total of 4,809 police officers at the Police Training School- Kabalye in Masindi. The pass out ceremony took place yesterday Friday August 21, at the Police Training School-Kabalye, Kijunjubi Sub-county in Masindi District.
On arrival at the training School, President Museveni was received by the Commandant of Police Training School, Kabalye ACP Ziwedde Abubaker who briefed him about the courses conducted that included Learner Assistant Inspectors of Police (L/AIP) and Probationary Police Constables (PPCs) course respectively.
He was later taken through both theory and practical demonstrations that included a terrain model, public order management model and range exercise among others.
"It is now my pleasure to pass out the 485 Assistant Inspectors of Police and the 4324 Police Constables" Gen. Museveni announced amidst jubilations from the graduates.
Speaking shortly after the pass out, President Yoweri Kaguta Museveni congratulated the graduates upon finishing the course and joining the Uganda Police Force.
According to the doctrine and ideology of the National Resistance Movement party (NRM), the President said, Uganda Police Force should be a pro-people force, which is there to defend and uphold the dignity of Uganda.
"Your methods should reflect that. When you are beating people, then you are not a pro-people force," he said.
President Museveni said that the police must be well trained in the use of arms and other means like martial arts and added that such capabilities should be used according to the standing order of the force.
"You the police should be firm in self-defense and use enough or reasonable force to subdue the criminal. After subduing, you should not again continue to beat them. Your job is to arrest, get evidence and take to court. It's somebody else's responsibility to prosecute not you," he cautioned.
The President warned the police against shouting at people but should instead treat them with respect.
"Don't be rude to people, don't beat somebody who has already been arrested. That's what I mean by a pro-people force," he said.
The other weakness in police, the President said, is corruption. He revealed that many police officers have been taking bribes especially the traffic police whom he referred to as "The white angles". He cautioned them not to try to get rich quickly by taking bribes and warned them against soiling the image of the police.
"There is no need for you to spoil the image of police. Don't become bad mathematicians; don't try to get rich quickly by taking bribes. You can do very well by being honest," he cautioned.
When dealing with crime, the President said, police should be very serious and that's the only way they will win the confidence of the people by being masters of crime prevention and good managers.
"We have played our part by purchasing security cameras to make your work easy. Please use them seriously to cab crime in society. We shall give you all the necessary support you need," he said.
The Inspector General of Police Martins Okoth Ochola, who also congratulated the graduates upon successfully completing the course, said that the President's endless support and guidance is a strong testimony to building a strong Uganda Police Force.
He told the graduates that policing is a rewarding career but for only the officers who are patient, focused.
"You have joined a noble career. Please be disciplined, patient, and focused. The country has invested in you a lot, so please do your work diligently and keep safe," IGP Ochola said.
21 workers trapped in flooded mine in China's Xinjiang | China News
CCTV says rescuers have located 12 of the 21 trapped miners.
Eight miners have been rescued and 21 remain trapped in a coal mine in China's Xinjiang region after flooding cut power underground and disrupted communications, according to state media.
The accident happened in Fengyuan coal mine in Hutubi County on Saturday evening, when staff were upgrading the site, the official Xinhua news agency said.
Rescuers had located 12 of the 21 trapped miners, broadcaster CCTV said, but it was unclear if they were all together.
Rescue personnel were trying to pump water from the flooded shaft and have been piping air into the mine.
Pipes were being laid but the pumping operation was going to be challenging, CCTV said.
Mining accidents are common in China, where the industry has a poor safety record and enforcement of regulations is often lax.
In January, 22 workers were trapped in a mine in east China's Shandong province after an explosion damaged the entrance, leaving workers stuck underground for about two weeks.
Eleven men were pulled out alive, 10 died and one miner remained unaccounted for.
In December, 23 miners died after being trapped underground in the southwest city of Chongqing – just months after 16 others died from carbon monoxide poisoning at another coal mine in the city.
African Champions League: CR Belouizdad join Sundowns in quarter-finals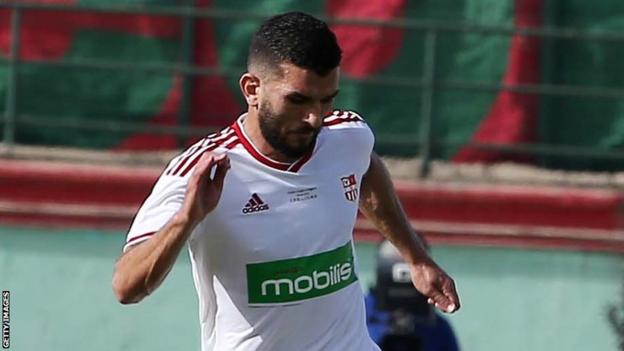 Algerian champions CR Belouizdad earned the win they needed over hosts Mamelodi Sundowns of South Africa to clinch a place in the African Champions League quarter-finals.
Amir Sayoud took his tally in the competition to seven when he gave Belouizdad the lead over Sundowns in Pretoria on 29 minutes.
That advantage was doubled just before half-time as Ahmed Gasmi headed home a cross from Zinelaabidine Boulakhoua.
It was a measure of revenge for the Algerians who were embarrassed by Sundowns on home soil in the reverse fixture when the South Africans won 5-1 in February.
In Friday's other Group B game DR Congo's TP Mazembe, who were already out of contention to make the last eight came from behind to clinch a 2-1 win over Sudan's Al Hilal.
The Sudanese club had needed a win to have any chance at all of progressing.
Al Hilal made the ideal start in their bid to win against former African champions Mazembe – Eid Mugadam gave them the lead after just two minutes in Lumbumbashi – but 16 minutes later Hilal contributed to their own downfall as Ivorian defender Mohamed Ouattara scored an own goal to level the game at 1-1.
Mazembe won the game thanks to a goal from Isaac Tshibangu, who scored just moments after he came on as substitute.
The draw for the quarter and semi-finals will be held on 30 April at the Confederation of African Football's headquarters in Cairo.
Friday's Group B results:
TP Mazembe (DR Congo)

2-1

Al Hilal (Sudan)

Mamelodi Sundowns (South Africa)

0-2

CR Belouizdad (Algeria)
Ghana's farmers eye sweet success from chocolate


Ghana is the world's second largest cocoa producer but sees little of the profits from chocolate – for now.



Source – www.bbc.co.uk