Life Of The Boss Lady! 5 Expensive Assets Owned By Socialite Zari
Zari Hassan is Ugandan reality Television Personality, Entrepreneur and Influencer. The Boss Lady is an entrepreneur in South Africa where she owns a tertiary College and Cosmetics shop while pursuing her music career.
Zari Hassan's ex-husband, the late Ivan Ssemwanga is said to have collected over Ush 700 million per month from his numerous business across the continent.
After ending her relationship with Ivan, Zari moved on super quick! She hooked up TZ star, Diamond Platnumz when he had just broken up with  actress Wema Sepetu. The mother of five is super rich and blessed!
How she got rich? Bonking loaded men of course played a huge part! She was is one of a few ladies who can survive without a man support.
Here is a list of expensive things that Zari owns.
1. Home in Waterloof in South Africa
Zari resides in South Africa one of their houses in Waterloof.
2. The Brooklyn Schools
Zari has a firm hand in management of the schools. She is the CEO and seems to be doing a good Job while at it.
3. Range Rover Sports
She bought herself Range rover back in 2018, which is white in color as a new addition to her list of fancy fleets she owns.
4. Bentley
She was gifted it by Diamond Platnumz during Tanasha's birthday.
5. Mercedes Benz
Zari just signed a hefty with Mercedes Benz in South Africa. According to the source this makes her an Ambassador for brand that makes best cars in world.
Enock Mugabi aka Eye Witness is a Journalist, Seasoned Writer and Music Analyst with a passion for sports.
Connect with him on social media using the links below in bio.
Police Bust Gangster Syndicate for Robbing and Raping Residents
Police in Jinja city has netted 16 goons, mainly youth for terrorizing residents day and night by robbing, raping, and hacking unsuspecting victims.
The goons are part of a syndicate that is partitioned into 4 smaller groups where they carry out their illegal practices including team B 13, Team No Sleep, the Vacuum team, and 'Team Sex'.
The goons who were arrested on Monday night are said to base their illicit acts at the Bugembe ward in the Northern Division, Jinja city.
The goons work by staging traps using bayonets for their unsuspecting victims between 7:00 pm and 11:00 pm before robbing or hacking defiant persons.
Abbey Ngako, the regional police spokesperson says Police managed to nab the criminal gang following complaints of increased crime in several areas of Mafubira, Masese, Mpumudde, Obote Way, and Bugembe where they reside.
They were arrested after police teams combed through these areas and exhibits were recovered from their homes including housebreaking tools, Marijuana, stolen phones, sim cards, and other suspected stolen items.
Ngako further says that they have also arrested four suspects who specialized in raping women and then extorting ransom from their relatives.
17 Badly Injured in Mabira Road Accident involving YY Coach on Transit to Mbale
Police are investigating a nasty accident that happened on Tuesday morning involving the YY coach bus causing grave injuries to over 17 people on board.
The accident involving a bus, Registration Number UAX 852F happened at about 7:30 am at Kanyonyi in Mabira Forest, Buikwe district.
The Bus was on transit from Kampala to Mbale when the ill-fated accident occurred.
Hellen Butoto, the Ssezibwa Regional Police Spokesperson, says although no deaths have been reported, preliminary investigations suggest that the accident could have been as a result of over speeding and made worse by a heavy downpour.
She explained that the driver of the bus veered off the road when it was raining, leading the bus to crush on the ground.
Buttoto adds that 2 passengers sustained broken legs while 15 others were badly injured and have all been hospitalized at Kawolo hospital as investigations continue into the exact cause of the accident.
This is the second accident involving YY coaches in a period of three months. Another YY bus, Registration Number No. UAS 765V, crashed in July at Tirinyi village, Kadama trading center in Mbale.
Breaking News; Stanbic Uganda Cup Cancelled But Prize Money To Be Paid
The federation of Uganda Football Association (FUFA) has cancelled the 2019/20 season of the Stanbic Uganda Cup declaring it null and void with no winner due to the COVID-19 restrictions on sports.
Despite the Cup cancellations, Stanbic Bank will honor its commitment by paying prize monies to clubs that had progressed to the Round of 16 and the quarter finals.
According to FUFA president Eng. Moses Magogo, the federation had hoped to complete the season but due to the continued restrictions on sports, the federation reluctantly decided to declare the 2019-20 season of the Stanbic Uganda Cup null and void with no winner.

Stanbic's head of marketing and communications Daniel Ogong said it was unfortunate that the season had to be cancelled as it promised to be the most exciting one yet.
Prize money for the cancelled 2019/20 season will be paid as follows:
The six teams that qualified for the quarter finals will each receive six million Uganda shillings and these include Proline, KCCA, Kyetume, Light SS, Kitara fc and Kataka fc.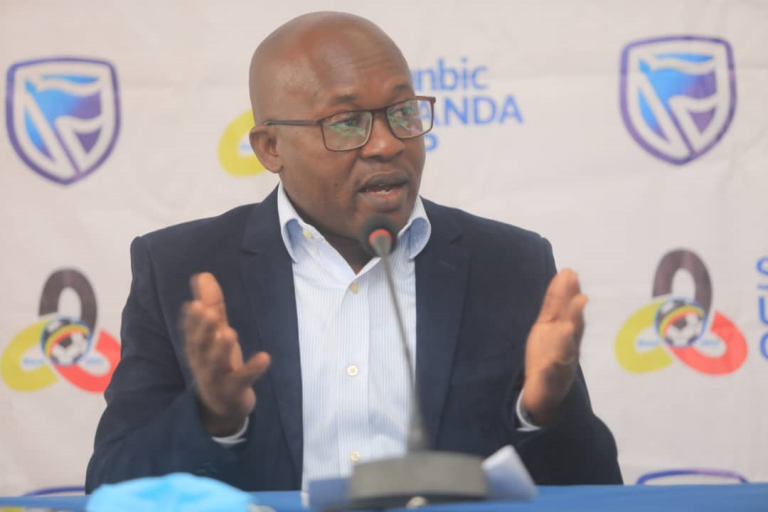 The six teams that were knocked out at the Round of 16 will each receive three million Uganda shillings, and these include: Kiboga Young, Dove fc, Maroons, UPDF, Tooro United and Free Stars.
And the four teams that were yet to play their round of 16 matches will share the prize money for their ties. Each will receive 1.5 millions. These teams include;
URA FC Vs Wakiso Giants
SC Villa Vs Mbarara City.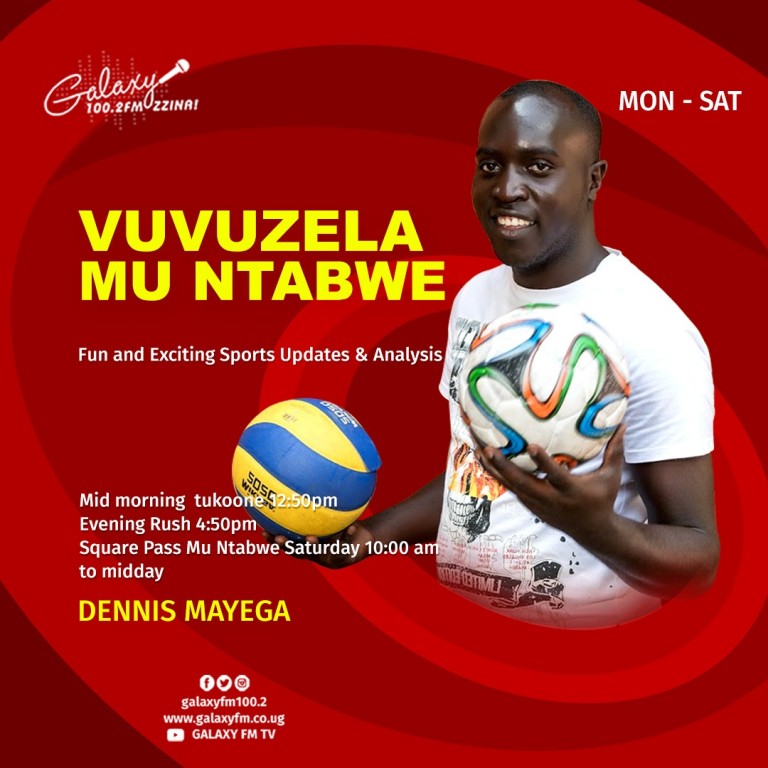 Vuvuzela Mu Ntabwe(12:50-1pm) in Midmorning Tukoone.
Vuvuzela Mu Ntabwe(4:50-5pm) in Evening Rush.
Square Pass Mu Ntabwe(10-12pm) on Saturday.
All on 100.2 Galaxy Fm Zzina!