Kim Jong Un's sister now 'de facto second-in-command' in N Korea | News
South Korea's intelligence agency believes that Kim Yo Jong, the sister of North Korean leader Kim Jong Un, is serving as his "de facto second-in-command" but has not necessarily been designated his successor.
Ha Tae-keung, an opposition party legislator on the South Korean parliament's intelligence committee, on Thursday told reporters that Kim was helping to run the regime with mandated authority from her brother.
She is now responsible for the isolated nation's relations with the United States and South Korea, according to an intelligence report cited by the legislator.
Believed to be in her early 30s, Kim Yo Jong is the leader's only close relative with a public role in politics, recently spearheading a new, tougher campaign to put pressure on South Korea.
"The bottom line is that Kim Jong Un still holds absolute power, but has turned over a bit more of his authority compared to the past," Ha said, following a closed-door briefing by the South's National Intelligence Service.
"Kim Yo Jong is a de facto second-in-command," Ha added, in a transcript of remarks seen by the Reuters news agency.
More authority on economic and military policy has also been delegated to several other senior officials, although at a lower level, possibly to reduce strain on Kim Jong Un as well as help him avoid blame for any failures, Ha said.
What's behind the recent tension on the Korean peninsula? | Inside Story
Kim Yo Jong won fame ahead of her brother's 2019 summit with US President Donald Trump in Vietnam, when her efforts to ensure everything went well included holding an ashtray for the North Korean leader at a railway station on his journey.
Her prominence in the campaign against South Korea this year highlighted a substantive policy role that goes beyond being merely Kim's assistant, analysts say.
She issued her first public statements to spray criticism at the neighbouring nation, and the North's state media portrayed her as playing a decision-making role.
In July, she offered personal views on diplomacy with the US in an unusual statement in state media, saying her brother had given her special permission to watch recordings of that country's Independence Day celebrations.
When rumours and speculation arose in April about Kim Jong Un's health, his sister was seen as a possible placeholder to take over the family dynasty until one of Kim's children is old enough.
Kim Yo Jong has been absent from the plenary gathering on Wednesday, said NK News, a Seoul-based website that tracks North Korea. That has stirred some speculation about a possible demotion.
Five-year plan
Earlier on Thursday, state media reported that the North Korean leadership wanted to present a new five-year plan at a rare party congress in January.
At a meeting on Wednesday chaired by Kim, the Workers' Party Central Committee decided to present the economic plan at the party congress.
The plenary meeting decided to convene the party congress "to set forth a correct line of struggle and strategic and tactical policies on the basis of the new requirements of our developing revolution and the prevailing situation," the official news agency KCNA reported.
The agency noted that the economy had not improved in the face of "unexpected multiple challenges". The goal of noticeably increasing people's standard of living had also not been achieved.
The Eighth Congress of the Workers' Party will be convened in January.
The Congress, which was originally supposed to be held every five years, is the party's most important body. But the seventh congress in May 2016 was the first to be held in 36 years.
At that time, Kim Jong Un was elected to the newly created post of party chairman.
Trucks Traveling to Juba Get Military Escort
Government of Southern Sudan has agreed to provide full military security and safety to all road users including Ugandan cargo truck drivers plying Juba – Nimule highway starting this week.
This was reached during a meeting between South Sudan government and Ugandan authorities on Friday at Elegu One-stop Border point in Amuru district, Northern Uganda.
High level security officials from both countries met to deliberate on the deteriorating security along major highways in South Sudan in which eight Ugandan truck drivers have been shot dead by armed men in the past weeks.
The Sudanese high-level delegation was led by the country's Chief of Defense Forces, Gen. Johnson Juma, Inspector General of Police, Gen. Majak Akech, and Director-General of Internal Security, Gen. Akol Khor.
The Deputy Commissioner General of the National Revenue Authority, Hon. Africano Mande was also present and four East African Ambassadors.
On the other side, Uganda's delegation was led by Police Operations Director AIGP Edward Ochom, Director Crime Intelligence Col. Damulira among others high ranking officers.
"We have successively concluded our two days meetings with Ugandan authorities including the drivers who later agreed to resume the normal operation," said South Sudan authorities.
"And as government, we assure them of full security on the major highways in the Republic of South Sudan and removal of the illegal road blocks and check-points for easy movement of trucks to Juba and others towns within the country."
Last week, truck drivers from across the East African region protested the increasing insecurity in South Sudan, illegal taxes and also demanded for compensation of their deceased colleagues.
They parked their trucks at Elegu border and demanded for both governments to intervene before the situation deteriorates further.
In regards to compensation, Sudanese authorities agreed to pay for the victims but said that the process will be discussed through the foreign ministries of the two countries.
Although traders had also requested Ugandan authorities and in this case the UPDF to escort their goods to South Sudan, Lt.Col Deo Akiki said that "this can't be a decision of UPDF. South Sudan is a sovereign State, therefore anything done on its territory at the moment has to be a bilateral matter beyond the two forces. It's a government to government affair."
ChimpReports understands that some trucks on Saturday left Elegu border for Juba under full security escort.
The post Trucks Traveling to Juba Get Military Escort first appeared on ChimpReports.



Source – chimpreports.com
21 workers trapped in flooded mine in China's Xinjiang | China News
CCTV says rescuers have located 12 of the 21 trapped miners.
Eight miners have been rescued and 21 remain trapped in a coal mine in China's Xinjiang region after flooding cut power underground and disrupted communications, according to state media.
The accident happened in Fengyuan coal mine in Hutubi County on Saturday evening, when staff were upgrading the site, the official Xinhua news agency said.
Rescuers had located 12 of the 21 trapped miners, broadcaster CCTV said, but it was unclear if they were all together.
Rescue personnel were trying to pump water from the flooded shaft and have been piping air into the mine.
Pipes were being laid but the pumping operation was going to be challenging, CCTV said.
Mining accidents are common in China, where the industry has a poor safety record and enforcement of regulations is often lax.
In January, 22 workers were trapped in a mine in east China's Shandong province after an explosion damaged the entrance, leaving workers stuck underground for about two weeks.
Eleven men were pulled out alive, 10 died and one miner remained unaccounted for.
In December, 23 miners died after being trapped underground in the southwest city of Chongqing – just months after 16 others died from carbon monoxide poisoning at another coal mine in the city.
African Champions League: CR Belouizdad join Sundowns in quarter-finals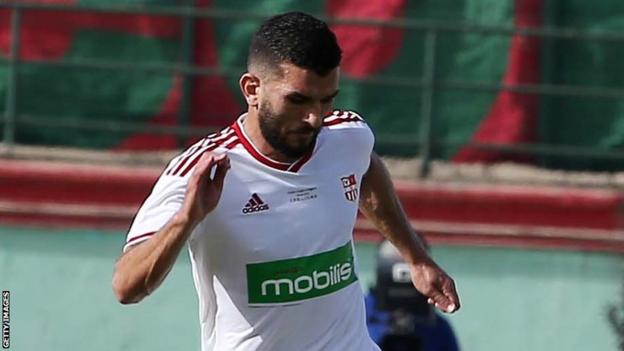 Algerian champions CR Belouizdad earned the win they needed over hosts Mamelodi Sundowns of South Africa to clinch a place in the African Champions League quarter-finals.
Amir Sayoud took his tally in the competition to seven when he gave Belouizdad the lead over Sundowns in Pretoria on 29 minutes.
That advantage was doubled just before half-time as Ahmed Gasmi headed home a cross from Zinelaabidine Boulakhoua.
It was a measure of revenge for the Algerians who were embarrassed by Sundowns on home soil in the reverse fixture when the South Africans won 5-1 in February.
In Friday's other Group B game DR Congo's TP Mazembe, who were already out of contention to make the last eight came from behind to clinch a 2-1 win over Sudan's Al Hilal.
The Sudanese club had needed a win to have any chance at all of progressing.
Al Hilal made the ideal start in their bid to win against former African champions Mazembe – Eid Mugadam gave them the lead after just two minutes in Lumbumbashi – but 16 minutes later Hilal contributed to their own downfall as Ivorian defender Mohamed Ouattara scored an own goal to level the game at 1-1.
Mazembe won the game thanks to a goal from Isaac Tshibangu, who scored just moments after he came on as substitute.
The draw for the quarter and semi-finals will be held on 30 April at the Confederation of African Football's headquarters in Cairo.
Friday's Group B results:
TP Mazembe (DR Congo)

2-1

Al Hilal (Sudan)

Mamelodi Sundowns (South Africa)

0-2

CR Belouizdad (Algeria)