Insta King: Abryanz breaks the internet with the highest insta views ever by a Ugandan celebrity
By BigEyeUg Team
Who wil win the Champions League? Predict and you win big money.Play here.
Reports coming through in our news room this morning are extremely saddening to the Gagamel International members and fans, at the same time the entire music industry.
These regards the passing away of young singer Allan Masengere, famously known as Shortkut Sojah.
Shortkut has been bedridden for almost two months and if you can recall in the past weeks, we reported to you his deteriorating health as it was revealed by Gagamel International CEO, Bebe Cool who is also his uncle.
Since then, fellow musicians and fans had flourished his social media with recovery and comforting messages until earlier today morning when he breathed his last.
This included the House of Prayer Ministries head, Pastor Aloysius Bugingo who paid him a visit in hospital , carrying prayers and anointment for a healing.
The despairing news was dropped by Bebe Cool via his social media in downhearted mood.
"The Lord has decided my son Allan Massengere should join him in a better place, thank all the doctors and nurses who tried to save his life for the past 40 days. May his soul rest in peace," Bebe Cool wrote.
The bond between the Bebe Cool and now the Late Shortkut has been pretty narrow as the 'Wakayima' singer had now owned him as a son, apart from being his nephew.
Their history is phenomenal as one of the renown deadly moment was in 2010 when they both narrowly survived being gunned down at Centenary Park, Kampala.
Shortkut is famously remembered for his monster hit song; Big Mouth By Far Ft. Denzo that crewed beef between Bebe Cool and Bobi Wine in 2013.
However, Shortkut's cause of death persists unclassified.
This website has also learnt that the vigil and burial arrangements will be communicated later in the day.
Rest in peace Shortkut!
(Visited 1 time, 1 visit today)
Police Bust Gangster Syndicate for Robbing and Raping Residents
Police in Jinja city has netted 16 goons, mainly youth for terrorizing residents day and night by robbing, raping, and hacking unsuspecting victims.
The goons are part of a syndicate that is partitioned into 4 smaller groups where they carry out their illegal practices including team B 13, Team No Sleep, the Vacuum team, and 'Team Sex'.
The goons who were arrested on Monday night are said to base their illicit acts at the Bugembe ward in the Northern Division, Jinja city.
The goons work by staging traps using bayonets for their unsuspecting victims between 7:00 pm and 11:00 pm before robbing or hacking defiant persons.
Abbey Ngako, the regional police spokesperson says Police managed to nab the criminal gang following complaints of increased crime in several areas of Mafubira, Masese, Mpumudde, Obote Way, and Bugembe where they reside.
They were arrested after police teams combed through these areas and exhibits were recovered from their homes including housebreaking tools, Marijuana, stolen phones, sim cards, and other suspected stolen items.
Ngako further says that they have also arrested four suspects who specialized in raping women and then extorting ransom from their relatives.
17 Badly Injured in Mabira Road Accident involving YY Coach on Transit to Mbale
Police are investigating a nasty accident that happened on Tuesday morning involving the YY coach bus causing grave injuries to over 17 people on board.
The accident involving a bus, Registration Number UAX 852F happened at about 7:30 am at Kanyonyi in Mabira Forest, Buikwe district.
The Bus was on transit from Kampala to Mbale when the ill-fated accident occurred.
Hellen Butoto, the Ssezibwa Regional Police Spokesperson, says although no deaths have been reported, preliminary investigations suggest that the accident could have been as a result of over speeding and made worse by a heavy downpour.
She explained that the driver of the bus veered off the road when it was raining, leading the bus to crush on the ground.
Buttoto adds that 2 passengers sustained broken legs while 15 others were badly injured and have all been hospitalized at Kawolo hospital as investigations continue into the exact cause of the accident.
This is the second accident involving YY coaches in a period of three months. Another YY bus, Registration Number No. UAS 765V, crashed in July at Tirinyi village, Kadama trading center in Mbale.
Breaking News; Stanbic Uganda Cup Cancelled But Prize Money To Be Paid
The federation of Uganda Football Association (FUFA) has cancelled the 2019/20 season of the Stanbic Uganda Cup declaring it null and void with no winner due to the COVID-19 restrictions on sports.
Despite the Cup cancellations, Stanbic Bank will honor its commitment by paying prize monies to clubs that had progressed to the Round of 16 and the quarter finals.
According to FUFA president Eng. Moses Magogo, the federation had hoped to complete the season but due to the continued restrictions on sports, the federation reluctantly decided to declare the 2019-20 season of the Stanbic Uganda Cup null and void with no winner.

Stanbic's head of marketing and communications Daniel Ogong said it was unfortunate that the season had to be cancelled as it promised to be the most exciting one yet.
Prize money for the cancelled 2019/20 season will be paid as follows:
The six teams that qualified for the quarter finals will each receive six million Uganda shillings and these include Proline, KCCA, Kyetume, Light SS, Kitara fc and Kataka fc.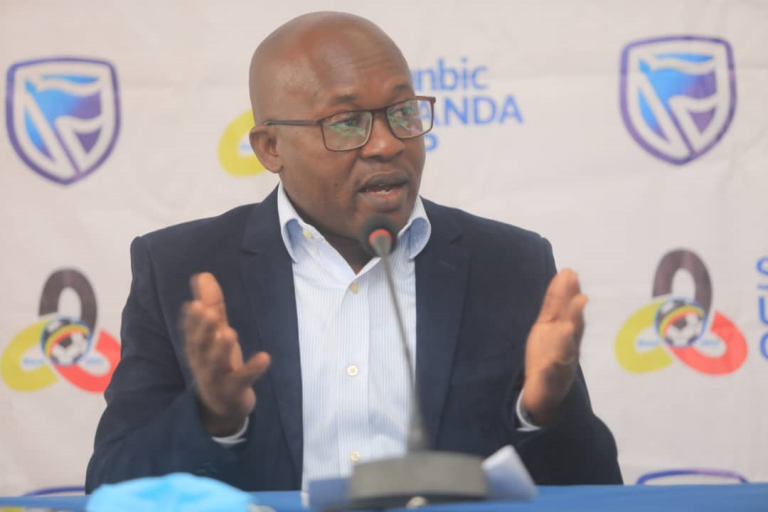 The six teams that were knocked out at the Round of 16 will each receive three million Uganda shillings, and these include: Kiboga Young, Dove fc, Maroons, UPDF, Tooro United and Free Stars.
And the four teams that were yet to play their round of 16 matches will share the prize money for their ties. Each will receive 1.5 millions. These teams include;
URA FC Vs Wakiso Giants
SC Villa Vs Mbarara City.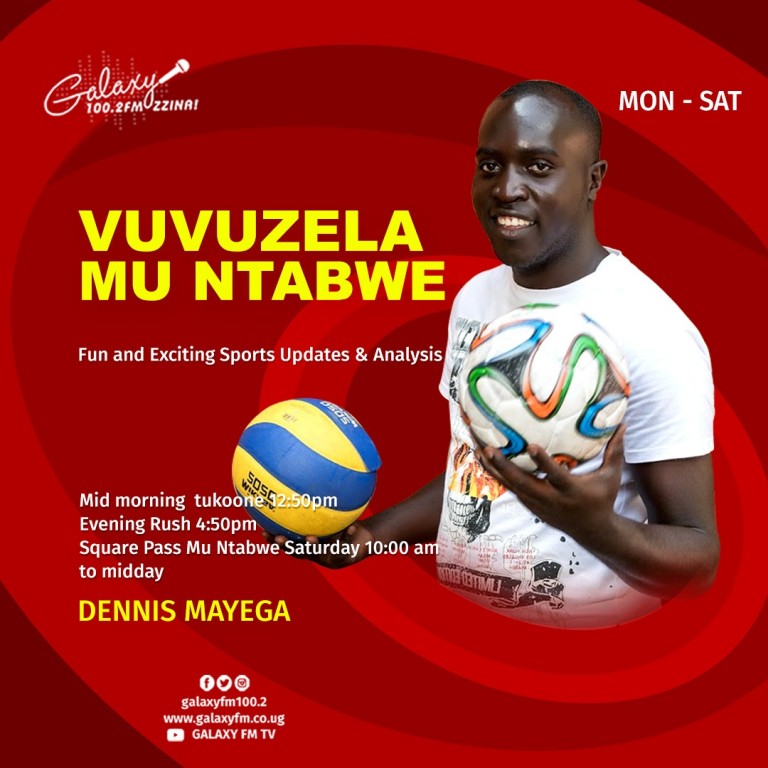 Vuvuzela Mu Ntabwe(12:50-1pm) in Midmorning Tukoone.
Vuvuzela Mu Ntabwe(4:50-5pm) in Evening Rush.
Square Pass Mu Ntabwe(10-12pm) on Saturday.
All on 100.2 Galaxy Fm Zzina!