Mali President Boubacar Resigns after Hours of Detention in Suspected Military coup
Mali's President Ibrahim Boubacar Keïta has resigned, after being detained by soldiers on state television late Tuesday, hours after he and the Prime Minister were reportedly detained by soldiers in a suspected coup.
Wearing a blue surgical mask, the President said on national broadcaster ORTM that he didn't want blood spilled to keep in power.
This means that the country's national assembly and the government have now been dissolved as he stated in his brief address.
For seven years I have with great joy and happiness tried to put this country back on its feet," Keita said. "If today some people from the armed forces have decided to end it by their intervention, do I have a choice? I should submit to it because I don't want any blood to be shed."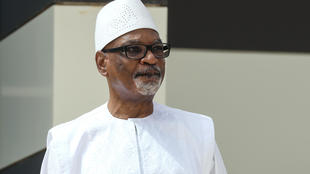 On Wednesday morning, the military leaders behind the suspected coup identified as the National Committee for the Salvation of People (CNSP)addressed the nation promising a political transition, elections within a "reasonable time," and a national curfew.
The military leader listed multiple grievances with Keita's leadership, including allegations of corruption and the failure to deal with the long-running extremist insurgency.
The United Nations Security Council will hold an emergency meeting to discuss the situation on Wednesday as requested by France and Niger, according to anonymous diplomatic sources.
AMAZIGA! Omwana myaka 3 attiddwa, akabina n'ebitundu by'ekyama bitwaliddwa, 3 bakwattiddwa
Akabina n'ebitundu by'ekyama bitwaliddwa, naye ddala ki ekiri mu bantu!
Poliisi ekutte abantu basatu (3) ku ttemu eryakoleddwa ku mwana myaka 3 e Kikandwa mu disitulikiti y'e Kiboga.
Omwana Katongole Charles yazuuliddwa ng'attiddwa ekyalese abazadde Ronald Kasibante ne Betty Tulina nga basobeddwa eka ne mu kibira.
Omwana yabula akawungeezi k'olunnaku olwa Mmande, era Poliisi olwayitiddwa, kwe kuleeta embwa ezikonga olusu.
Embwa, zakulembedde abasirikale okutuusa omwana we bamuttidde, nga nengoye ze, zisuuliddwa zonna zijjudde omusaayi.
Oluvanyuma, embwa zaatutte abasirikale eri omutuuze Kintu ku kyalo Ddabiriza era yenna yasangiddwa ng'ajjudde omusaayi.
Omwana yazuuliddwa mu lutobazi lwe Kanoga nga yattiddwa dda era nga asaliddwako ebitundu by'ekyama, amatu n'akabina.
Wabula Racheal Kawala, omwogezi wa Poliisi mu bitundu bye Wamala agambye nti Poliisi ekutte abantu basatu (3) okuyambako mu kunoonyereza nga n'omusajja Kintu bagenda kumutwala mu ddwaaliro okumwekebejja obwongo n'okuzuula ekyamuwaliriza okutta omwana omuto.
Ate omulambo gw'omwana, gwatwaliddwa mu ddwaaliro ekkulu e Kiboga okwongera okwekebejjebwa.
Kawala agumizza abatuuze okusigala nga bakakamu nga Poliisi egenda kukola kyonna ekisoboka abantu bonna abenyigidde mu ttemu, batwalibwe mu mbuga z'amateeka ku misango gy'okutta omuntu.
Gavumenti mu ggwanga erya South Sudan erangiridde nti amassomero gonna omuli n'amatendekero agawaggulu, gakuddamu okuggulawo, okusomesa abayizi b'eggwanga okuva nga 3, omwezi ogujja Ogwokutaano.
Abayizi bakulungudde omwana mulamba nga bali waka wakati mu kulwanyisa Covid-19.
Abayizi abali mu mwaka ogusembayo, abali mu kibiina eky'omusanvu (P7) ne 'secondary', bakkirizibwa dda okudda ku massomero mu October 2020, okubatekateeka okutuula ebigezo byabwe.
Okusinzira kw'amyuka omukulembeze w'eggwanga Cluster Hussein Akol, akakiiko akali ku ddimu ly'okulwanyisa Covid-19, kalaze nti Covid ayongedde okukendera mu ggwanga nga ye ssaawa, bayizi bonna okudda ku massomero.
Ate Minisita w'ebyenjigiriza Awut Deng, agambye nti amasomero galagiddwa okuwa abayizi n'abasomesa sanitayiza, Masiki, okwetangira okulwala nga bazeeyo ku massomero.
South Sudan yakazuula abantu 10,486 abalwadde, yakafiisa abantu 114, 10250 basiibuddwa nga bafunye obujanjabi nga ddwaaliro, basigaza abalwadde 122.
US Government Denies Supporting Bobi Wine And Regime Change
US Bobi Wine
The US government, through its mission in Kampala, has opened up on reports that it supports opposition groups such as Robert Kyagulanyi aka Bobi Wine's National Unity Platform (NUP), and expressed commitment to talks to reverse visa restrictions.
On April 16, US secretary of state Antony Blinken announced a visa ban for Ugandans accused of undermining democracy, violating human rights and undermining democracy.
Days later, Bobi Wine welcomed the state department decision.
"I am issuing this statement regarding the announcement of visa restrictions by US Secretary of State, on Ugandan officials who illegally interfered with the recent election, rendering it neither free nor fair", his posted on Facebook.
Since the announcement of the sanctions and even before, several government officials had accused the US and EU of backing Bobi Wine to cause regime change in Uganda.
But according to Brian George, a public affairs officer at the US Mission in Kampala, the US doesn't support any political party's or politician's agenda.
"The United States doesn't support any particular political party or individual," George told NBS.
"The United States was very clear from the onset that we support democratic process and that includes the conduct of free, fair and transparent elections that represent the will of the Ugandan people.
George added that Uganda had been warned of sanctions against human rights violations.
"The second point was that we were going to pay close attention to the conduct of the elections and we wouldn't hesitate to pass sanctions on individuals who violate human rights."
He also hinted on US government's readiness to hold talks with Kampala over sanctions, human rights and democracy.
"The United States shall continue to have open and frank conversations with the Government of Uganda," George noted.
Enock Mugabi aka Eye Witness is a Journalist, Seasoned Writer and Music Analyst with a passion for sports.
Connect with him on social media using the links below in bio.
Cathy Patra thrilled with major double win at Zikomo Awards in Zambia
Cathy Patra won two awards for Best Choreographer in Africa, and Best Dancing Group in Africa.
The two awards won at the Zikomo Awards in Zambia seem to have opened so many doors for Ugandan dancer and choreographer Cathy Patra.
On Friday 9th April 2021, the honorary Zikomo Awards were held in Zambia to reward exceptional African artists from various industries.
The Zikomo awards are a platform to shine a light on artists who are working hard but are constantly sidelined or overlooked by the media.
The main focus of the event was to reward, appreciate, and recognize individuals and Charity organizations who are helping the underprivileged in different communities.
Ugandan dancer Catherine Mbabazi a.k.a Cathy Patra won two awards for Best Choreographer in Africa, and Best Dancing Group in Africa.
Uganda was well represented at the awards as Doreen Kabareebe also walked away with the Best African Female Model and best Humanitarian Awards.
Cathy Patra's win has won her recognition from several personalities including fellow celebrities like Pastor Wilson Bugembe who congratulated her upon the win.
About Cathy Patra
With a very strong passion for dance at an early age of five, Catherine Mbabazi, a Ugandan dancer loved to showcase her talent at family gatherings and at school.
This passion transitioned into a fulltime profession in 2004 when she joined Miracle Teens at Miracle Centre Church for 10 years.
She later joined Atim Rozmerie and Viccy Birungi Namuyomba one of Uganda's Best Dance Duo in 2014.
They formed a dance trio known as RozViccyCathy (RVC). They have since become popular in the entertainment industry collaborating with major artists across Africa.
RVC has worked with Jose Chameleone, Sheebah Karungi, Burna Boy, D'banj, Patoranking, Nyanda, Awilo Longomba, Bebe Cool, Tekno Miles, Mr Eazi, Vanessa Mdee, Eddy Kenzo, Mr Vegas, Phyno, Solidstar, Charly na Nina, Radio and Weasel, Deejay Pius, Active Boys, Buravan, Roberto, Ann Kansiime, Maurice Kirya, Navio, Cindy Sanyu, Iryn Namubiru, A Pass, Spice Diana, Ykee Benda, Rema Namakula, among others.
The trio has also featured twice on the CNN Africa Voices together with their Tabu Flo brothers. They have carried out workshops in Uganda, Africa, Europe, and Canada.
RVC members have choreographed and directed shows like Uganda Entertainment Awards, Club Music Video Awards, I AM FEMALE Production, among others.
Cathy Patra is a versatile and diverse dance artist who performs Ugandan traditional dance styles, Latin, Dancehall, Hiphop, Modern, Afro Jazz, Whacking, Vogue, House, and African Contemporary.
With these styles she has worked with different companies and organizations.
She is aslo a professional Creative Director who does Commercial Shows/Concerts, Theatre productions, Teaching, Social Work and Product
She uses her talent and passion to inspire and motivate the society especially the girl child and fellow women.
Catherine has choreographed and directed successful shows like Sheebah's Omwooyo Concert 2018, Rema's Concert in 2019, Spice Diana's Concert in 2019, Airtel Flashmob, among others.
She is also an Entrepreneur, Ambassador, Digital Influencer, Commercial Model, Fashionista, and a Manager.
We congratulate her upon her achievements!