Entertainers need to quickly unite and repeal the laws
According to Counsel Louis Lwanga, those in the Ugandan entertainment industry must unite and act immediately to repeal the newly imposed Stage Play and Public Entertainment Act.
Louis Lwanga is an Entertainment, Media and Sports Law Consultant. He is currently working with Katende, Ssempebwa & Company Advocates (KATS)
The advocate, while speaking in an interview with this website, revealed the origin and intention behind the newly passed laws which he believes are "outrageous" and "not in good faith" for the entertainment industry.
The rules that have already been discussed and passed by the authorities affect musicians, actors, comedians, authors, photographers, DJs, VJs, record labels, broadcasters, promoters and venue owners, etc.
Several artistes have in recent days raised their voices against the laws, saying that they are a tool to suppress and control their talents, rights and freedom of expression.
"The government wants to become our songwriters, they want to determine whatever comes from our brains, they want to control us. They are doing this because the industry produced Kyagulanyi Ssentamu and he is threatening the status quo…" stressed 2021 Presidential hopeful Bobi Wine.
Louis Lwanga concurs with Sylver Kyagulanyi, another major stakeholder, who urged artistes stand and act in order to reject and repeal the 1949 Stage Play and Public Entertainment Act because they have put the industry under siege.
The artistes have to fight these laws, vigorously. That's the first step. Petition parliament, go to the constitutional court, have a petition to repeal this.

This has to be urgent. After that, artistes need to reassess themselves, unite and come up with on self-regulation group before any other regulations are made.

Louis Lwanga
Watch the full interview with Louis Lwanga below:
Read Also: Entertainers react to the new Stage Plays and Public Entertainments Act
NAYE LWAKI! Poliisi ekambuwadde, eyogedde amazima ku by'okuyita sipiika Kadaga ku CID abitebye ku by'okumutwalira omutwe gw'omwana, laba okuswala
Poliisi esambaze ebyogerwa n'ebiyitingana  nti sipiika wa Palamenti Rebecca Alitwala Kadaga ayitiddwa ku kitebe kya Poliisi ekinoonyereza ku buzzi bw'emisango okuwa sitetimenti ku by'omusajja eyakwattiddwa, by'okumutwalira omutwe ogw'omwana.
Omusajja Nuwashaba Joseph myaka 22 yakwattiddwa ku ggeeti ya Palamenti ku Mmande ku makya bwe yabadde atwalira sipiika ekirabo ky'omutwe gw'omwana Faith Kyamagero myaka 5, eyattiddwa ku kyalo Kijabwemi mu ggoombolola y'e Kimanya Kyabukuza mu kibuga kye Masaka.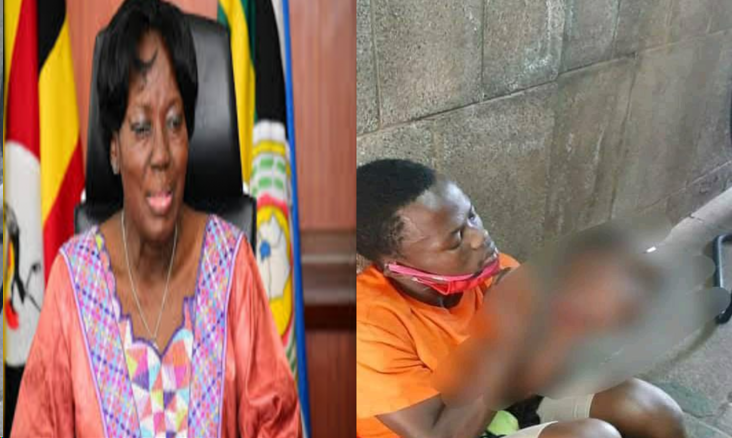 Wabula mu kunoonyereza, wabaddewo ebiyitingana ku mikutu gya yintaneti omuli Face Book, nga sipiika bw'ayitiddwa okuwa sitetimenti ku bigambibwa nti Nuwashaba eyakwattiddwa yabotodde ebyama nti yafunye okutegezebwa nti mu Uganda, sipiika y'omu ku bantu abasiinga oggula emitwe gy'abantu ku bbeeyi eyawaggulu nga y'emu ku nsonga lwaki yasse omwana okufuna ku nsimbi ez'amaangu.
Wabula omwogezi wa Bambega mu kitongole kya Poliisi Charles Twine, agambye nti amawulire agayitingana makyamu ddala, kwe kulabula bannayuganda okomya okutambuza amawulire ag'obulimba n'okuwa sipiika ekitiibwa ekimugwanidde.
Tear Gas and Live Bullets Rock Kamwokya Based NUP Offices as Irate Youth Protest Sipapa Shooting
Fuming NUP supporters have today protested against police authorities for their failure to curb and bring to justice the rowdy city music promoter, Charles Orema aks Sipapa for shooting at their head offices in Kamwokya and injuring one of the youths there on Tuesday.
The angered youths in Kamwokya this morning hit the street roads and started burning tyres of old vehicles blocking off Old Kira road a move that compelled police to fire teargas and live bullets to disperse them.
They accused the police of failing act despite filing several complaints at Kira Road Police Station. They claimed that Sipapa has repeatedly sneaked in the area and fired at them without any provocation.
They demanded that since the police in Kira have failed to take stern action, the Inspector General of Police, Martin Okoth Ochola should intervene and explain why Sipapa is getting the firearms
Sipapa was on the spot on Tuesday after the NUP party spokesperson Joel Senyonyi accused him of attacking their offices twice in the afternoon and evening and firing live bullets, destroying their gate, and injuring one youth.
Man Arrested for Breaching Curfew Dead after Hoping off a Police Truck
A panicking man netted by police in the night for breaking curfew in Kalangala district has committed suicide by jumping off a speeding patrol vehicle to his death.
The deceased, 37-year-old, Mike Ssenyomo, a resident of Mulabana landing site in Bujumba Sub County was captured among others while moving late in the night and bundled onto a pick-up van to Kalangala Central Police Station for custody
However in the middle of the journey, before the police pickup, van could reach the station Ssenyomo panicked and jumped off the speeding vehicle, dying on the spot.
However, residents of the Bwendero landing site, fear that Ssenyomo could have fallen off the speeding police car accidentally.
They accuse the Pickup police driver of always over speeding while carrying suspects behind the pickup
Benon Byamukama, the Kalangala District Police Commander, says police is investigating if indeed he jumped out of the vehicle on his own or fell off and hit a hard surface.
Byamukama says a post-mortem was carried out and the body has been handed over to the family of the deceased for burial.
This is the second time in a span of one week that a suspect is falling off under similar circumstances.