Arsenal Boss Mikel Arteta Has Dismissed The Notion He And Frank Lampard Could Be Considered The Next Pep Guardioloa And Jurgen Klopp
Arteta and Lampard go head to head at Wembley in the FA Cup final, hoping to win the first trophies of their coaching careers.
Arsenal managed only to finish eighth in the Premier League this season but have won praise for positive signs of progress in their play, most notably in the FA Cup semi-final win over Manchester City.

Lampard, who took charge of Chelsea last year, steered the Blues to a top-four finish despite the restrictions of a one-window transfer ban and is now looking to lift a trophy he won four times for the London side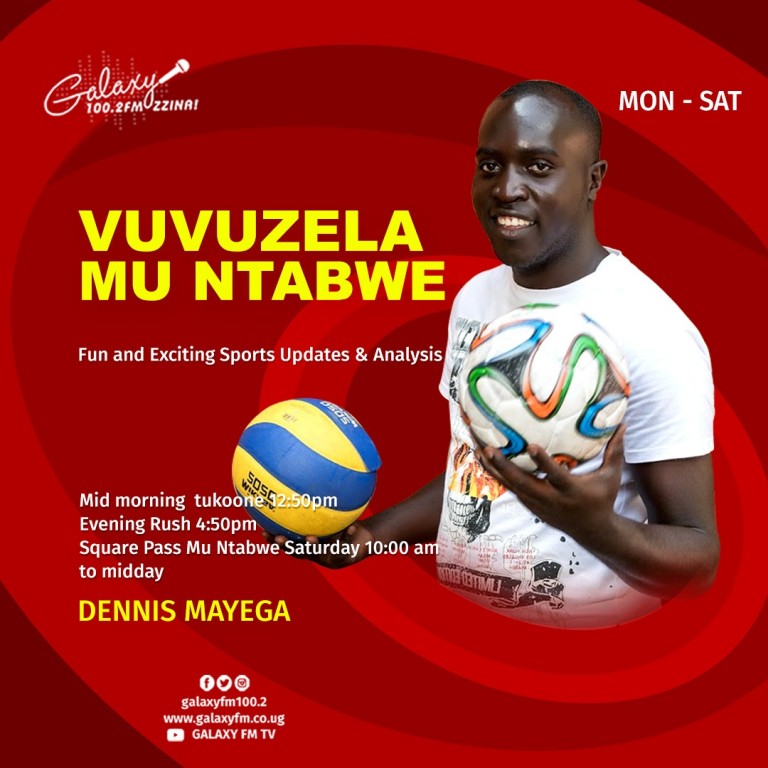 Vuvuzela Mu Ntabwe(12:50-1pm) in Midmorning Tukoone.
Vuvuzela Mu Ntabwe(4:50-5pm) in Evening Rush.
Square Pass Mu Ntabwe(10-12pm) on Saturday.
All on 100.2 Galaxy Fm Zzina!
AUDIO! Kabaka akangudde ku ddoboozi eri ebitongole ebikuuma ddembe 'mukomye okutta abantu', abavubuka abakubye akaama
Ssaabasajja Kabaka Ronald Muwenda Mutebi II akangudde ku ddoboozi ku bitongole ebikuuma ddembe ebyegumbulidde okutwalira amateeka mu ngalo, ekivuddeko n'abantu abamu okuttibwa.
Magulunyondo alabudde ebitongole ebikuuma eddembe, okweyambisa amateeka okutwala mu kkooti abenyigidde mu kumenya amateeka, okusinga okutta abantu n'okubatusaako obulabe, nga bateeka mu nkola ebiragiro by'okutangira Covid-19 okusasaana, "Kikyamu omukuumi w'eddembe okuwa abantu ekibonerezo naddala eky'okufa nga tatwaliddwa mu kkooti".
Kabaka 1
Bw'abadde ayogerako eri abantu be, ku mikolo gy'amatikkira mu Lubiri e Mmengo nga obuganda bujaguza olwa Kabaka waabwe okuweza emyaka 27 ng'ali ku Nnamulondo, Kabaka ajjukizza Gavumenti okuteeka amaanyi ku ndwadde endala ezongedde okutta abantu mu kaseera kano ak'okulwanyisa Covid-19.
Kabaka 2
Mungeri y'emu Maasomoogi akubirizza abavubuka obutagwamu ssuubi mu kiseera kino eky'okulwanyisa Covid-19.
Agamba nti newankubadde obwavu bweyongedde naye abantu okwetta, kikolwa ekiraga nti baweddemu essuubi, "Tukiddinganye lunye nti omulembe gw'abavubuka, tujja kilwanirira okulaba nga abavubuka tebaggwamu ssuubi".
Kabaka 3
Gavumenti eya wakati ekiikiriddwa amyuka omukulembeze w'eggwanga Edward Kiwanuka Ssekandi era mu kwogera kwe, asiimye emirimu egikoleddwa Omutanda ebbanga ly'amaze ku Nnamulondo, omuli okulwanyisa endwadde, okulambika abantu be n'okulemberamu okutumbula enkulakulana.
VP SSekandi
Ate Katikkiro wa Buganda munnamateeka Charles Peter Mayiga ajjukiza Gavumenti nti Obuganda bukyetaaga Federo, okusobola okuzza Buganda ku ntikko.
Mukuumaddamula agamba nti ye ssaawa okutuula ne Gavumenti okuteesa okuggya mu ddiro ensonga ya Federo.
CP Mayiga
Amatikkiro ga leero, getabiddwako abantu ab'enjawulo omuli Maama Nnabagereka, Abaana b'engoma, Ba Katikkiro abaawummula, bannadiini, abakiise ba Palamenti n'abalala.
Biography: All you need to know about singer Freeboy
Play a new virtual game every 5 minutes and win big money.More here.
By BigEyeUg Team
Prominent singer Pius Mayanja, famously known by stage names, Pallaso is currently admitted in hospital following a strong scuffle with the Police on Wednesday night.
The 'Ekiro Munzikiza' is slumbering on sickbed at Albert Cook health centre in Entebbe after sustaining serious injuries on his body in the fight.
The scuffle was matched prior his resistance of arrest by security operatives that had stormed his home in Amazon-Luwafu, Makindye on allegations that he and friends disrupted peace of the locality with noise.
The 'Team Good Music' CEO's admission landed a few hours after the Uganda Police confirmed its operation of hunting the singer down to answer some questions.
"Our operation was after we received numerous complaints from the citizens about Pallaso and his friends playing louder music for all night and claim untouchable whenever his neighbors attempt to condemn him," said the Kampala Metropolitan deputy Police spokesperson Asp Luke Owoyesigyire.
"He had over 30 people in the house moreover drunk and making noise all over the area."
Oweyesigre also revealed how Pallaso has resisted arrest by thumping one of the security officers and disappeared with handcuffs on his left hand.
"Our officers tried to humbly arrest him and have him at least make a statement at the station but he instead replied by scuffing one of our officers and tearing his uniform," Oweyesigire added.
The self-proclaimed 'King of the east' is now wanted after arresting his brother, a one Kasozi Henry, who was part of the unruly gang last night.
"Therefore, we are looking for him, after arresting his so-called brother, Henry Kasozi," ascertained the Police spokesperson.
Mr. Oweyesigire further revealed that Pallaso has overly disrespected the security operatives but this time round, he will be charged with three cases; Assaulting the Police, obstruction of Police duties, and lastly illegally possessing Police handcuffs.
"It's not the first time he is disrespectful to the security. He is now supposed to answer on cases of beating-up a national security personnel, forcefully rejecting arrest and escaping with Police property of handcuffs," Luke concluded.
However, Pallaso with-held the pain on sickbed and opened up, trashing all claims raised by the Police.
"All what the Police is claiming is false. It has its own intentions against me," Pallaso said.
He also promised to peacefully hand himself to the Police once his health improves.
"If they need me, am right here at Albert Cook hospital. Let them come," he added.
We will keep you posted
(Visited 1 time, 1 visit today)
ANTI WAAYA! Wuuno omusawo akiguddeko, eby'okusobya ku mulwadde we ng'ali mu sikaani biranze, tewali muzannyo
Poliisi ekyanoonyereza ku musawo eyakwattibwa ku misango gy'okudda ku mukyala ow'olubuto eyali agenze mu sikaani e Kamwokya, ate namusobyako.
Wilson Tumwesigye ali mu gy'obukulu 32, eyali omukozi ku Christian Caring Community Clinic azziddwa ku Limanda mu kkomera e Kitalya.
Omulamuzi wa kkooti ku Buganda Road Valerian Tuhimbise agamba nti Tumwesigye wakudda mu kkooti nga 18 omwezi ogujja Ogwomunaana nga singa oludda oluwaabi lukomekereza okunoonyereza, wakusindikibwa mu kkooti enkulu okwewozaako.
Oludda oluwaabi lugamba nti Tumwesigye yasobya ku mukyala eyali asemberedde okuzaala nga 29, Ogwokusatu, 2020 bwe yali agenze mu sikaani okumwekebejja embeera y'omwana mu lubuto.