Wadri Reveals Why He Ditched People Power to Join Muntu at ANT
The Member of Parliament Arua Municipality Kassiano Wadri has on Thursday been unveiled as a member of the Alliance for National Transformation-ANT party.
Wadri crossed from People Power Movement to join the Alliance for National Transformation, ANT led by former UPDF Army Commander Gen. Mugisha Muntu.
During his unveiling, Wadri revealed that he played a part in the initial stages of the ANT formation and he couldn't miss being a registered member of the party.
He said he felt more comfortable being in a political organization that is led by Muntu with whom they share youthful history especially in the struggle for good governance.
Wadri also explained that before the creation of NUP, Kyagulanyi ran a pressure group, the People Power which all political activists aggrieved with the NRM decided to identify with.
In the past 1 month alone, a number of politicians associated with the people power movement have been seen crossing over to ANT including Ntungamo Municipality legislator Gerald Karuhanga, Jinja Municipality legislator Paul Mwiru, and now Arua Municipality legislator Wadri.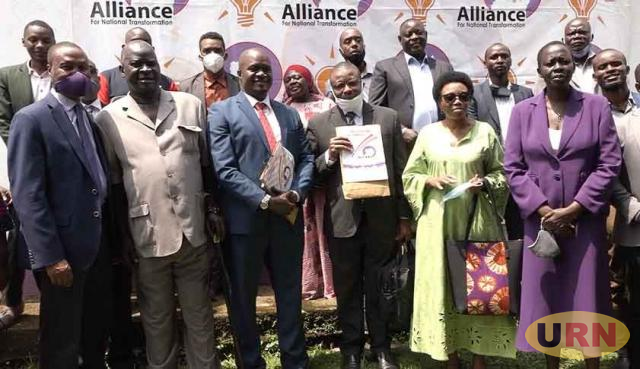 Kyagulanyi was a key player in the election that brought Wadri to power, a campaign that ended with the murder of Kyagulanyi's driver Yasin Kawuma.
Wadri was in 2018 elected the MP Arua Municipality in a by-election following the death of Ibrahim Abiringa.
Police arrested individuals, led by Kyagulanyi Ssentamu, were accused of obstructing President Yoweri Museveni's motorcade and pelting stones that smashed the windscreen of one of the vehicles in the convoy. The President was in Arua to campaign for Nusura Tiperu, a candidate of the National Resistance Movement- NRM party.
Violence rocks Mawogola as Police deploys heavily ahead of election
Are you team LIVERPOOL or team ARSENAL? Take your bet here for big cash. CLICK HERE.
By Our Reporter
With just a few days to the NRM primaries in Mawogola sub-county, violence has rocked the area again with members of Sodo's camp accusing the rival camp of using thugs to beat them up. This comes amidst heavy police deployment in the area, in anticipation of the forthcoming election.
In a video that has been circulating on social media, an unidentified man, alleges that he was beaten to pulp by members of the Sam Kuteesa camp, over what he claims is election related, as he belongs to the opposing camp of NRM aspirant Godfrey Aine Kaguta alias Sodo.
The man called on the president to intervene in the matter, calling for change in the area's leadership, in order for much needed peace to prevail in the area.
Tensions are high in the area, particularly between the two rival camps of Godfrey Aine Kaguta and Ms Shartsi Musherure, the daughter to the Foreign Affairs Minister and incumbent Mawogola North MP Sam Kutesa, who are both vying for the position of NRM flag bearer, alongside Kiseeka Salim.
Nina Roz opens up on why she went public about her drug addiction battle
In June, Ugandan songstress Nina Nankunda a.k.a Nina Roz went public about her battle with drug addiction. She reveals the reasons behind her decision.
Nina Roz is not the only artiste who has battled drug addiction but not many females have gone public about the vice that has led to the premature end of so many promising music careers.
During an interview in June, the songstress revealed that she is keen on reformation and thanked God for saving her from the life that was almost ravaged by drug addiction.
For the public, her revelation must have come as a surprise but her close friends knew her ways and maybe, it was perfect timing for her to start a new journey.
Recent weeks have had rumors circulating pointing at how Nina decided to give her life to Christ and is now a Born Again Christian whose next journey in music is to sing about love and the gospel.
Close friends reveal that she recently celebrated a whole month of sobriety after over three years of addiction. Such a great achievement and we are so happy for her, but why did she go public about her addiction?
Nina reveals that drugs are so hard to get off once you're addicted and she decided to share her experience so that other women who could be trapped can be helped.
I had to come out and talk about my drug addiction so that I can help women out there, especially those using them and I thank my management, my friends and family for standing by me through this period.

Nina Roz
Nina Roz blames her lapse on peer pressure and reveals that she never once thought it would be as damaging to her life as it has been. Well, at least she is on her best behavior now and we wish her the very best.
Read Also: Drugs torture spiritually and only God helps one to overcome – Nina Roz
EC Kicks Off Verification of 82 Presidential Contenders ahead of Nomination in November
The Electoral Commission-EC has officially kicked off its confirmation of nominations of Presidential candidates for the 2021 general polls on Monday.
Paul Bukenya the EC acting spokesperson says they will be handling at least 82 nominations which were received by 25th September 2020.
Bukenya says a verification team has been formed to look into the nomination and supporter forms that will last at least 2 weeks.
As part of the requirements for a presidential contender, they must collect over 100 signatures from registered voters in over 98 evenly distributed districts in Uganda before submitting their papers for verification.
Section 10(b) of the Presidential Elections Act provides that a Presidential candidate's nomination shall be supported by not less than one hundred (100) persons who are registered voters, from not less than ninety-eight (98) districts, which form two thirds (2/3) of all the districts of Uganda.
The official dates for the nomination of presidential contenders are 2nd and 3rd November 2020.