Bobi Wine's Lawyer Shamim Malende Rescues Bizonto And Gerald Kiweewa Following Arrest
Veteran Kadongo Kamu singer Gerald Kiwewa and Bizonto comedy group members are finally free  after being arrested and detained by security operatives
They were released  on police bond yesterday after spending over 48 hours behind coolers  at Special Investigations Unit (SIU) in Kireka.
Kiwewa was charged with media crimes and ordered to return to police on Friday as a fulfillment for his bond whereas the Bizontos were charged for promoting sectarianism through their video skits.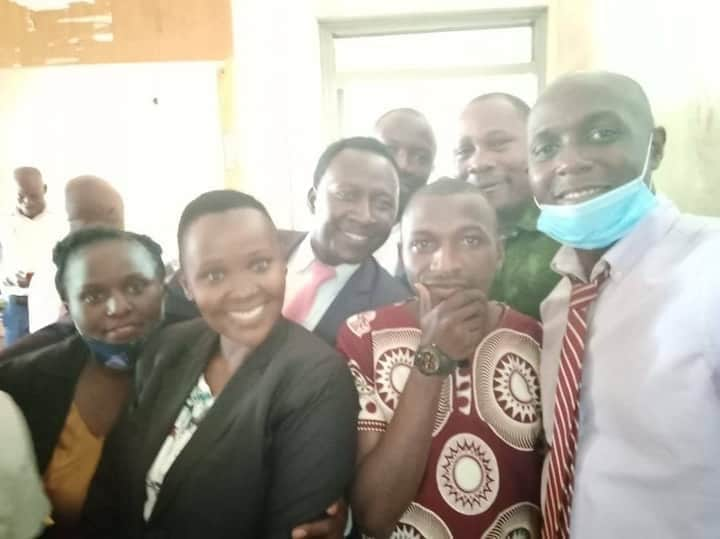 Presidential hopeful, Bad Bobi Wine's fierce lawyer, Shamim Malende was at forefront as she fought tooth and nail to see these entertainers attain their freedom and bonk again.
Apparently Shamim is to contest for Kampala Woman MP in the coming 2021 general elections. However she faces stiff competition from FDC's lethal woman Stellah Nyanzi.
Enock Mugabi aka Eye Witness is a Journalist, Seasoned Writer and Music Analyst with a passion for sports.
Connect with him on social media using the links below in bio.
Shots Fired: Bebe Cool claims to be Big Size but he is Small Size
Singer Alexander 'A Pass' Bagonza yet again comically made himself a light meal of Gagamel International boss Moses Ssali a.k.a Bebe Cool during the second edition of Club Pilsener-inspired Club Beatz At Home concert on Saturday night.
The self-styled "Greatest Of All Time" threw shade at Bebe Cool when he publicly revealed that he doesn't deserve to be called 'Big Size' as he nicknamed himself.
The Nkwagala crooner went further to claim that the Kiwatule-based singer best suits the title of "small size" reasoning that in the reality of life he is not as big as he imagines himself.
This song is a dedication to the Kiwatule-based singer Bebe Cool. That dude claims to call himself 'Big Size' but in the real sense, that chap is fake and doesn't deserve to that braggart title because, in reality, he is 'Small Size'.

A Pass
A Pass threw the jabs at Bebe Cool while performing his 'Babylon Bwoy' track which he intentionally dedicated to the Gagamel boss.
The two have had a cat and mouse relationship filled with light jokes and shots always being fired towards each other. We await Mr. Ssali's response.
Read Also: A Pass matches G.O.A.T status on Club Beatz At Home concert
DJ Janny P nursing injuries sustained in an accident
Uganda Broadcasting Corporation (UBC) presenter at Magic 100FM DJ Janny P is nursing a swollen left leg and injuries on his right arm sustained in an accident on Saturday evening.
The media personality was involved in an accident while on his way from Ntinda as he headed to Kampala for his radio show on Saturday.
The accident left him "bruised, hurt and feeling a lot of pain" in his left and right limbs.
Got an Accident in Ntinda and Both My Left Leg & Right Hand got injured a few minutes ago this pain is too much receiving treatment both herbal & Hospital Treatment Naye can't even walk now.

DJ Janny P
He was immediately rushed to a nearby hospital where he got medical treatment.
We wish him a quick recovery!
Read Also: Dj Janny P lands Magic 1HD weekly TV gig
A Pass brags of how few artists can pull off his craft at Club Beatz
Without a doubt, singer A Pass, born Alexander Bagonza, put up an amazing performance and lived up to the billing at the second edition of Club Beatz At Home concert.
Widely appreciated for his talent and art, A Pass satisfyingly delivered to the expectations of his fans as his performance was all shades of innovation, brilliance, dance and comic.
During his performance, A Pass kept on assuring his fans and critics how he is the best at what he does when it comes to the mic.
He again rubbed it in everyone's face last evening when he unapologetically revealed that no local artist can match, or even try pulling off, a quarter of his craft.
There are very few artists who can match up with my craft, talent and what I do on the mic. In fact, I may be the only one here. I repeat I'm the best here.

A Pass
Truthfully speaking, A Pass is talented and whoever watched his performance clearly enjoyed the night out on their screens at home.
Before he climaxed his performance, A Pass made sure that he told his fans that whoever deals with him should rest be assured that they are dealing with the best.
Read Also: A Pass matches G.O.A.T status on Club Beatz At Home concert