BAMBI! Charles Rwomushana atuuyanidde mu kaguli ka kkooti mu maaso g'omulamuzi, aguddwako omusango omukambwe
Kyaddaki Charles Rwomushana eyaliko omukozi mu kitongole ekikessi ekya Internal Security Organization (ISO) ayimbuddwa akawungeezi ka leero.
Rwomushana ayimbuddwa kkooti ya City Hall mu Kampala ku mitwalo 20.
Rwomushana omu ku begwanyiza obukulembeze bw'eggwanga mu kulonda kwa 2021, yakwattiddwa mu kiro ekikeseza olunnaku olwaleero ku ssaawa nga 7 bwe yabadde ava ku NBS TV Kamwokya ku misango gy'okutambula mu ssaawa za Kafyu.
Mu maaso g'omulamuzi Valerian Tuhimbise, Rwomushana myaka 51 yegaanye omusango gw'okugyemera amateeka era amangu ddala aleese abantu 2 okumweyimirira.
Omulamuzi amuyimbudde ku mitwalo 20 ez'obuliwo ate abamweyimiridde mitwalo 50 nga si zabuliwo.
John Blaq's Breakthrough and success inspired me to sing – Singer Nisay P
We all have those things or people who inspire and encourage us to achieve our desired and dreams.
Though in most cases, we don't get to meet them in person or interact with them to really explain our selves as to how one gets moved by their actions or work, well, others, those who are lucky, get to be moved the more when they finally get access to rub shoulders with them.
They are further motivated when for example a famous singer, rather your role model finds time to take you through the steps you must take to actually realize your dream, amazing just, isn't it?
Well, the issue is you wake up from sleep to achieve your dream and whether or not you meet your role model, one who inspired or still inspires you entirely depends on how best you present your self to the World.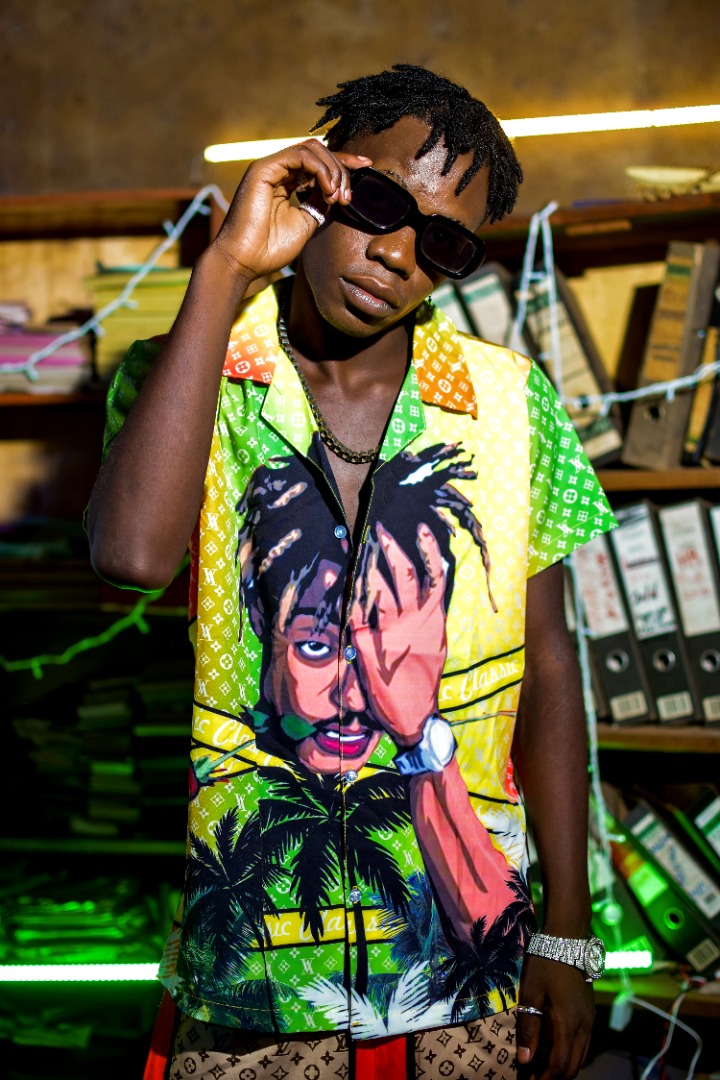 Often times, upcoming artists blame the media for not promoting them as what is written on Newspapers and Magazines among others are those top names in the music industry, but hey look, dude, who even knows you exist?
How do you expect media to come to locate you when all you do is sing in your bathroom, you got to hit the road and start already and that's where media comes in. Even the Bible clearly says that God helps those who humble themselves.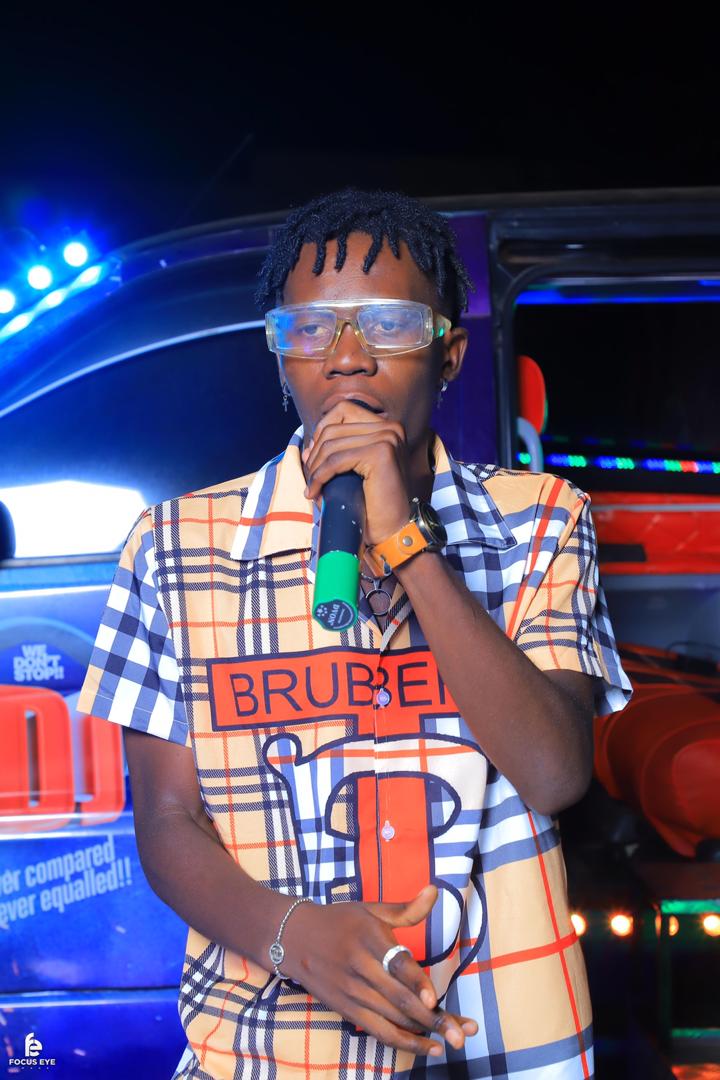 So, be humble, help your self and do what is necessary, the rest will just follow.
Well, upcoming singer Nisay P alias Celebrity Boyfriend came out of the box and unleashed himself, proving to the World that if Eddy Kenzo can, he to can.
The singer recently released his second single 'Die For You' that is already enjoying massive airplay on TV and Radio.
During an interview with legendary Dj Shiru over the weekend, Nisay P revealed that singer John Blaq's breakthrough played a very big role in his music career, in fact, he got inspired to start doing music after seeing how Blaq making it.
Nisay P who hails from Busoga region said John Blaq is a big icon just like late Mowzey Radio and everybody dreams of becoming like him. This is because the 'Makanika' songster has achieved great success in a period of just two years.
John Blaq is currently one of Busoga's biggest exports and Nisay P dreams of joining hands with him to take Busoga to the next level through music.
He recently released a master class video dubbed 'Die For You". Watch it here.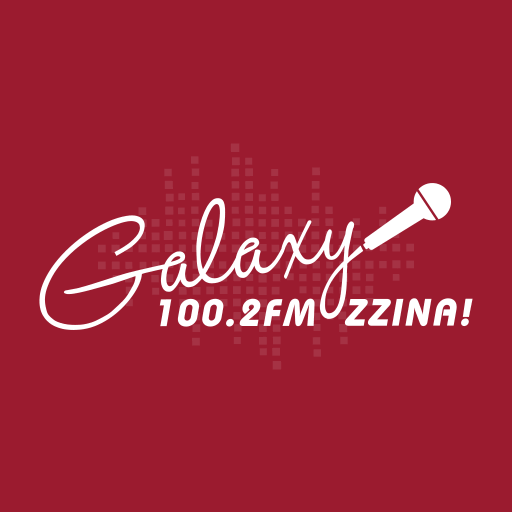 I will use the internet to change the world one day. I will be a billionaire one day. For now, let's Zzina!
1st winner of UTB's 'Take on the Pearl'' campaign in owe of Sipi Falls adrenaline rush
The 1st lucky winner of Uganda Tourism Board (UTB), Take on the Pearl of Africa campaign, Dominic Tugume has admitted owe of his trip to the magnificent Sipi Falls in Kapchora.
Tugume who just returned from full expenses paid trip to Mbale and Kapchorwa courtesy of the UTB was accompanied by comedian Alex Muhangi, actresses/dancer Natasha Sinayobye, actress/media personality Cleopatra Koheirwe and Miss Tourism Busoga Sandra Nguma.
According to UTB, the campaign aims to both create awareness and also educate Ugandans on the various tourist spots around the country; with emphasis on What? When? How? Who? And Where to Travel.
"Travelling to Mbale and the Sipi Falls in Kapchorwa was a great experience. I was so excited to be the first winner of taking on the pearl and also get to travel with one of my favourite celebrities and see my beautiful country. This has been a great experience and would like to encourage Ugandans to participate in this campaign and get the opportunity to travel Uganda, the Pearl f Africa," an excited Tugume revealed.
'Take on the Pearl of Africa' campaign witnessed Tugume traverse tourism sites and attractions in Eastern Uganda which included visiting the Jinja Nile Bridge, staying at the luxurious Mbale Resort, religious tourism visit to the Semei Kakunlgulu heritage site, hiking and abseiling at Sipi Falls. The day was capped off with an immersive bonfire storytelling experience to understand the cultural values of the Sebei people and their way of life. This was coupled with lots of evening entertainment including a silent disco, comedic and musical performances.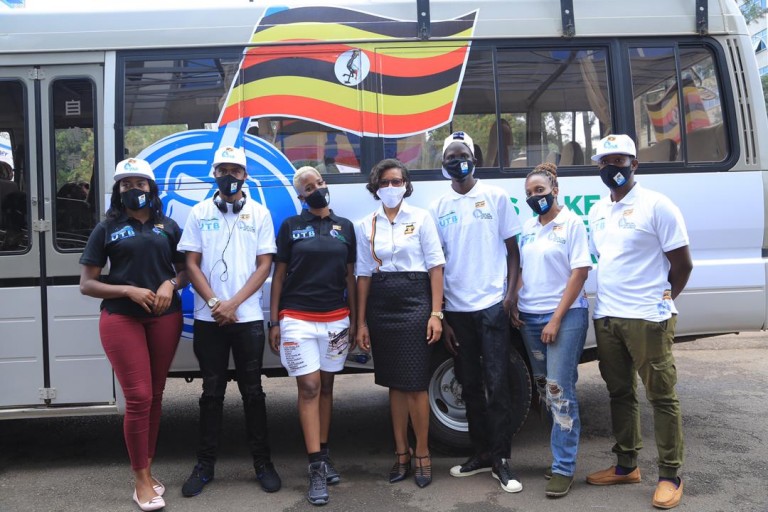 Tugume won his maiden trip after observing all protocol directed to be followed as a rare photo of Sipi Falls – the first tourist attraction was posted on Visit Uganda Facebook and Twitter social media.  All participants opting to take part in the campaign are urged to follow keenly on the Visit Uganda Facebook and Twitter pages to follow the dynamics of the challenge for a chance to win part of the 7 remaining trips across Uganda. A winner will be selected every Tuesday of the week from now until November 2020.
 Mechanics of the campaign
I. Post the contest photo on Visit Uganda social media pages every Friday.
II. Get people to respond with name of the place and the reasons why they want to go to that place, for a chance to win the trip.
III. People get their friends and family to come and like their comments.
IV. Correct comment with highest likes by Tuesday of the following week is selected the week's winner.
Winners will be selected and announced weekly.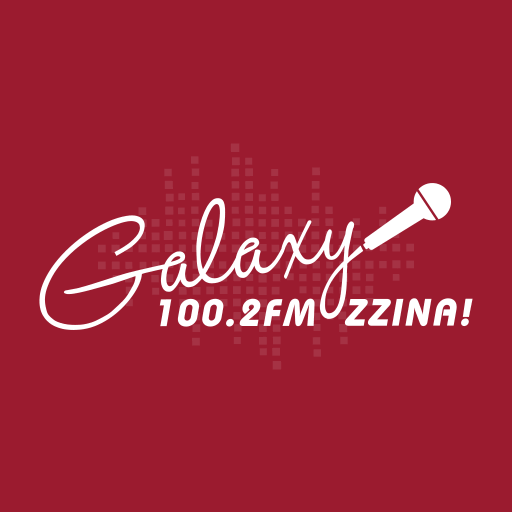 I will use the internet to change the world one day. I will be a billionaire one day. For now, let's Zzina!
AUDIO! Kyaddaki Ssenyonyi ayogedde amazima lwaki tebayinza kuwa Chameleone kaadi ya NUP ku bwa Loodi Meeya wadde Ssebagala yavuddemu, abotodde ebyama
Kyaddaki bannakibiina kya National Unity Platform (NUP) balambuludde ku ngeri gye bayinza okuddamu okufuna omuntu omulala okukwata kaadi y'ekibiina ku bwa Loodi Meeya.
Olunnaku olw'eggulo ku Lwokubiri, Latif Ssebagala omubaka we Kawempe North yavudde mu lwokaana ku bwa Loodi Meeya bwa Kampala era agamba nti yakikoze okutangira ab'oludda oluvuganya okwetemamu mu kulonda kwa 2021 n'okulemesa NRM okuwangula Kampala ku bwa Loodi Meeya.
Ssebagala okwasibwa kaadi ku bwa Loodi meeya, yawangudde Joseph Mayanja amanyikiddwa nga Dr Jose Chameleone ssaako ne Hajji Nasser Ntege Ssebagala.
Wabula omwogezi wa NUP Joel Ssenyonyi agamba nti wadde waliwo bannakibiina abagamba nti kaadi balina okugiwa Chameleone kuba yakutte kyakubiri mu kusunsulwamu, balina okweyambisa amateeka ku buli nsonga yonna.
Ssenyonyi agamba nti bafunye okuwabulwa okuva mu bannamateeka b'ekibiina, okuddamu entekateeka yonna ey'okunoonya omuntu ayinza okukwata kaadi y'ekibiina ku bwa Loodi Meeya era tebayinza kugiwa Chameleone lwa kuba Ssebagala yavudde mu lwokaano.