Bad Black reveals Bryan White's source of wealth and why he wants to meet the president
For the years Bryan White has roamed and littered Kampala streets with dollars and shillings, the source of his income has been a secret. Bad Black, however, is not ready to keep it that way as she spills the secrets.
Now lying on his sick bed in his living room, surrounded with oxygen cylinders, Brian Kirumira a.k.a Bryan White looks very helpless and has made it known that he wants to meet President Yoweri Kaguta Museveni.
In a statement released on his Facebook account, Bryan White wants to meet the president to discuss personal matters with him on top of granting him a pass to be flown to Nairobi for further treatment.
One of Bryan's closest allies, Bad Black visited him on Tuesday and according to the situation she found him in, she started a fundraiser to collect money to foot the ailing philanthropist's bills.
Bryan's statement, however, irked the socialite who held a live broadcast in which she spilled his secrets including his source of wealth and why he wants to visit the fountain of honor.
Bad Black alleges that Bryan White is an arms dealer who provides guns to rebels. She claims that the moneybag confessed his dealings to her and even showed her how it's done.
She also says that Bryan is not even sick as he claims and only wants to meet the president because he feels unsafe after his security detail was withdrawn following the recent rape allegations.
You dealt with rebels, president Museveni cannot come to see you. Just wake up and start hustling again. Don't use your public figure as a weapon, president Museveni is not going to meet you because you met rebels and I witnessed with my own eyes as you showed me guns saying that it was the president's project.

If you wanted to use me to meet Museveni, you would have told me. The fundraised money wont come now, let's see where this ends.

Bad Black
Bad Black also urged People Power leader Bobi Wine not to meet Bryan White because he is "playing silly games and using people to meet his own goals".
She also notes that she already reported the moneybag's dealings to the Central Military Intelligence (CMI) and she is not scared at all of what will happen to her.
Bad Black advises Bryan White to just accept the situation that he is broke, recollect himself and move on with life because it is normal for people to lose their wealth.
Read Also: You're broke, let people help you – furious Bad Black advises Bryan White
Nameless' dad discharged after successful surgery on the head
Kenyan legendary singer David Mathenge alias Nameless is grateful to God for having offered his 84-year-old dad a second chance to toast to life on earth after he underwent a successful head surgery.
The extremely joyous singer shared the good news concerning his dad's health condition after he was discharged from hospital where he spent about 10 days.
Basing on the statement on his social media accounts, the "Sun Shine" hit maker disclosed that his dad was admitted to hospital because of blood clots in his head which caused minor strokes and a condition known as subdural Hematoma.
The life-threatening condition that also got Nameless bedridden about 3 years ago, caused sleepless nights for the family as well as draining their pockets to a point of them and hunting for funds to foot the medical bills.
The impressive update about his dad's condition is that he is strong again and taking all the medication appropriately.
Nameless thanked the doctors at AgahKan Hospital for having taken good care of his dad Mathenge Sr.
Just a Gratitude post!! Behind the scenes my dad has been in Hospital, for about Ten Days to undergo head surgery, because he had some blood clots in his head that caused some minor strokes, a condition called subdural Hematoma, (kitu ka hiyo).

It was nerve-racking for our family especially because of his age, but the surgery went well thanks to a brilliant team of doctors under the leadership of neuro-surgeon Dr. D. Olunya, who also treated me 3 years ago when I had a similar life-threatening brain condition that some of you may remember.

Today I give thanks to God because he got discharged and the doctor was happy with his recovery process. (That's why I was dancing like a mad man Jana) Now its just some home nursing care and mzee will be good. He is strong for 84 years, delicate but strong.

I just want to thank all the staff at AgahKan hospital, the nurses and doctors who took care of Mathenge Sr., especially Dr. David O. Olunya who has become a close friend to us.

Also, the bill had gotten kidogo crazy but thank God NHIF came through as well to help us with part of the bill, especially at a time like the Corona season when things are tough ..all in all just want to give thanks…sometimes we dance just to release stresses like this… Today I celebrate life and second chances!!

Nameless
Read Also: Wahu and Nameless celebrate 15th marriage anniversary
Geosteady opens up on how it feels not living with his children
For any father, not having access to your children is a gutting feeling. Geosteady opened up on how it feels not living with his kids following his split with wife Prima Kardashi.
Last week, we reported about Prima Kardashi's allegations pinning local singer Geosteady of breaking into her house and vandalizing her property after they split.
The two lovers are said to have called it quits over infidelity and the singer seems to have come off worst. Recently, he left clues of it being a case of domestic violence with him as the victim.
On Wednesday, the Blackman Records CEO shared an emotional post on his Facebook page where he attached a photo of one of his daughters Soraya and revealed how he misses them.
Geosteady expressed how, through a phone call, he talked to Soraya and she asked him if he was ever return home. The singer said that he nearly shed tears.
Called my pride Sorayah Williams Kigozi on her maid number saying "Halo bby how u?" she said she was fine! Then asked her "how is Solange?" she said she's so okay!! Then she asked me, "Dad are you coming home tonight to tomorrow morning?" trust me i nearly cried and just told her I'm coming soon coz I couldn't tell her I DON'T KNOW! God Help Me Through Please If All This Goes Well!

Geosteady
It is not clear how far the former lovers have reached in terms of reconciliation. No resolution has been reached yet but Kardashi said that she won't be revenging against the father of her children.
Read Also: I won't revenge – Prima Kardashi gives up on Geosteady
Diamond Platinumz features on Alicia Keys' latest album
Renowned American singer Alicia Keys has released her current Spotify playlist and the playlist released by Spotify features two songs from Tanzanian music star, Diamond Platinumz.
The excited Diamond who was recently nominated in AFRIMMA Awards in the best male Africa and East Africa shared images of Alicia Keys new Album playlist on his Instagram and Twitter with a caption.
"The queen has special Spotify Playlist for you Alicia Keys,"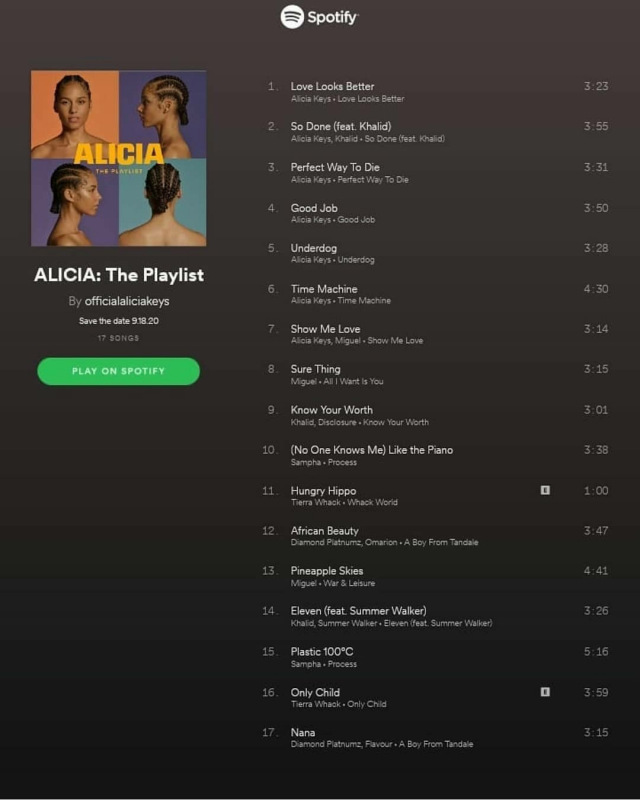 Currently, Alicia Keys is listening to 'Nana' by Diamond featuring Nigeria's Mr Flavour. The playlist also has 'African Beauty' by Diamond featuring American singer Omarion.
It is no surprise that Alicia Keys has featured Diamond considering the singer has in the past complimented the bongo superstar.
Alicia Keys is currently scheduled to release her album on Friday and it's believed that she has featured Diamond on the project.
The album dubbed 'Alicia' will feature 15 songs with verses from Miguel, Khalid, and other musicians.