AUDIO! Poliisi eyogedde amazima ku by'omusirikale waabwe okubba essimu, laba okuswala
Poliisi esambaze ebyogerwa nti waliwo omusirikale waabwe eyeenyigidde mu kubba essimu ku munnakibiina kya Forum for Democratic Change (FDC ku lunnaku olwa Mmande.
Poliisi, yabadde yeesika amataayi ne bannakibiina kya FDC okubatangira okufuluma ekitebe oluvanyuma lw'omukolo gw'okwaniriza Omuloodi wa Kampala Ssalongo Erias Lukwago mu kibiina era kigambibwa waliwo omusirikale eyalonze essimu y'omuwagizi wa FDC wakati mu kwesika amataayi nagitwala.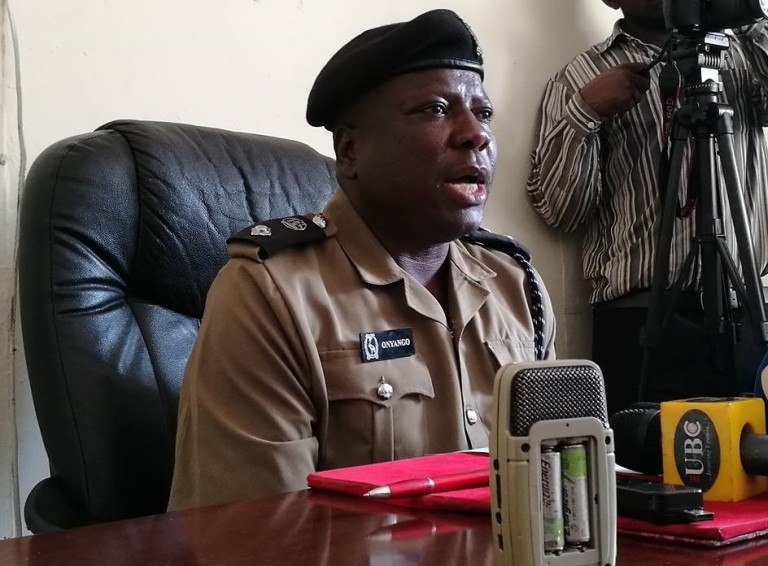 Okusinzira ku mwogezi wa Poliisi mu Kampala n'emirirwano Patrick Onyango, Omukulembeze w'eggwanga Yoweri Kaguta Museveni yabadde agenda kweyambisa oluguudo lwe Ntebbe okuva ku kitebe kya NRM e Kyadondo bwe yabadde agenze okusunsulwamu, nga balina okulemesa bannakibiina kya FDC okuyingira ekkubo okutaataganya entambula ya Pulezidenti.
Onyango agamba nti wakati mu kulemesa aba FDC okuyingira ekkubo, omusirikale waabwe ennyota  yagudde wansi ng'alina okugirondawo wabula si ssimu ng'abannakibiina kya FDC webagamba nti basinzira katambi akali mu kusasaana ku mikutu migata bantu.
Eddoboozi lya Onyango
Speaker Wants Police to Speed up Investigations into Child's Head Delivered at Parliament
The Speaker of Parliament Rebecca Kadaga has asked the police to speed up investigations into the mind-blowing scene at parliament in which a 22-year-old man delivered a human head as a gift to her.
Joseph Nuwashaba, a resident of Kizinda, Bushenyi district was netted at the gate of Parliament by security with the head wrapped up in a box.
After a search by security operatives,it was discovered and Nuwashaba boldly claimed it was meant to br delivered to Kadaga's office.
Addressing Parliament on Tuesday, Kadaga said that after the investigations, Police should advise parliament on the matter.
The CID Public Relations Officer Charles Twiine, homicide experts are analyzing the head to see whether it matches the body of a three-year-old girl that was found abandoned near the water treatment plant in Kijabweni, Masaka City.
BAMBI! Kyaddaki sipiika Kadaga ayogedde amazima ku musajja eyabadde amutwalidde omutwe gw'omwana ku Palamenti, giwunye
Kyaddaki Sipiika wa Palamenti Rebecca Alitwala Kadaga asabye ekitongole kya Poliisi okunoonyereza mu bwangu ku musajja eyakwattiddwa, emisana g'olunnaku olw'eggulo ku Mmande, n'omutwe gw'omwana omuto ku Palamenti.
Omusajja Nuwashaba Joseph myaka 23 nga mutuuze we Bushenyi, baamukwattidde ku geeti ya Palamenti okumpi ne National Theatre ng'omutwe, guzingiddwa mu kaveera kakiragala ne guteekebwa mu bokisi.
Mu kwewozaako, yagambye nti yabadde atwalira sipiika ekirabo wabula olwakwattiddwa, yatwaliddwa ku kitebe kya CID e Kibuli.
Kigambibwa, omutwe yaguggye ku kyalo Kijabwemi mu ggoombolola y'e Kimanya Kyabukuza mu kibuga kye Masaka, oluvanyuma lw'abatuuze okuzuula omwana Faith Kyamagero myaka 3 nga yatemeddwako omutwe n'okusalwako ebitundu by'ekyama.
Nuwashaba yabadde omu ku bantu, Taata w'omwana Charles Ssenyonga beyasembeza okuyamba mu kiseera kino ky'omuggalo gw'okulwanyisa Covid-19.
Wabula mu Palamenti akawungeezi ka leero, sipiika asabye ekitongole kya Poliisi okwanguyiriza okunoonyereza, okutegeeza eggwanga ku ttemu eryakoleddwa n'ekigendererwa eky'omusajja eyabadde amutwalidde omutwe.
Eddoboozi lya Kadaga
Lord Mayor Lukwago Under Fire as Youth Leaders Accuse him of Gross Mismanagement of Office
Fuming Leaders under the Kampala youth council have written to the Lord Mayor Erias Lukwago demanding an explanation into several irregularities under his reign that have hindered opportunities for the youth.
The youth leaders accuse Lukwago of grossly mismanaging the youth fund by creating ghost youth groups and being partisan in awarding scholarships by giving them to relatives and friends in Kampala Capital City Authority-KCCA.
A letter dated 15th September 2020, authored by Lwasa Laban the Youth Leader, they have threatened to file a legal complaint against Lukwago for abuse of office and corruption, should he fail to respond to their grievances.
Lwasa claims the office of the Lord Mayor has not informed them of any benefits or opportunity in KCCA for the Youth which has hindered progress in their lives.
"We put it to you Mr. Lukwago that the youth fund was grossly mismanaged and was given to ghost youth groups. KCCA scholarships have been given to relatives and friends in KCCA. Talent schemes shared, girl child empowerment programs in your office scrapped off, youth exchange programs not advertised" Lwasa said

In the write-up, Lwasa is complaining that efforts to get in touch with Lukwago have always hit a snag as his phone calls are either diverted or go unanswered and he cannot be met in person.
"your guards need a prior appointment and your phone is ever diverted or not picked, we are left with one option to drop our concerns in this letter," he added.
Lwasa further explains that the Lukwago is acting contrary to what he preaches as the Head of KCCA .
Yes, you constantly emphasized to follow the rule of law during your campaign and on your talk shows, we see controversy under your officer as the principal supervisor of the KCCA budget allocation and service delivery" Lwasa said in the letter.
We are yet to get communication from Lukwago in regard to these allegations,