1300 entries whittled down to 50 in Sanyu FM "Hot Mic" presenter search
When Sanyu FM recently advertised that they were searching for a new presenter in what was dubbed as the Hot Mic, they received over 1,300 entries. These have been whittled down to 50 hopefuls, who will be trimmed to 20 at the next stage.
Sanyu FM's Programs Director Roger Mugisha the next stage of the competition will be largely social media following, with "Likes" contributing to 60% and the judges contributing 40% of the socre.
"Judges have been reduced to 40%, your 60% will come from your networks around you to support you on our pages. Everyone will be assigned a number, we will know you as ABC No 49" Mugisha told the top 50 contestants who turned up at the Sanyu FM offices at Crane Chambers on Thursday..
"Go tell your friends to tell their friends to support you on our pages we have between now and 15 July," Mugisha said.
He also urged them to be available all times whenever they are called upon to show up.
"Availability is very important, please don't enter into this contest when you know you have another project and tomorrow after winning this you are somewhere else."
He explained that the talent search is free of charge and that thus no one should approach them for a bribe to help them reach the final stage. The winner of 'Hot Mic' search will take home cash prize of Shs3m and will also be offered a two year contract as a presenter on Sanyu FM.
Photos: All about Douglas Lwanga's romantic weekend
By BigEyeUg Team
One of the fresh talks on Social Media today is Next Media's Douglas Lwanga and fiancée Lindah Lisa's romantic weekend last weekend.
Douglas who is popularly known for keeping his private life away from the media has thrown 'a bolt from the blue' by sharing his photos with longtime girlfriend Lindah Lisa having a whale of a time in Jinja last weekend.
The lovely couple shared the essence of romantic moments at Kingfisher Hotel Jinja with a magnificent view of River Nile and Lake Victoria that Douglas himself testified.
Here they had a great taste of the pleasant Climate, cool in the nights but warm enough during day to enjoy our swimming pools.
Douglas and Lindah have been together for closely to 10years now blessed with two kids·
Lindah Lisa is the Innovations & Marketing at Guvnor Uganda, Director Brand Purple Party Uganda and the CEO La-La Happy Tots Cruis.
See more photos;
We will keep you posted
It's a baby girl for Comedian Chiko
By BigEyeUg Team
It is such a happy moment in the house of comedian Frank Mubiru aka Chiko of the 'Madrat & Chiko' comic duo as they welcome their first-born child.
Chiko's wife Melanie Ofrah gave birth to a bouncing baby girl on Saturday.
This was at Kampala Hospital where she was admitted as her labour time was clocking.
Chiko couldn't hold his excitement for long as he shared the good news with friends, fans and social media followers on Monday morning.
"WELCOME TO THE WORLD PRINCESSS. Thanks for your Prayers, Love n Support God blessed us with a baby girl last weekend," Chiko wrote.
Both the baby and the mother are reportedly still in hospital but in a stable condition.
Last week, we ran you a story about Melanie's luxurious baby shower that Chiko heavily invested-in for her friends to surprise her with.
Her successful maternity ward journey lands barely a week since Melanie was equipped with the best of luck from friends and family.
Chiko is recalled to have hint on 'Mubiru' as one of his new baby's names in one of his latest social media posts.
Congratulations Chiko!
Eddy Kenzo flaunts his flashy rides
Arguably Uganda's best music export Edirisa Musuuza alias Eddy Kenzo. He is also reported to be currently the highest paid Ugandan artiste. He has decided to parade a few of his flashy valuable on his social media.
'Kaana Kambaata' posted photos posing with his rides as he currently on a campaign to promote Ugandan tourism.
In the photos, Kenzo pulling different poses with three rides. One is a Toyota Landcrusier V8 that he acquired towards the end of last year. Reports came out alleging that it was a gift from President Yoweri Museveni. Kenzo denied the allegations saying he decided to gift himself a brand new car following what he had gone through that year.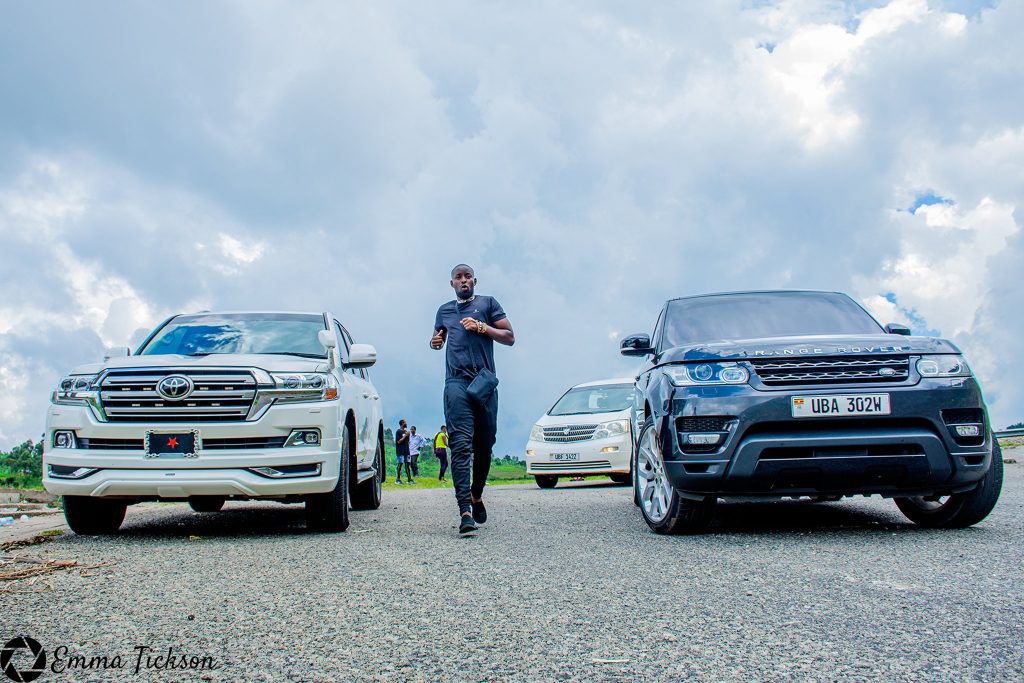 The second ride is a 2016 Range Rover Sport registration number UBA 302W that he also bought last year. The other is a Toyota Alphard that he bought in 2018 and recently branded it with words like Semyekozo Republic.
The singer has other cars which include a 2014 Range Rover Sport that was gifted to him by tycoon Tom Kaya of Kaki Investments in 2016.