Yvonne Koreta joins Sanyu FM, to co-host breakfast show with Salvado
Just after announcing Ethan Kavuma as the winner of Sanyu FM's Hot Mic Search, the new look of Sanyu FM keeps taking shape as renowned radio personality Yvonne Koreta has joined the team.
Matooke Republic understands that Koreta will co-present the morning show with comedian Patrick Salvado Idringi.
Koreta has been working as deputy station controller at one of the Kamwokya based FM radio stations.
"Yvonne and Salvado will host the Sanyu Breakfast show from Monday to Friday, getting listeners up-to-speed with the biggest stories of the day and setting up the week with intelligent conversation and features," a source at the station told us.
Sanyu FM staff laid their tools in early June, protesting a salary cut that had been occasioned by the effects of the Covid-19 pandemic. Some of the personalities later returned to work, but the station used it as an opportunity to rebuild and improve the rankings of Uganda's oldest privately owned FM station.
First on the hiring list was veteran radio personality Roger Mugisha who came in as programmes director. Mugisha is behind the refreshing of the station where he cut his radio teeth more than two decades ago.
Matooke Republic understands that there are more presenters who are yet to be unveiled.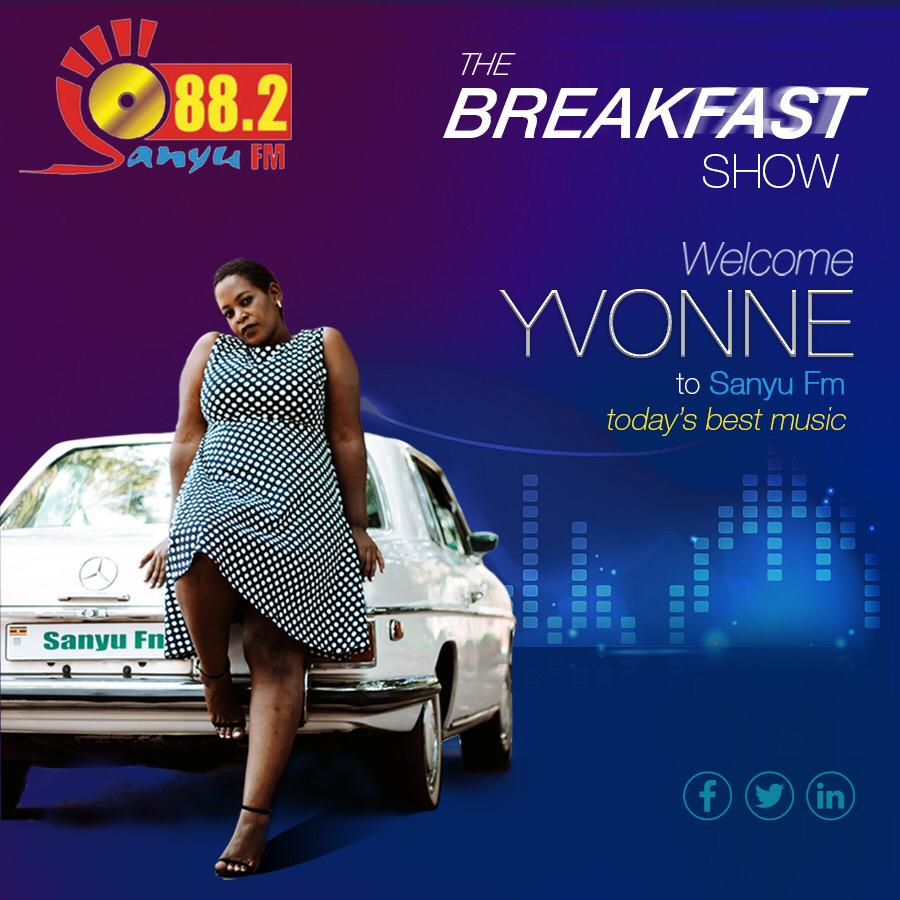 TECNO Mobile launches the Camon 16 series with free data from MTN Uganda
By Staff Writer
Introducing the Next level Camera Evolution Phone that has already won prestigious awards worldwide.
The smartphone comes fully connected with free 3GB internet bundle from MTN, every month for three months and 100% bonus on all data bundles purchased on MTN over the same period.
TECNO Mobile Uganda, the global premier mobile phone brand has today released Camon 16 series the latest addition in the Camon series.
The launch of Camon 16 series comes again with collaboration between TECNO and MTN to give more to customers with this sleek smartphone that comes with free 3GB internet every month for three months. In addition to this, customers will also get 100% bonus on all bundles they activate for 90 days on the MTN SIM used in the Camon 16 they purchase.
"Our partnership with TECNO is one we carry with pride because it fits very well with our vision of delivering a bold new digital world for customers. This launch of yet another top of the range, affordable smartphone, is testament to our commitment of ensuring that everyone enjoys the benefits of a modern connected life through the services and products we offer", said Somdev Sen, MTN Uganda Chief Marketing Officer.
Camon16 series is an all upgraded smartphone from the hardware to the software. Camon16series pioneers on many fronts like Camera technology, stylish design, operating system, and many other features you will discover when you use the device.
The new Camon 16 series prides in specifications like the Ultra Clear Night shots by TAIVOS technology, video anti-shake mode, 4K videos, 48MP AI dual selfie Camera with flash, 64MP Quad Camera, 33W super flash charger, 128GB of internal storage and supported by pioneer CPU, beyond fast and powerful processor Helio G90T among other great features. This is all to give customers the best seamless experience.
The launch of Camon 16 series in Uganda comes after winning serial major awards worldwide such as the Global Product Innovation Award at IFA.
"In 2019, we launched a partnership with MTN to enhance the value TECNO smartphones offer to our customers. We are here today to continue fulfilling our promise of enabling all Ugandans to experience the best smartphones while using the best internet service provider in the country. Camon 16 is more than just a smartphone looking at the upgrades we have installed in the device. The upgrades are not just from the hardware but the software as well. This is because of our mission and desire to give our customers at an affordable price," said Shiva Zhong, the TECNO country Director.
The COVID-19 pandemic has changed all areas of life, both social and economic. This has pushed us to think outside the box on how best we can give more value to our customers. As TECNO, we launch the Camon 16 series to enable all Ugandans stay connected to their friends, families, and workmates by experiencing the best smartphone on the market.
Camon 16 series is a device for everyone, no matter what you do or age, it is a great phone, and we encourage everyone to purchase this powerful device.
From the groundbreaking 64MP main camera, this is supported by 8MP ultra wide-angle snapper with two 2MP units to assist night photos, and Portraits to the impressive 33W fast-charging.
The device comes with more upgrades with a supper fast and strong processor G90T processor to enable customers to have a seamless experience when using the phone, more to this the device comes with more internal storage of 128GB to cater for all problems caused by low storage like freezing and deletion of customers files from the phone.
Furthermore, Camon 16 series comes in three different versions: Camon 16S, Camon 16 Pro and Camon 16 Premier.
TECNO Camon 16 Premier which is in the top tier of the Camon16 series is available currently in a single color, Glacial Silver with an 8GB ROM + 128GB storage runs on the Android 10.0 + HIOS 6.0 operating system and features a 6.9-inch full-HD (1,080×2, 460 pixels) display with a pill-shaped hole-punch cutout on the top left corner of the screen.
Side-fingerprint All-new access this time, for a better visual sense of the whole design, the fingerprint sensor was moved to the side of the mobile body enabling customers to unlock the phone in a more convenient and comfortable manner.
The 64MP Ultimate clear photography, 48MP Super clear portrait selfie supported by new camera technology TAIVOS (TECNO AI Vision Optimization solution) which is an image processing and enhancement lab for the Camon series.
The launch comes with a lot of benefits for our special customers. All customers that purchase Camon 16 Premier get free 3GB internet data every month for three months and a 100% data bonus on every data bundle purchased, all on their MTN line.
"We urge all customers to get this Next level Camera Evolution Phone from any TECNO branded shop or MTN Service center near them and enjoy the benefits that come with it", concluded Mr. Shiva.
The person I will have sex with will be the one to marry me
Kabareebe Models 4 Charity and DK Branding Coach CEO Doreen Kabareebe dropped the bomb revealing that she is a virgin and that the first man to sleep with her will be her husband.
With her semi-nude photos trending online and being picked to represent Uganda at the Ms World International beauty pageant, Kabareebe is back where she belongs – in the headlines.
While appearing in an interview with NBS TV's Lord Kaiyz, the former Miss Uganda contestant revealed that she is not bothered by the criticism that comes her way for being nude during her modeling photoshoots.
She noted that most of these photoshoots have concepts created by the photographers and she only steps in as the bold model who can execute the ideas at hand.
In the same interview, Kabareebe revealed that she has never had sex despite being having lived a life of fame within the entertainment industry.
Kabareebe is aware that her revelation will not be easily accepted by the public because of the nature of her lifestyle and her photos that trend online but she is virgin and does not fornicate.
"I'm virgin, I do not fornicate, men do not play around with me. I see a lot of girls who are single mothers and it hurts me as a person because am supporting many girls," Kabareebe added.
Well, there you have it!
Read Also: I wonder if Bash Mutumba gets turned on during boudoir shoots – Doreen Kabareebe
Angella Katatumba unmoved by rumors that Andre ballooned Nina Roz
Producer Daddy Andre's ex-lover Angella Katatumba has revealed that she is totally unbothered by rumors that the talented producer ballooned fellow singer Nina Roz.
Katatumba spoke about the rumors saying that she doesn't care what is happening between the two personalities following reports that the pair held a private Kukyala ceremony a few weeks ago.
While speaking to NBS TV UnCut, Katatumba went on to note how she doesn't feel hurt or even concerned by Daddy Andre's deeds, asserting how her relationship with him was done and dusted many months ago.
She further stung Daddy Andre saying he wasn't good enough for her but he is perfect for Nina Roz through the phrase; "One man's eat is another man's poison".
Katatumba also requested reporters stop always bringing up her broken relationship with Andre revealing how she is enjoying her new love life with someone else that the public will get to know soon.
I don't even think about Daddy Andre but it is you guys who are always thinking about him. Whatever he does, doesn't hurt or concern me at all and let me also think that whatever I do doesn't offend him.

Daddy Andre and Nina Roz's pregnancy and Kukyala rumors I don't care about it because they say one man's eat is another man's poison. So he wasn't good enough for me but he is perfect for her.

So I don't care whatever happens between the two and you know I moved on long time ago and now am in a different relationship for like months now.

Angella Katatumba
Read Also: Nina Roz opens up on dating labelmate Daddy Andre