Police Seals off FDC Headquarters ,Fires Teargas to Disperse Vibrant Supporters Welcoming Converts
Zainab Ali
Police in Kampala on Tuesday afternoon deployed heavily at the Forum for Democratic Change-FDC offices in Najjanankumbi cordoning off the entire premises and halting the entry or exit of all cars or persons.
This comes as the party was officially holding an event to welcome 4 converts including the Kampala Lord Mayor Erias Lukwago, Mukono Municipality legislator Betty Nambooze Bakileke, Makindye East MP Allan Sewanyana and Rubaga North MP Moses Kasibante.
The vibrant occasion which was attended by the FDC leadership and supporters witnessed the party president Patrick Amuriat Oboi hand over the FDC party card and T-shirts to the new entrants.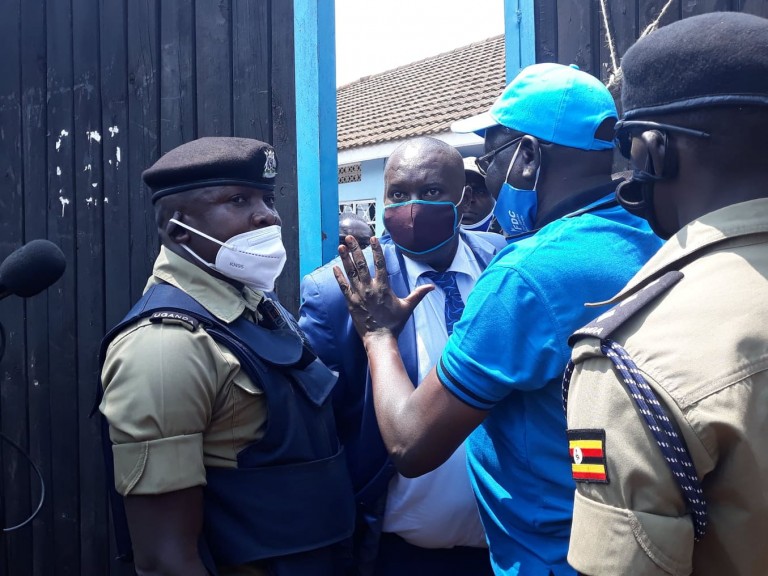 However, the crowd that had gathered for Jubilation at the party offices soon started panicking unaware of why police had disrupted their vibrant occasion by deploying heavily and sealing off the offices.
This led some of the members to storm the gate and violently demand to be released, however, their demands fell on deaf ears.
Police were forced to fire tear gas to disperse the violent crowd that kept hurling insults at the police officers and refused to leave the gate.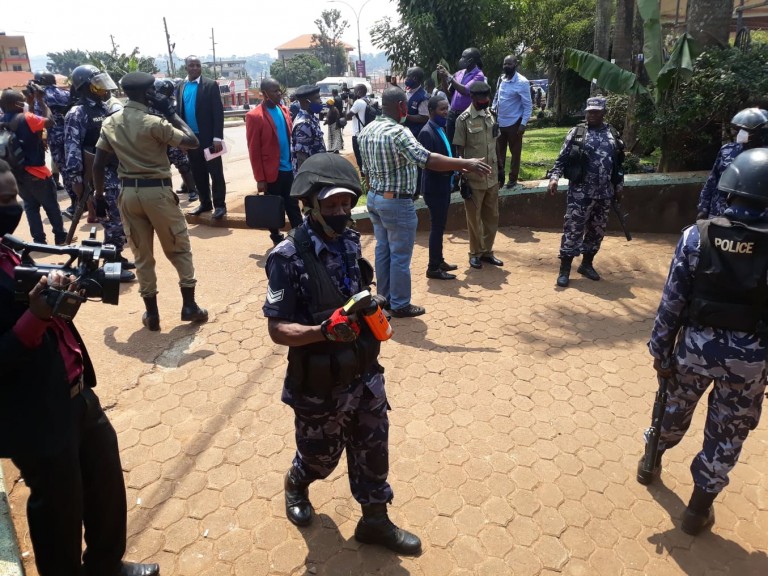 Police later explained that premises were cordoned off because the presidents' motorcade was slated to use the Road on their way from the NRM Party's headquarters at Kyaddondo in Kampala.
The stranded crowd inside the house was told to stay put until they are allowed to leave.
Sheilah Gashumba Shs100m richer with Yo Kuku Ambassadorship
On and on, Sheilah Gashumba goes to sign those deals and add a couple of millions to her name. Her latest ambassadorship deal, signed with Yo Kuku, is worth Shs100m.
Young and blessed, Sheilah Carol Gashumba has been a motivational figure for her peers and even the older figures in the Ugandan entertainment circles.
With the right mentorship of her father Frank Gashumba and a few of her other more influential friends and associates, the socialite and media personality has always managed to stand tall.
Yo Kuku – the largest producers and marketers of chicken in East Africa – saw it fit to accord her the titled of Ambassador for their brand in a deal worth Shs100m.
Speaking at a press briefing and Ambassador Unveiling, Mr Rahim Manji the managing director of Yokuku Chicken expressed gratitude having Sheilah Gashumba on board as their brand ambassador for their products.
It's a great honor to be associated with a global brand like Sheilah Gashumba whose presence as an Influencer in East Africa speaks volumes of her marketing strength and popularity.

Rahim Manji
He further emphasized their delight to partner with Sheilah whose "confidence and passion for cooking and everything she touches" is remarkable.
"She has a dynamic sense of style, intrinsic optimism and authenticity. We believe she is the right icon for us to reach our clients," Rahim added.
Flanked by her Personal Assistant Bryan Morel, Sheilah Gashumba was officially unveiled at the Yo Kuku offices in Bukoto, Kampala. She attributed her achievements to hard work and consistency.
Read Also: Sheilah Gashumba hosts celebrities at Martinellis Champagne brunch (PHOTOS)
Pallaso requests fans to contribute towards his 'Malamu' video shoot
Sucker Free boss Pius Mayanja a.k.a Pallaso seems to be low on finances after he requested his fans to contribute towards the video shoot for his new track dubbed "Malamu".
The talented singer made the plea through his socials after a jotting down how a broke man's ideas are always trashed during family meetings.
When you have no money, anything you say at family gatherings makes you look like you are just bringing confusion. #Malamu

Pallaso
After a space of like two hours, he then pleaded with his fans to help him raise money for the video shoot of his new song.
Prior to pleading to be helped raise funds, he scoffed at fellow artists who have lit videos but fake and boring songs which are too fake to be compared to his brand new jam.
I Have a hit song but no video. Others have video but no hit song. Can my fans help raise money for 'Malamu' so I can have a hit and video?

Pallaso
Read Also: Pallaso wants COVID-19 vaccine to first be tested on gov't officials
Bajjo launches war of words against Tamale Mirundi
Events promoter Andrew Alfonso Mukasa alias Bajjo Events has launched a scorching war of words against former presidential press secretary Tamale Mirundi.
In a video cited by this website, Bajjo is seen and clearly heard hurling insults and nasty abuses towards Tamale Mirundi.
He is heard calling Mirundi all sorts of things on top of vowing to continue sending him huge abusive words if he doesn't leave him alone.
The events promoter went on to note how he even toured Mirundi's home in Sseguku and collected lots of information that he is ready to expose about him.
Watch the video below as Bajjo vows to take on Tamale Mirundi head-to-head if he doesn't back off him as well as assured the public how he is ready for whatever may arose.
Read Also: Catherine Kusasira fails to spell as Bajjo puts her on the spot