Photos: Lydia Jazmine unleashes soupy photo album on her 29th Birthday
By BigEyeUg Team
Today 27th July, July 2020, songstress Nabawanuka Jazmine aka Lydia Jazmine turns a year older.
At her new age of 29years, the 'Omalawo' singer is still tight with her honesty, privacy, loving & caring heart, and most of all fearlessness.
Even before she opens her mouth to unleash her eccentric vocals, you will get it right away that Jazmine is fascinating, adorable and a really a 'Show stopper'.
Jazmine is one of those people who, at first sight, look plain, are quiet, unassertive, unmemorable even.
But who, when they start to talk and you get to know them, become more and more attractive and impressive, and you see that in fact they are beautiful.
Not conventionally beautiful, not celebrity beautiful, but adorable all through.
The most beautiful people we have known are those who have known defeat, known suffering, known struggle, known loss, and have found their way out of the depths, and so is Jazmine.
These persons have an appreciation, a sensitivity, and an understanding of life that fills them with compassion, gentleness, and a deep loving concern.
So, beautiful people like her do not just happen.
Marking her new age whole-heartedly, she has paraded seductive photos, rare from her renown album.
Jazmine appears bravely in stunning sexy poses, dressed in a sky-blue bikini and bra concluding her unique gorgeousness among the female celebrities in the country.
Unlike her most recent birthday celebrations, where she paid a visit to the sick at Mulago hospital, Jazmine's new age is expected to be embraced privately with close family members and friends owing to the COVID-19 pandemic status in the country.
See photos;
Happy Birthday Lydia Jazmine
The post Photos: Lydia Jazmine unleashes soupy photo album on her 29th Birthday appeared first on BigEye.UG.
Chameleone Is A Catholic And Has Less International Exposure And Than Latif Ssebagala- NUP Vetting Committee Explains
According to the NUP vetting committee, they made a wide assessment and finally came to conclusion that Hon. Al haj Latif Ssebagala is more influential and with wide exposure internationally than Chamili.
The committee claims Chamili is only known in East African countries compared to Latif who has well connection in Middle East countries.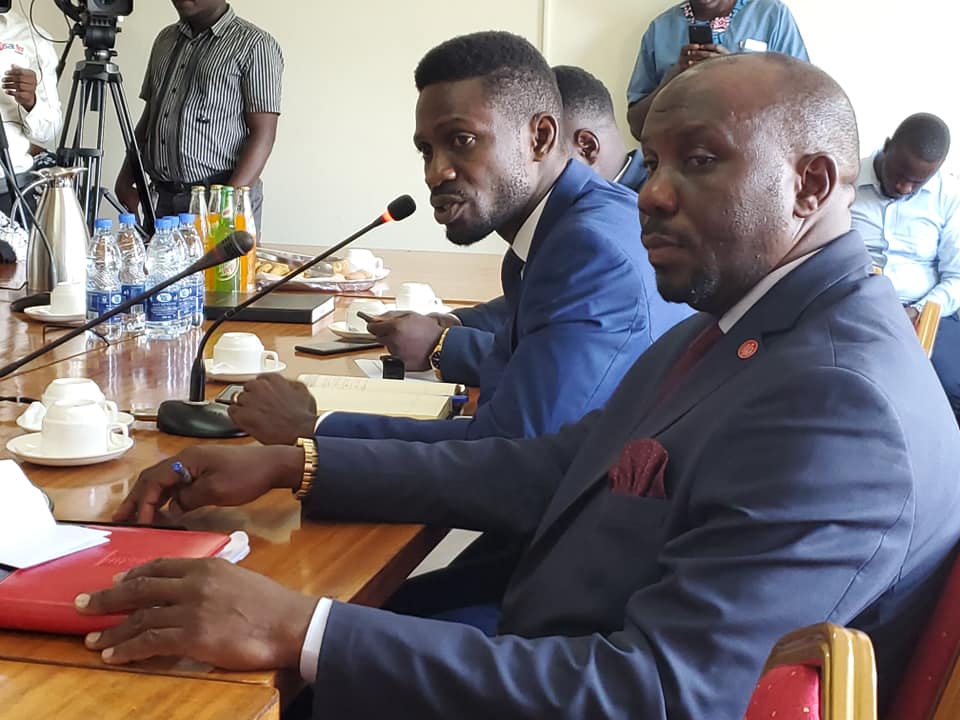 Further, they believe Latif has more ground support, public trust and financial muscle among other things to push the struggle forward. Below is how they vetted and awarded marks to both candidates. 
NUP spokesperson Joel Ssenyonyi also explains that they sent a team around Kampala city and intervened with people on who should be NUP candidate for the position.
"We intervened with people from boda boda places, markets, door to door to see what the people were saying. We realized that Hon. Ssebagala had more edge than Jose Mayanja," Ssenyonyi said.
Ssenyonyi adds that the process of selecting flag bearers entailed three stages namely a sit down and where the sit down didn't work, the vetting process took place.
Eddy Kenzo preaches humility in Yogera Bulungi
In the visuals of his new song dubbed "Yogera Bulungi", Eddy Kenzo expresses his lyrics urging people to stay humble and to always control their anger.
Past months have not been the best for Big Talent chief Eddy Kenzo as he faces huge opposition and criticism from Bobi Wine's fans following the comments he made against the 2021 presidential hopeful in August.
In his new song, Kenzo preaches to the listener to always think twice before acting, to control anger and to remain humble despite your achievements in life.
It is a slow tempo song in which the singer emphasizes some strong points which he seems to have learnt in his daily real life experiences.
The song was produced by Eli Arkhis and the visuals were shot in a warehouse setting as directed by Jah Live. Take a gaze below:
Read Also: Eddy Kenzo open for round table discussion with Bobi Wine
Anna Talia Oze switches from contesting for Youth MP seat to Rubaga
Nine months ago, NBS TV UnCut presenter Annet Nambooze alias Anna Talia Oze dropped hints about contesting for the Female Youth Member of Parliament for Central Uganda in the 2021 general elections.
Down the road, she seems to have shifted her goalposts as at the moment she has set her sight to run for a post in the division of Rubaga.
The update comes through after she shared a piece of artwork on her socials with the wordings that stated "the only impossible journey is the one you never begin".
She, however, left many of her followers and fans hanging in balance with no clear position that she intends to contest for stated but that information should be availed soon with the required details about her campaign plans.
In mid-August, she was seen carrying out consultants among boda-boda riders and other residents in Rubaga. We wish her all the best in her political career.
Read Also: Anna Talia Oze sets sight on becoming Youth Member of Parliament