Men are not oxygen, you can live without them- Sheebah advises fellow ladies
As other ladies are busy praying and fasting for marriage, Singer Sheebah Karungi has cautioned women on men. The certified feminist  said that women can live without men, since they are not oxygen.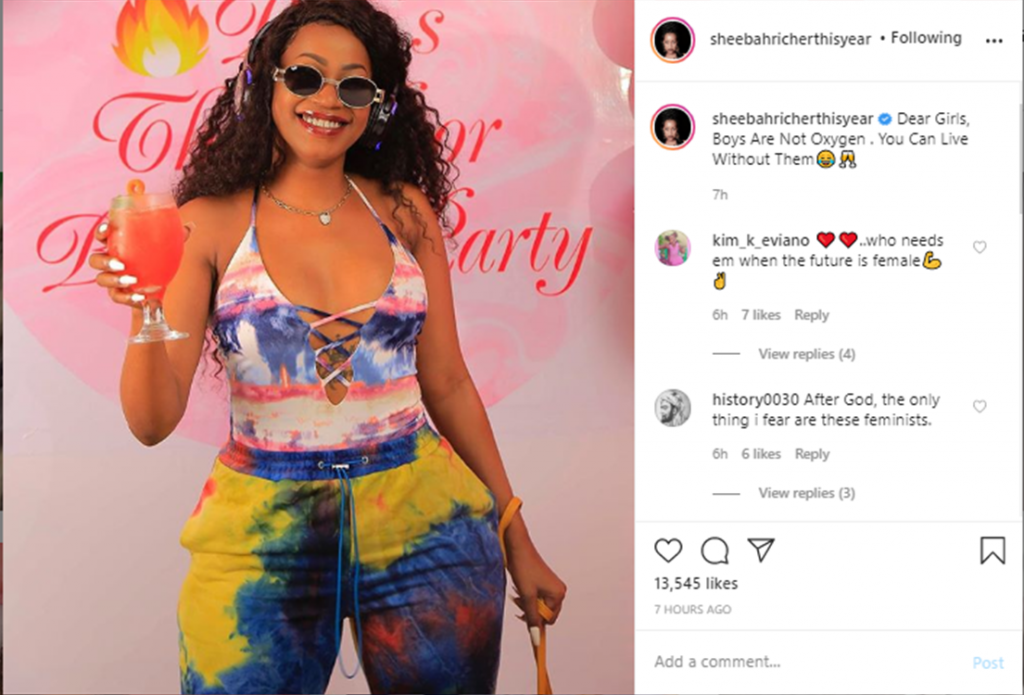 "Dear Girls, Men are not oxygen, you can live without them." Sheebah posted on her Instagram page.
The 'Mummy Yo' hit-maker has in the past been linked to various city men  and fellow lady stars such as Keko and Nina Roz. However she hasn't publicly acknowledged any relationship.
The singer who lives alone in her Muyenga mansion without a man,has in the past opened up about her dream of motherhood at some point in life but one wonders how the diva  will realize her dream with this latest revelation?
Feffe Bussi's sister bedridden for kidney failure, needs transplant
During service at Pastor Wilson Bugembe's church in Nansana on Sunday, rapper Feffe Bussi almost broke down as he narrated how her sister is ailing from kidney failure and needs a transplant.
The past few months have seen Nansana-based Worship House Church leader Pastor Willison Bugembe host different celebrities during his Sunday services.
The past week, he hosted Jose Chameleone who made news headlines when he broke down while sharing his prophecy thanking God for the gift of life in reference to when he fell off a building and broke his legs.
Yesterday he hosted rapper Frank Mukiza a.k.a Feffe Bussi who almost shed tears of joy while thanking God for what He has done for him and his family looking back where he came from.
While sharing, Feffe Bussi opened up about her ailing elder sister who suffers from kidney failure. He revealed that her kidney is damaged and requires a transplant but he is hopeful that she will get one soon.
My elder sister is currently bedridden and it is now about 4 to 5 months since she was admitted at Kirudu hospital. She is suffering from kidney failure which is both damaged.

At the moment she is home waiting for an operation as she needs a transplant and the story is long.

However, I am glad that when I came here, I talked to her on phone and she was happy because initially she was scared of doing the dialysis thing of operating her to insert in something like metal as she wanted to be let free and laid to rest without carrying out the painful operation.

Good enough, she finally accepted and she is getting stable and we are strongly praying that the transplant will also get done.

Feffe Bussi
Feffe Bussi went on to reveal that he got his breakthrough in the entertainment industry when he dropped his famous hit single dubbed "Yes, No".
Read Also: Leilah Namutebi accuses Feffe Bussi of impregnating and dumping her
Ykee Benda unhappy with guys who jam to love songs but don't get married
Mpaka Records CEO Wycliffe Tugume alias Ykee Benda has expressed his irritation with people, most especially the male gender, who groove to his love songs but don't get married.
The "Superman" hit singer slammed such people while performing on Bukedde TV on Saturday night.
We have composed and sang many love songs for you but guys you don't want to get married. Now, why do we sing all these songs?

We sing for you so that you sweet-talk girls and marry them but instead you only stop at grooving to them. Please get married!

Ykee Benda
Ykee was however tipped by VJ Junior that his songs have acted as a great catalyst in promoting promiscuity among lovers.
Also the to many love songs have greatly contributed to the rapid increase of infidelity in relationships.

VJ Junior
Read Also: Ykee Benda pledges allegiance to Chameleone in 2021 Lord Mayor race
Rema hides baby bump, shows off hubby's fresh haircut in new photos
In their new photos, Mrs. Rema Namakula Ssebunya and her husband Mr. Hamza Ssebunya continue to show the depth of their bond and happiness in marriage as the latter shows off a new haircut.
Each time Rema Namakula takes long without sharing photos on her social media platforms, those within the entertainment circles start demanding for them.
Sunday evening had most of your demands fulfilled as the songstress, who is rumored pregnant, shared new photos with her husband.
The photos do not reveal much beyond Rema's chest and several critics note that it is intentional not to show off her baby bump. They, however, show so much of Hamza's face and the clean shave cannot be ignored.
Take a look:
Read Also: Rema Namakula sparks pregnancy rumors in new photo shoot with hubby