Meet Olympia Lightning Bolt! Newborn daughter to sprinter Usain Bolt
Eight-time Olympic gold medalist Usain Bolt and partner Kasi Bennett welcomed newborn daughter and the couple gave her a pretty cool name "Olympia Lightning Bolt."  Bolt revealed the birth of his daughter with a photo and a name announcement.
The 33-year-old decorated runner added a lightning bolt alongside the caption paired with the adorable photo. Olympia was born on May 17, but these are the first images they have released of her.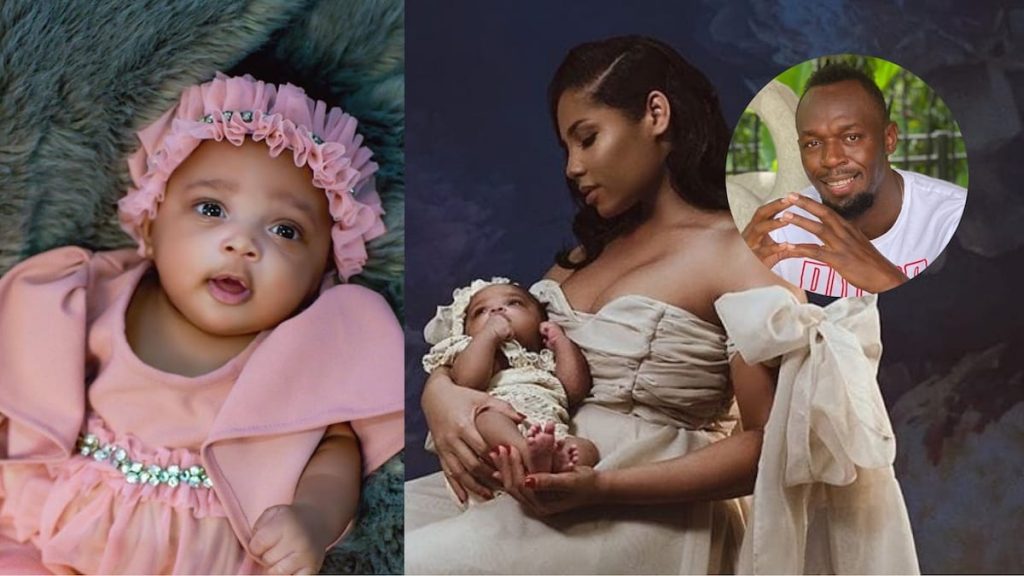 Bolt posted the photos as he was wishing her girlfriend Bennett a happy birthday.
"I want to wish my girlfriend Kasi Bennett a happy birthday. I get to spend your special day with you. I want nothing but happiness for you and will continue to doing my best keeping a smile on your face. We have started a new chapter together with our daughter Olympia Lightning Bolt," Bolt wrote.
Rema hides baby bump, shows off hubby's fresh haircut in new photos
In their new photos, Mrs. Rema Namakula Ssebunya and her husband Mr. Hamza Ssebunya continue to show the depth of their bond and happiness in marriage as the latter shows off a new haircut.
Each time Rema Namakula takes long without sharing photos on her social media platforms, those within the entertainment circles start demanding for them.
Sunday evening had most of your demands fulfilled as the songstress, who is rumored pregnant, shared new photos with her husband.
The photos do not reveal much beyond Rema's chest and several critics note that it is intentional not to show off her baby bump. They, however, show so much of Hamza's face and the clean shave cannot be ignored.
Take a look:
Read Also: Rema Namakula sparks pregnancy rumors in new photo shoot with hubby
SONG REVIEW: Zagazillions works with Nigeria's top producer on his new song 'No Dramas'
It's indeed 'No Drama' from the young talented rapper Zack Mukisa alias Zagazillions as he has once again dropped another new song with a mature touch.
Last year, the singer returned to reclaim his former glory and chose to re-brand from Yung Zee to Zagazillion as he released 'Allowed.'
 Zagazillion has dropped yet another single of 2020 dubbed "No Dramas". As usual the rapper did justice to the love song as confessed how he doesn't love drama in his love life.
The audio was produced by Nigeria's Jay Pizzle whereas the video was directed by Director Pest of Grate Make Films.
New toys; the Ruparelias splurge Shs500m on motorbikes
Boys will be boys; the old adage goes.  And boys will always love toys. As they grow older and richer, the toys only get more expensive. The Ruparelia family has proved the adage right and Uganda's richest Man and Ruparelia Group Chairman Sudhir and his son Rajiv who is now Managing Director of the Ruparelia Group just splurged over Shs300m pre-tax on five motorbikes, with tax and freight bringing the figure to close to Shs500m.
The bikes including a 2020 Harley Davidson FXDR 114, one Triumph Tiger 1200XCA and Two Triumph Thurxton RS and a Triumph Bonneville T100 arrived at the Ruparelia residence on Thursday evening and patriarch Sudhir recorded a video and shared on his social media platform.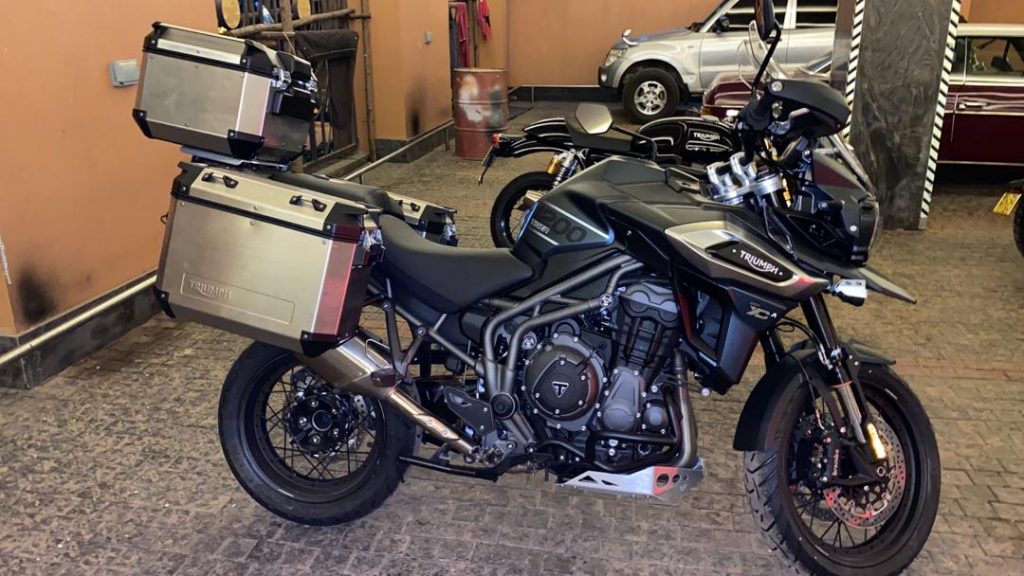 "This is mine," Sudhir said as he zoomed into a Triumph Tiger while son Rajiv tried out the Harley Davidson.
"New toys in town," an elated Rajiv is heard in the video while dad Sudhir responds "new toys."
A Harley Davidson FXDR 114 retails for $18,999 (about Shs70m) before tax, a Triumph Tiger retails for $22,000 (about Shs81m), a Triumph Thurxton retails for $16,200 (about Shs60m) and the Ruparelias bought two of these costing Shs120m, while a Triumph Bonneville goes for $10,450 (about Shs39m). It means the Ruparelias spent over Shs300m before tax and freight which could bring the total bill to Shs500m.
Rajiv loves roaring toys and he is already into motorsport and the entire Ruparelia family are avid riders. In June this year, photos surfaced of Rajiv having arrived at a court hearing on a motorbike. It must have been a joy ride back home for Rajiv that day as the Court of Appeal through out a Bank of Uganda petition that had contested an earlier triumph by the Ruparelias in the BoU/Crane Bank case.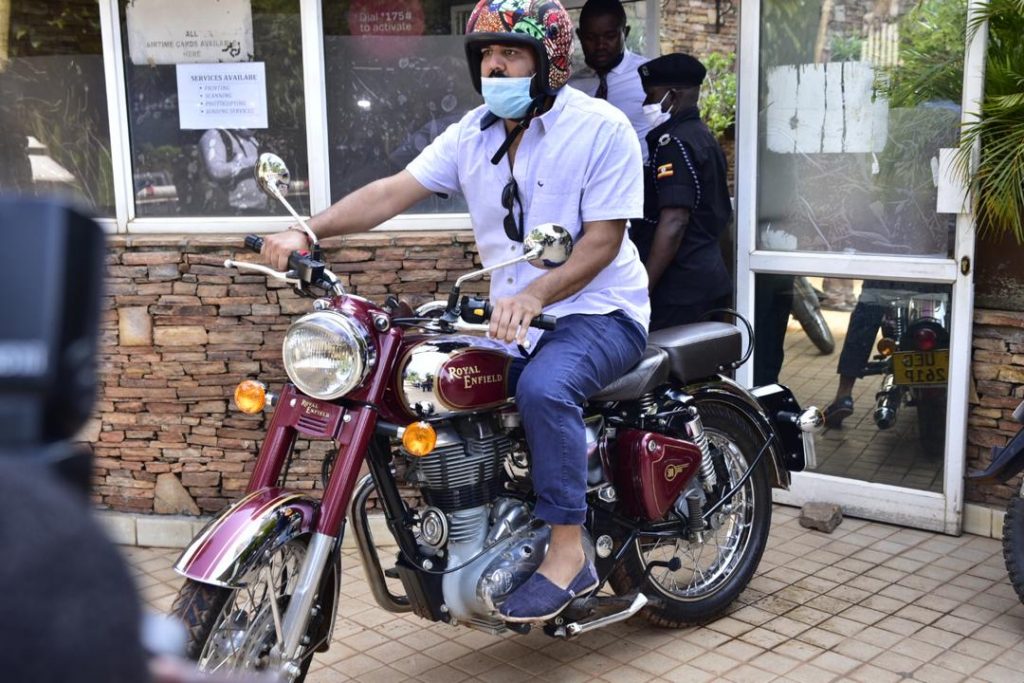 Sudhir has also previously shared an image of his wife Jyotsna riding a motorbike.