Health ministry explains why COVID-19 recoveries surpassed confirmed cases, recoveries drop to 958
The Ministry of Health has today clarified on yesterday's figures which indicated that the cumulative recoveries had surpassed the total number of cumulative confirmed cases.
 As of yesterday, the total confirmed COVID-19 cases in Uganda were at 1,069 while the recoveries were at 1,071 recoveries. This caused a public outburst as they questioned the figures.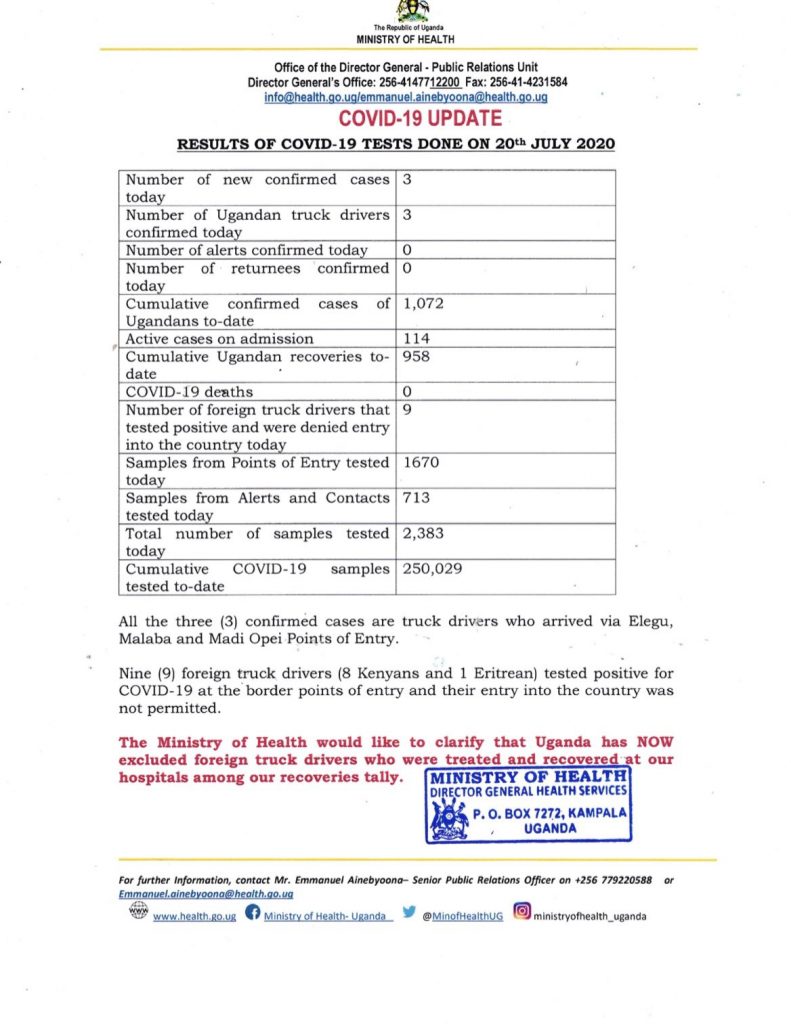 According the Health Ministry, the recoveries included foreign truck drivers who recovered from the country but had not been added on the confirmed cases. It says they have therefore been scrapped off from the recoveries.
 "The ministry of health would like to clarify that foreign truck drivers who were treated and recovered at our hospitals have NOW been excluded among our recoveries," reads a statement from the ministry. Currently, the total recoveries now stand at 958.
The ministry has today confirmed three (3) new cases taking the total cumulative confirmed cases to 1,072. All the three confirmed cases are truck drivers who arrived from Elegu, Malaba and Madi Opei entry points.
Bar owners ask gov't to allow them operate, pledge to keep customers safe
The owners of bars and entertainment places in Uganda have asked government to allow them to open with strict adherence to the Covid 19 SOPs as prescribed by the Ministry of Health.
At a press conference held at Atmosphere Lounge in Kololo this morning, the association Public Relations Officer (PRO) Mr. Patrick Musinguzi said that the bars have the capacity to implement the required SOPs and protect its employees and customers from the COVID-19 epidemic and can therefore, be open with strict preconditions.
"We are aware that COVID 19 is serious and applaud President Yoweri Museveni and the government for the measures put in place to protect the lives of Ugandans. We realize that this epidemic is not ending soon. Our members wish to make a plea to government that we will do everything they require of us to keep customers safe when we are opened," Mr. Musinguzi said.
 George Waiswa the association Secretary General said bars and restaurants remain one of the biggest employers of youths in this country with over 2 million people employed as cleaners, bouncers, service people, chefs, accountants, store people, security and over 2.5 million people in the supply chain.
 Bars are a key player in the hospitality industry which sustains over 6.3 million people in form of ripple effect to manufacturers, grain farmers, contracted distributors and stockiest plus all their beneficiaries.
 "All these people are now suffering. Their families are suffering because they are out of work. Most don't have any other skill. It's a risk for our young generation who constitute the biggest percentage of our employees. This is especially a challenge for some of the females who are single parents" He added.
Zari Hassan oozes sexy & success as she nears 40th birthday
Successful, Sexy, Smart and so much more is how one would describe Zarinah Tlale a.k.a Zari Hassan a.k.a The Bosslady who turns forty years old on September 23rd 2020.
A Ugandan Singer, Socialite, Influencer, Businesswoman and most importantly a Mother – Zari Hassan will be climbing to the 40th floor of life tomorrow.
For all she has achieved, Zari has used her influence to inspire several other people through her businesses which include the Brooklyn City Colleges in South Africa and her widely followed social media platforms.
For a mother of five, Zari is physically a goddess whom several African women look up to for beauty tips and motherly advice. She has managed to stay fit and up to the task for all her children.
We can go on and on but we would really be saying what you already know about a female who has almost single-handedly succeeded in the male-dominated entertainment industry.
Ahead of her is so much more success if we are to go by the hunger for more success that she exhibits. She describes herself as a woman of "30 with 10 years experience" and as you would expect, tomorrow will be filled with so much pomp and glamour because she doesn't know otherwise.
Join us to wish her a Happy Birthday!
Read Also: Celebrity Lifestyle | A day in quarantine with Zari Hassan
Feffe Bussi's sister bedridden for kidney failure, needs transplant
During service at Pastor Wilson Bugembe's church in Nansana on Sunday, rapper Feffe Bussi almost broke down as he narrated how her sister is ailing from kidney failure and needs a transplant.
The past few months have seen Nansana-based Worship House Church leader Pastor Willison Bugembe host different celebrities during his Sunday services.
The past week, he hosted Jose Chameleone who made news headlines when he broke down while sharing his prophecy thanking God for the gift of life in reference to when he fell off a building and broke his legs.
Yesterday he hosted rapper Frank Mukiza a.k.a Feffe Bussi who almost shed tears of joy while thanking God for what He has done for him and his family looking back where he came from.
While sharing, Feffe Bussi opened up about her ailing elder sister who suffers from kidney failure. He revealed that her kidney is damaged and requires a transplant but he is hopeful that she will get one soon.
My elder sister is currently bedridden and it is now about 4 to 5 months since she was admitted at Kirudu hospital. She is suffering from kidney failure which is both damaged.

At the moment she is home waiting for an operation as she needs a transplant and the story is long.

However, I am glad that when I came here, I talked to her on phone and she was happy because initially she was scared of doing the dialysis thing of operating her to insert in something like metal as she wanted to be let free and laid to rest without carrying out the painful operation.

Good enough, she finally accepted and she is getting stable and we are strongly praying that the transplant will also get done.

Feffe Bussi
Feffe Bussi went on to reveal that he got his breakthrough in the entertainment industry when he dropped his famous hit single dubbed "Yes, No".
Read Also: Leilah Namutebi accuses Feffe Bussi of impregnating and dumping her